You can easily get chemical-free and organic beauty products at drug stores in Japan now, but in Australia, a variety of brands have been putting out skincare products without ingredients that could harm your skin, like synthetic surfactants, artificial fragrances, colorings, and parabens, since about 10 years ago. Products like these are being described outside Japan as "clean beauty."
Alongside clean beauty, the majority of these brands are also "cruelty-free", a description that means they are not tested on animals.
New Zealand also sells a lot of good quality natural beauty products, and similarly, New Zealand brands are popular in Japan too.
In this article, I will tell you about a few popular brands I have used.
Kora Organics
This is a cruelty-free, vegan, organic skincare brand started up by the supermodel Miranda Kerr.
This brand is popular in Australia, and also in the US and Europe.
The prices are slightly higher than other organic skincare products, but the reviews are very good, and it is well known for having a lot of repeat customers.
They use slightly unusual foods and plants as active ingredients in the beauty products, like turmeric, noni fruit, and mushrooms, plus they energize the products with rose quartz and crystals, which makes the products unique and gives the impression that they are made with great care.
Go-To
This is a relatively new Australian skincare brand launched by Zoë Foster Blake, a former beauty editor.
The brand is easily recognized from its baby-pink packaging. This too is a cruelty-free clean beauty brand.
Go-To is also sold at Mecca, an Australian beauty boutique chain, and Go-To's sheet face mask is a popular product, said to be the highest selling sheet face mask ever in Australia. Although Go-To hasn't launched in other countries yet, it is a quite a popular skincare brand in Australia.
Although Go-To isn't well known in Japan yet, it is a hot brand with a lot of potential for future expansion.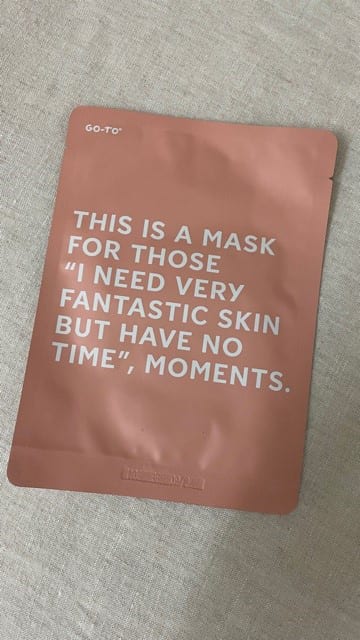 The sheet face mask people are talking about (contains one mask)
All Go-To products come in this pink and white packaging, which is fresh and appealing.
A'kin
This is one of Australia's longest running natural haircare and skincare brands. I wrote about this brand in a previous article on drugstores. It offers safely formulated products without synthetic surfactants, parabens, artificial fragrances, and coloring at relatively affordable prices.
Other brands of micellar water (cleansing water) give me a rash, but this brand doesn't irritate my skin and I have never had a rash from it, so I use it regularly.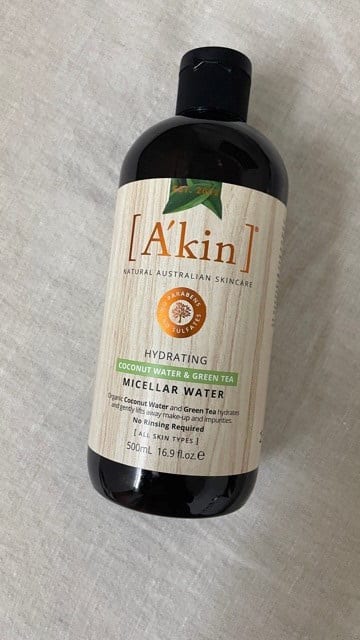 A'kin's micellar water. It comes in a 500-ml bottle plus it's reasonably priced. It's gentle on my skin so I use it regularly.
Jurlique
A full-scale organic skincare brand that uses plants grown on the company's own farm.
This brand is popular in Japan too and it has such a high profile that there is even a Jurlique Japan.
I've been using this brand since I first came to Australia, so I've known the brand for 20 years now.
Jurlique have hand creams fragrant with aromatherapy ingredients like lavender and jasmine grown on the company's own farm, and rose developed by Jurlique itself, which make popular souvenirs for visitors to Australia.
Raww
This is a relatively new Australian clean beauty brand that also offers makeup. The packaging is appealing, and from the feel of the website, it seems to be targeting slightly younger people, but I like that they have a wide variety of makeup products like mascara, eye shadow, lipstick, gloss, makeup base, nail polish, and so on at reasonable prices. And I recently noticed they have essential oils and diffusers. Their formulas are free from additives that might harm your skin and they don't do testing on animals. This new brand hasn't arrived in Japan yet, so it's one of the brands you should check out when coming to Australia.
ecostore
This is a New Zealand brand, but their products are widely available in shops in Australia. Apart from body care products, they have dishwashing detergent, laundry detergent, toothpaste, and bath care products for babies. After I changed over to their dishwashing detergent, I stopped getting rough hands.
The price is reasonable, so I have stuck to this detergent for a number of years now.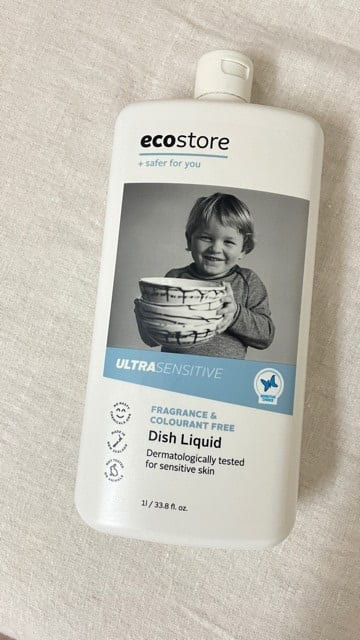 Trilogy
This too is a natural skincare brand from New Zealand.
It's popular in Japan, so some of you might know it.
I think it was around the time Trilogy became popular in Japan that people in Japan began noticing natural beauty products from Australia and New Zealand. Trilogy is well known for its rosehip oil, but its other skincare lines are popular too and get very good product reviews. It's cheaper to buy Trilogy here than in Japan, so I can recommend it as another brand to buy when you come to Australia.
Top: Jurlique's top-selling product, their Signature Moisturising Cream
Bottom left: Trilogy's Vitamin C Booster. Before using it, you mix powder into the liquid to make a vitamin C essence.
Bottom right: Kora Organics' cream cleanser. It's a bit expensive to use for cleansing, but I like it because my skin feels moist after cleansing.
I have used almost all the products of the brands I mention in this article, but there are various other good brands I would like to tell you about, so I will write about them in part two.