We recently chartered a boat as a surprise for a friend's 50th birthday.
In Australia people consider birthdays that have a round number as big birthdays and celebrate them with big parties.
It is also the custom to celebrate 16th and 21st birthdays with big parties, as life's special birthdays. And for my friend whose birthday was approaching, I somehow or other found out what she wanted to do, and while it did come out in a vague sort of way, she was supposed to look forward to what would happen on the day.
There are beaches and rivers on the Gold Coast, so people often charter a boat for events. They have all sorts of boats, from cool looking white boats to simple looking boats that look like a floating cabin, called barbecue boats.
This time we chartered a cool looking white boat, a catamaran, for three hours, which was one of my friend's wishes for her birthday. A catamaran is a boat with two hulls joined together, it's wide and has a lot of onboard space. A feature of catamarans is that their width makes them safe, and you hardly feel any rocking.
Twelve people came to the party, but the catamaran could take 20 people.
It is a popular boat for bucks and hens parties (separate parties for men and women and the last as single people before getting married), and birthday parties. It has a table with a big sofa in the roofed area, and a big unroofed space that can easily seat 20 people. The boat cruises along inlets, so it doesn't rock much, and is ideal for a larger number of people to relax together onboard with a champagne in one hand. There is a toilet onboard, so longer charters are no problem.
The boarding point was a marina called Marina Mirage. This marina has a lot of boats moored. Most of them are the sort of super luxury boats that make you wonder who on earth owns them, and just looking at them is interesting. The course for the cruise is set to some extent, but because it's a charter, they will take you somewhere you want to go if time permits.
While the crew take care of the simple cruising part of things, you can also stop at an inlet beach and have a swim or have fun on a stand up paddle (SUP) board they have onboard.
On the day of the cruise, it was fine, making it the best weather for cruising, but there had been some rain beforehand, so the water was a little murky.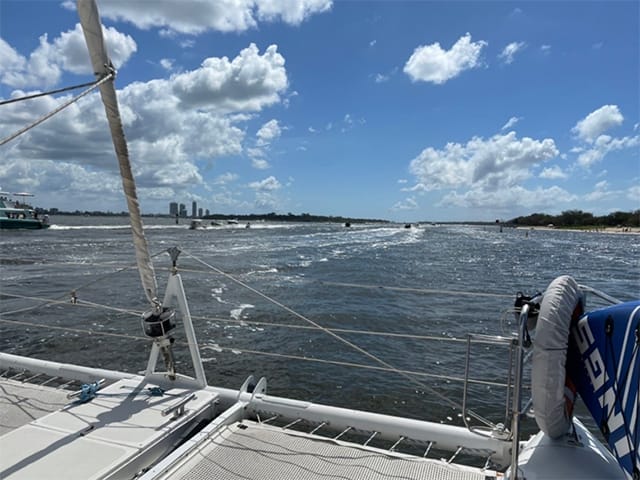 The fine weather meant everyone brought swimsuits and was ready for a swim, so we got the crew to take us to a beach on an inlet where there are no waves, called Wave Break Island. Although we couldn't see it, apparently the tidal current on that day was strong and SUP boarding was dangerous, so we were advised against it, but they put out the floating mat, a big mat made out of material like thin Styrofoam, and we bobbed along in the water holding onto the mat.
Then something happened!
Eight people got onto the mat, which we were told was OK for 10 people, but the rope joining the mat to the boat suddenly came loose, and in a flash the mat floated off.
But the 2 young crew members desperately pulled the mat up to the boat and somehow stopped it from being swept away.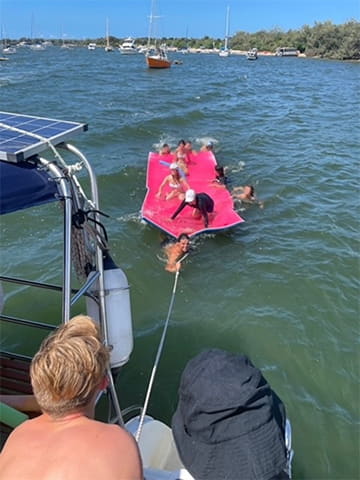 Looking back at it later on in the photos, it was a funny story, but we were all a little worried at the time.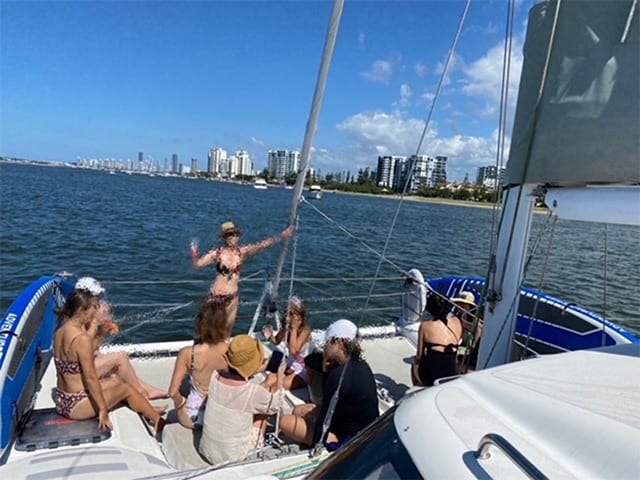 You can see Surfers Paradise in the background.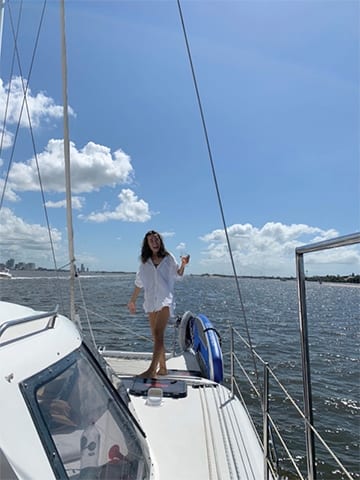 Perfect weather and a champagne in one hand.
You don't often get to experience this sort of thing, so we were all pretty excited.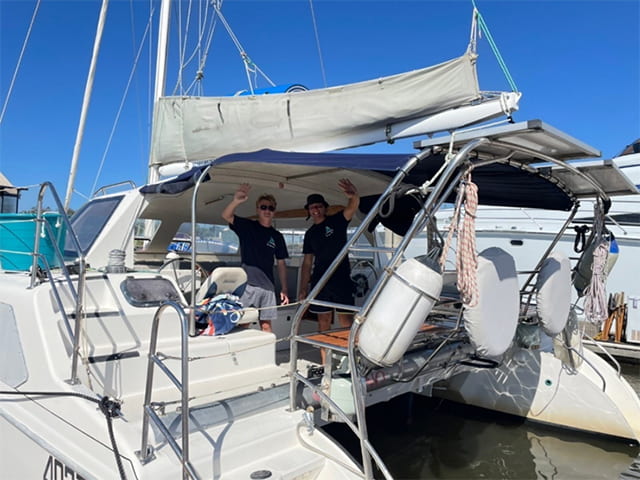 The 2 young crew members from Gold Coast Sailing Charters who took us on the cruise.
One is the owner's son, and their ages are only 20 and 21!
Thanks for taking such good care of middle-aged lady guests (LOL).
The time passed really quickly as we took in the scenery, did some swimming, and chatted together.
I get seasick easily, but there was no worry about that, and it was a very enjoyable 3 hours.
If I ever get the chance again, I will definitely go on another cruise.