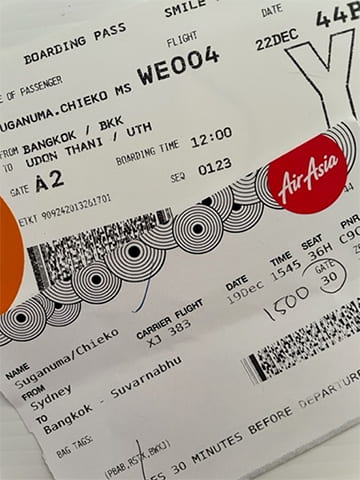 I traveled from the Gold Coast to Thailand for a 2-week trip over the New Year period with a friend.
None of the airlines flies directly to Thailand from the airport on the Gold Coast at the moment, so we took an Air Asia flight from Sydney. We had bought tickets for a separate domestic flight from the Gold Coast to Sydney, so the trip involved picking up our checked baggage on arrival at Sydney Airport.
We arrived at Bangkok's Suvarnabhumi Airport at night. Arrival was 2 hours late, so it was already 10:30 pm and we were hoping to quickly pick up our baggage then go to the hotel and sleep, but of all things, my friend's suitcase didn't show up!
The service counter was right in front of us, so we went to ask what was going on and found 2 Thai ladies there also making a baggage complaint after theirs too had not shown up.
One of the male staff members said, "Perhaps it has been stolen?" Those words made me angry. How could he say something like that and provoke more anxiety in people who were already in such a panic.
According to another staff member, the suitcase might be at Sydney Airport. But with the 4-hour time difference between Sydney and Thailand (Sydney is 4 hours ahead), Sydney Airport was already closed, so they said they would contact Sydney Airport tomorrow. We couldn't get any more information that day, we completed the lost baggage claim procedures at the service counter, they said they would contact us if the baggage turned up, and that's how things ended before we headed to the hotel.
On a 2-week trip, a missing suitcase is a terrible catastrophe. I felt sorry for my friend, who was exhausted from the stress of such a shock. It was a long 9 and a half-hour flight from Sydney to Bangkok, and then we had this happen to us, on top of being made to wait in the plane for an extra hour and a half.
The next day we headed to the airport to check again and see if there was any news from Sydney Airport, but the suitcase had not been found and they had no information either.
But I was doubtful whether they had really contacted Sydney Airport.
We couldn't do anything more, so we went into the city to buy the immediate essentials, like underwear, clothes, and cosmetics. While we were at it, we also made an inquiry to the overseas travel insurance company and got instructions, including for the documents needed to make an insurance claim.
Several companies subcontract baggage handling services at Sydney Airport, so we tried making international calls, but we only got recorded messages and didn't get through, and even though the calls were during office hours, we only got the recorded messages you get outside office hours, and still couldn't get through. Plus, Air Asia has no customer service center manned by people anywhere in the world, just AI, so we were going around in circles. Even though our anxiety would have lessened even a little if at least there was some person who would listen to us and explain the situation, we were very irritated about not being able to just talk with someone on the phone.
The result was that her suitcase was not found during our 2-week trip. And at the time of writing this article, it still has not been found.
She still hasn't found her favorite clothes, shoes, handbag, and so on that she was thinking of wearing on a rooftop bar in Bangkok and on New Year's Eve. She was feeling down, and remembering that she had her favorite things in her suitcase made me feel sorry for her.
Her suitcase had a nametag on it with her home address in Australia, her phone number, and her email address, so she says she hopes it turns up, even at some time in the future after she has forgotten about it.
Although my friend was going through a catastrophe like this, she is tough, she brightened up and enjoyed our trip together, for my sake, and I am truly filled with gratitude to her.
Our trip ended without mishap and when we were returning from Bangkok to Sydney, we happened to pass a baggage subcontractor called Dnata at Sydney Airport. We went and had a look in the office and found a whole lot of suitcases crammed in there. As well as suitcases there were snowboards, surfboards, baby carriages, and so on.
The room was about the size of a convenience store, and it was just jammed full of baggage.
This was the room I had heard in chats referred to as the Panic Room. It really does exist.
When we explained things to a Dnata staff member we found out that they happened to be the company that handles baggage for Air Asia and they said it was OK to look through the suitcases, so we started looking.
We thought it was just this one room, but then we found that there was another room at the back, and also one across the corridor. In all, there were suitcases and other lost baggage stacked up tight in the space of 3 convenience stores. When we made further inquiries, we found that there were 2 other checked baggage handling companies and were horrified to think there was this much lost baggage at their offices too. I feel sorry to think of all the many people who have suffered the pain of losing their baggage. Imagine going on a trip just to surf but then not having your surfboard show up…
After all, her suitcase had not made it to the Panic Room. The Dnata staff member said that if it did turn up, they would contact my friend, but judging from the huge number of suitcases lying there unclaimed, it was doubtful whether they would actually do the right thing and contact her.
A shortage of staff in Sydney and Melbourne at the moment was causing problems with increased lost baggage. And this problem was not just occurring in Australia but Auckland Airport in New Zealand and Heathrow Airport in London as well.
If you are going to travel overseas in the future, I would like to say to you, "Please be very careful," but that alone does not necessarily mean you can avoid problems, right.
The next time we travel, both I and my friend will get overseas travel insurance of course, and will choose an insurance company and an airline that we can trust and can contact (I don't think we will fly with Air Asia as long as they use AI to handle calls), we will put GPS tags on our baggage, we will take the expensive things and things that would be a nuisance to lose in our cabin baggage, and put even just one spare set of underwear in our cabin baggage. We have decided to reduce the material and the emotional damage even a little, by not bringing our favorite clothes on trips, and so on. All the same, rather than devising plans like this, in the first place, I hope this sort of thing never happens again.