The Gold Coast is a great city with lots of beautiful beaches and canals, so for us, there is an integral bond with the waterside lifestyle. But it's not all rosy. When you're in a traffic jam, having lots of canals means dead ends, and few backroads. And continuous rain means higher water levels, which raises concerns about flooding, and so on. Still, when you're having fun on a jet ski, boat, canoe, or stand-up paddleboard (SUP), and enjoying great views, you get to enjoy what nature has to offer.
In this article, I got to go along on a trip to an uninhabited island with a friend who owns a boat. The uninhabited island is Peel Island, about 1 hour and 45 minutes one way from the Gold Coast by boat.
I took another look at the map and saw it there in the island sea north of the Gold Coast, close to Brisbane. There are a lot of islands between the Gold Coast and Brisbane, including the largest, North Stradbroke Island, South Stradbroke Island, and Moreton Island, which is popular among Japanese sightseers. Peel Island is an uninhabited island and national park 1 km from top to bottom and 3 km across.
Peel Island was once a quarantine station established to control the spread of Hansen's disease around the middle of the 1800s. The quarantine station has a sad history, including the fact that it was built on Peel Island because there are a lot of sharks in the surrounding waters, making escape difficult. By the way, I only found out that "it was difficult to escape because of all the sharks" after I had spent many hours having fun swimming at Peel Island (LOL).
My friend's family lives in a palatial home on a canal with a view over the canal from their living room. They also have a berth for their boat in the canal right in front of their home, and that's where they tie up this boat which is solely for their own use.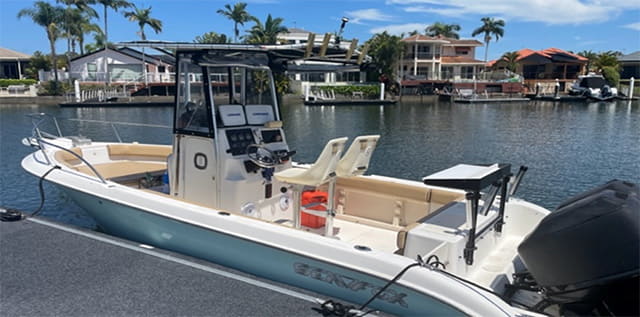 They used to have a larger boat, but now they own this one.
But this one looks cool and is plenty fine enough!
Going to an uninhabited island means there are no shops or restaurants, so we prepared food and drink and put it in the cooler.
I have absolutely no idea about the waterway rules for boats, but there were signs with speed-limit numbers here and there, as well as signs I have never seen before and don't know what they mean. Apparently, there's a sign that warns of shallow water ahead, so you don't run aground.
The weather that day was perfect for cruising on a boat.
You mustn't go fast on the waterways of the canals lined with mansions, so we went slowly, looking at all the mansions as we went, then when the narrow waterway opened out into the inland sea, we hit full speed!
It was the middle of summer, so it felt good having the fresh wind on our faces.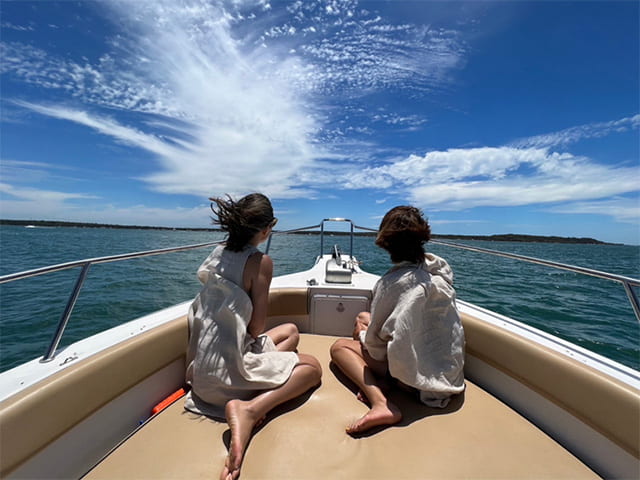 We came across a pod of dolphins along the way!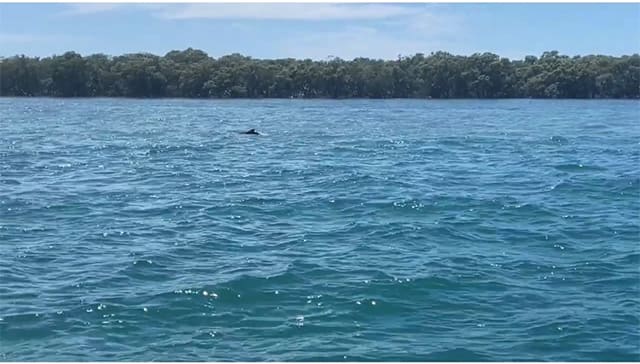 It's a little hard to see, but can you spot the dolphin fin sticking up?
There were actually about 5 or 6 dolphins swimming in a pod.
You sometimes see dolphins like this even in the inland sea off the Gold Coast.
We watched the scenery, chatting with a beer in one hand, and in no time at all we had arrived at Peel Island.
The weather was good, so a lot of people had come by boat for a fun day.
And we found a boat selling raw oysters!
It moves around among the anchored boats and if you want to buy some, you wave your hand, and it comes over to you.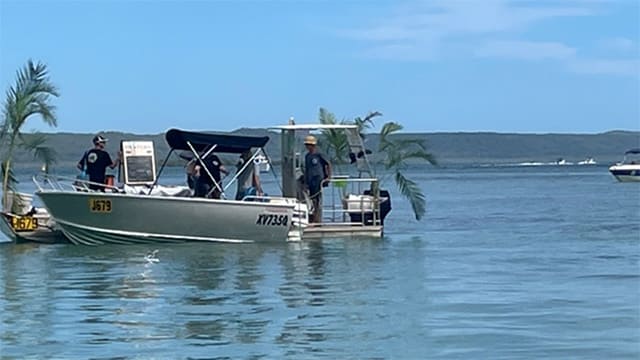 We anchored the boat in a spot where we could just stand once the tide had gone out.
We dived into the water and swam to the beach. A beach in an inland sea with no waves is perfect for swimming and snorkelling.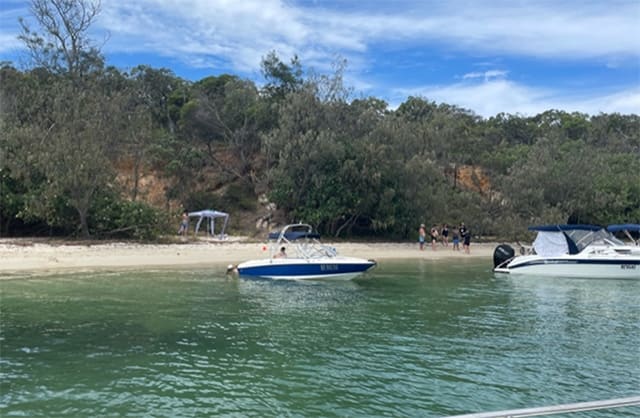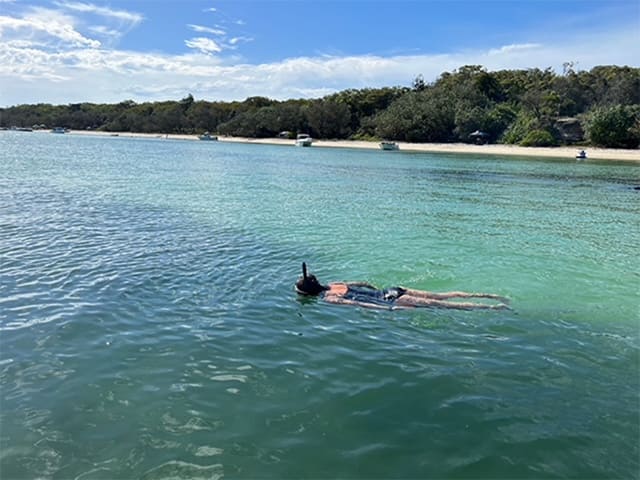 The water was so clean I just wanted to stay in the whole time.
In no time at all it was past half past 3 and we had to go back.
The boat ride was a little rougher than on the way there, maybe because the wind was making more waves, but the slightly cooler sea breeze felt very nice on my skin, which was glowing from the sunbaking.
When I got home that day, my legs, forehead, and nose were red from sunburn.
It was the first time in a long time that I had spent such a long time in the sun.
I think you're leading a really fantastic, and extravagant, lifestyle if you can say something like "We're just going for a boat ride to an uninhabited island, from home." It would be nice if I too could have that sort of lifestyle one day…
But until I do, I'll just get a friend to take me along (LOL).