Evert year during fall, many visitors from around the world flock into the city of Linz where I currently reside. With a population of only 190,000, Linz is not a metropolis and there is no World Heritage site either. Then what makes people drawn to this city?Following the war, Linz was a city of steel, conveying an image of a city where there is technology but is also smoky and lacking culture. Neighboring this city are Vienna and Salzburg, both known for their World Heritage sites. It would be impossible to compete with them in terms of past culture. That being the case, the only option was to create culture that can be accumulated into the future. This notion gave birth to the slogan "art, technology and society" as well as the festival based on this slogan. It is a marvel that even from those days, the festival was aimed at seeking social impact in addition to a simple pursuit of cutting-edge art and technology.In 1979, the first festival began as an experimental outdoor event along the Danube. Residents placed a radio outside their window, play Bruckner's symphonies, and create clouds of sound all around. A concert was held with huge speakers installed outdoors along the Danube. A humanoid was invited from the U.S., which the mayor himself went to welcome. These were all revolutionary attempts at the time.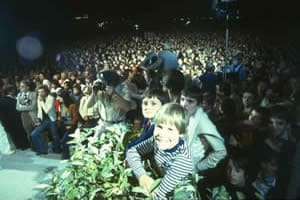 ●Photo 1: City scenery in 1979●
Every year since then, the festival has made use of cutting-edge technology and ideas, with the public organizing it and being involved at the same time, as they developed into a large-scale festival with about 100,000 in attendance. These developments led to the creation of a culture. This is the festival known as Ars Electronica and the reason why Linz attracts so many people from worldwide.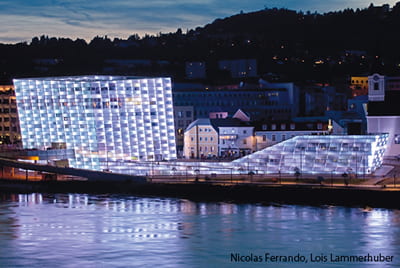 ●Photo 2: The heart of the festival, Ars Electronica Center, is an interactive facility enjoyed by people of all ages. Open throughout the year (closed on Mondays).
The city also put forth effort in developing a city focused on the future. For instance, they rebuilt the station building to be glass-walled and also renovated a tobacco factory that was shut down into a hub for the creative industry. The city was named European Capital of Culture in 2009 and UNESCO City of Media Arts in 2014.Ars Electronica, one of the world's largest festivals, is held every year in September. This year, it will be held from September 3rd (Thu) to the 7th (Mon). The time it takes by train from Vienna or Salzburg is only about an hour. Would you like to make a journey through space and time and experience this futuristic city transformed from an ancient one?