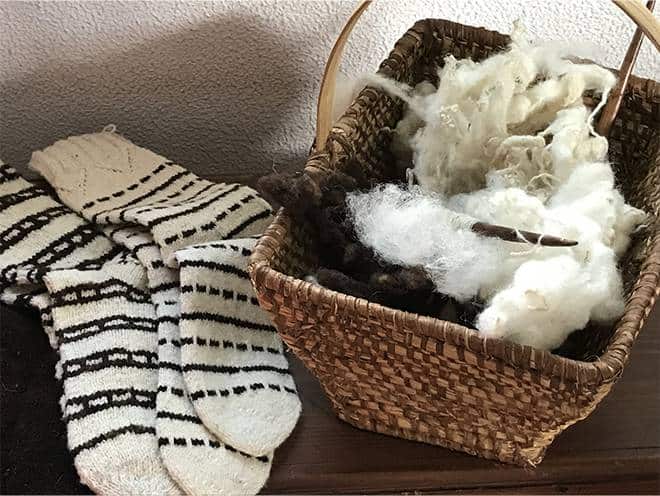 Recently I went to Mezio, in the Serra da Estrela region.
My goal was to visit a folk craft shop in a place called Montemuro.
The shop has all sorts of things: herbs, spices, baskets, embroidery, patchwork, hemp products, and so on, but what attracted my interest on this trip was the sheep's wool products.
There are about 10 sheep breeds across the whole of Portugal. The qualities of the various wools differ, so the finished products also have differing characteristics. In days gone by, you used to be able to find products made of wool in souvenir shops and local shops.
Particularly well known were fisherman's sweaters and socks.
They're warm and withstand repeated exposure to water. Nowadays, firefighters use woolen sweaters and so on because they are more resistant to flames than synthetic products.
Actually, you see less and less wool products here nowadays. And if you do find something, it's no longer 100% wool.
Knitting fine yarn is difficult, and making yarn from sheep's wool is hard work, so there are fewer people doing it, to the extent that they burn the wool of sheep slaughtered for meat. And the number of sheep has also decreased.
I asked Lourdes-san about this.
Apparently, there are about 30 people in the area who knit socks. They are all elderly people who have retired. They knit socks as a way of earning pocket money, so they knit when they're not preparing meals or cleaning. There are more elderly people staying at home nowadays, so, unexpectedly, the pool of knitters hasn't dried up.
But it is still a laborious process, cleaning, separating, and spinning, then knitting the wool. I was surprised to find that this difficult job was considered normal by the women in olden times.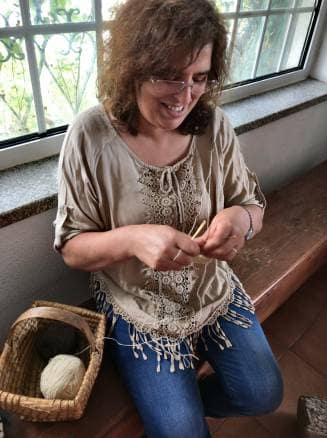 It seems that the implements the elderly ladies have now have been inherited from woman to woman and that every home in this area has them. Lourdes-san told me that the knitting needles she uses are made of copper, that she was given them by her grandmother, and that her grandmother was given them by her grandmother.
Lourdes-san told me it takes a day to knit one sock (if she doesn't do anything else).
Sheep's wool colors are basically white and black, so Lourdes-san had balls of white yarn, balls of black yarn, and balls of black and white yarn (called sarrabulho) made by twisting white yarn in with the black, perhaps because black yarn is weaker, and she was using them to knit some lovely patterns.
"Back then young women used to try really hard to knit the most stylish socks you know," Lourdes-san said.
Wearing stylish socks seems to have been the secret to being popular with the young men.
For the men in those days, the most important thing was how good the woman was at household tasks, rather than her looks. So, wearing stylish, elaborate, and refined socks had a kind a feminine appeal.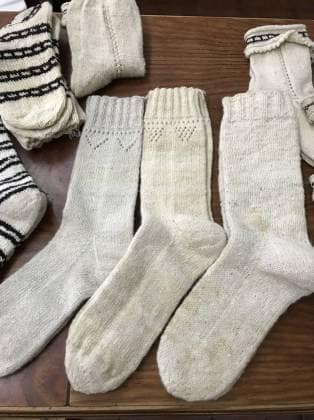 Long socks are for summer. They are long to protect the legs from grasses when working in the fields in summer.
And there are also leg-warmer-like ones, as in the photo. The particularly interesting thing about these is that they are curved in the calf area. While there were socks like this in the shop, they involve a special technique, and now there is only one person in the whole region who can knit them.
Countries everywhere are gradually losing handwork skills, but I only hope that somehow or other we don't lose good things like these.