This summer, huge crowds of young people gathered in Lisbon for a Catholic event called World Youth Day, held over six days August 1–6.
World Youth Day is a youth celebration that includes a pilgrimage to the Vatican, the primary site of the event, and demonstrates the universality of the Catholic church. People go to celebrate their faith and sense of belonging in the church community. In fact, WYD aims to promote peace and friendship around the world and between nations, while rekindling faith, hope, and acts of goodwill among the people of the host countries.
The event started in 1984 when Pope John Paul II called young people to Rome for mass—and 250,000 of them showed up. The following year, the Pope declared Passion Sunday "World Youth Day," and worldwide festivals were held in cities of the Pope's choosing every two, three, or four years. This year, the event was celebrated in Lisbon.
And although it is technically a Catholic event headed by the Pope, everyone is welcome to participate regardless of religion.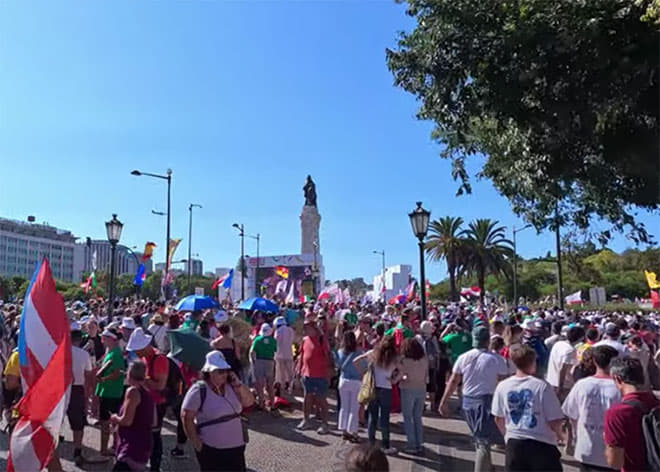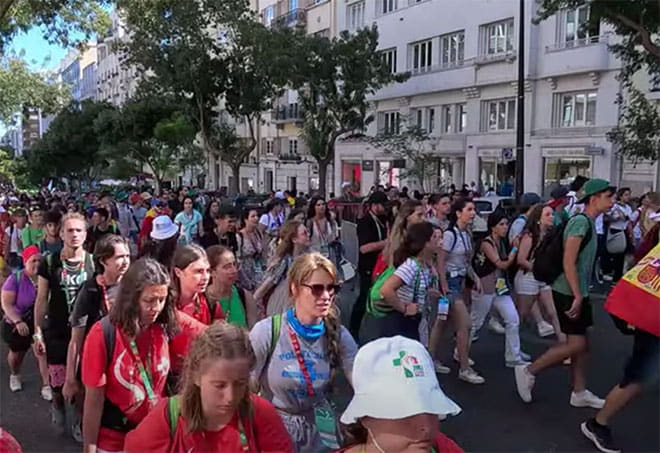 So how did it go? To start, an astounding 1,500,000 people gathered in Portugal during the event period. To give you an idea of how incredible that is, 1,500,000 is equal to about 15% of Portugal's entire population.
Many young people and clergy participated in homestays with local Portuguese families, and we had requests to take in people as early as last summer. It's a busy time of year for us so we didn't take in any guests, but someone I know told me that they hosted two Catholic priests at their home. The Portuguese are so kind and devotional, I'm sure that many of them jumped at the chance to host the young visitors.
People expected huge crowds during the event, so many businesses told their employees to work from home. They also put out broad calls for young volunteers, but the volunteers apparently paid participation and other fees.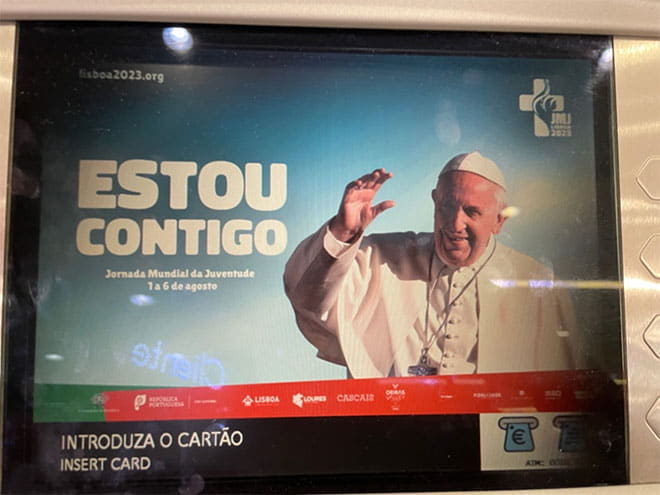 The Pope made it on our ATM screens!

The Pope made it into the local papers!
I know someone who went to the Welcome Ceremony they held in central Lisbon, and they told me that the city was more crowded than it had ever been. There were even special World Youth Day buses running, with parades of people waving their national flags as they headed towards the ceremony venue.
At the event, Mariza sang fado songs and Pope Francis spoke to the entire gathering. When the crowds cheered, I'm sure you could feel the passion of the young people ringing out in the moment of solidarity.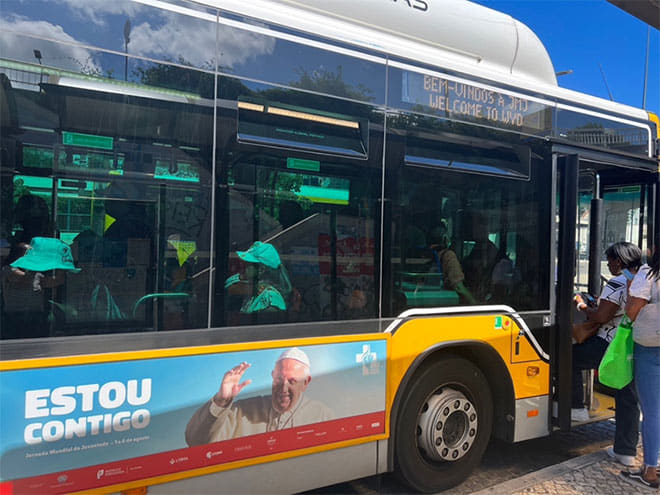 "Welcome to WYD"
Of course, some families did their best to avoid the crowds. They took advantage of the opportunity to work from home and traveled out to the countryside for a few days of relaxation.
We don't live near an area where things were going on, so it didn't impact us much—but the posters and other advertisements were everywhere. You could tell that the event was a big deal.
One thing I found interesting was when I went to the supermarket and saw that they had affordably-priced sandwiches and other bagged lunch items set out for the young people. The sandwiches were particularly cheap, but they had a system where participants could show proof that they were there for the event and get snacks and drinks as well.
I'm sure they've provided services like that at other places, too. I don't know if that's the reason, but some people were disappointed that sales didn't go up at their shops. Despite the big event full of young people, water sold well but not beer—because the visitors are devoted Christians. There are also many who are environmentally conscious, so a lot of them brought their own water bottles. It's totally different from a Benifica or Sporting CP soccer game, where the young people are drinking so much beer they're practically pouring it on themselves.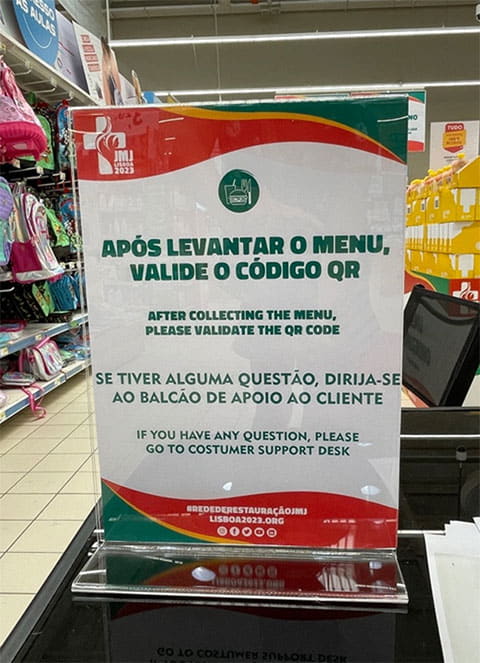 Special lunch bags at the supermarket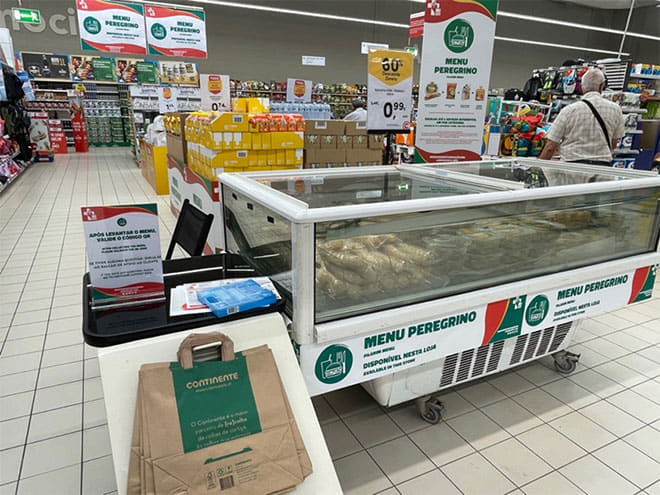 To me, the most interesting thing about the event was the security. One of my friends is a dog trainer, and they said that the organizers reached out to them several months before the event to see if they could work it. I guess guards and police needed training to get ready as well. Although—there didn't seem to be an unusual security presence. In the end, nothing happened.
In the past there have been acts of terrorism from Islamic groups, but it seemed strange to me that there were no terrorist acts at a religious event like this.
There was an assassination attempt on Pope John Paul in the past. We couldn't see anything, but there may have been snipers posted around on the tops of buildings.