I know, I know, the title is a bit scary but don't be scared! I have a real passion for Scottish cemeteries and I find them incredibly relaxing and not at all eerie.
I am attracted by small cemeteries overlooking the sea, with their lopsided headstones, the green grass and the plants that grow around them, even better if they stand near a small church partially in ruins and Scotland is full of them.
I like to walk among the graves, trying to read the writings on the ruined stones, imagining how the people who rest there were when they were alive, how their lives used to be.
The Scottish cemeteries do not have the sad and grey connotation of other countries' cemeteries, on the contrary: they are simple, well cared for, they almost seem like little gardens and local people often come here for a walk. Sometimes, at the weekend, some families even have picnics in the cemeteries, in the attempt to 'share' a meal with their departed loved ones.
Obviously, also in the centre of Edinburgh, there are some of the most famous cemeteries of northern Britain, and most of them are surrounded by legends, anecdotes and dark stories.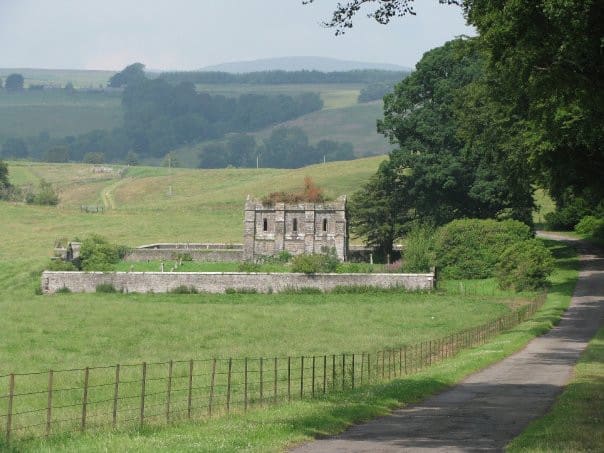 Scottish remote cemetery
Edinburgh is famous for its cemeteries, and the Greyfriars Kirkyard cemetery is perhaps one of the best known in the world. So beautiful and distinctive that it has become one of Edinburgh's most visited attractions in recent years.
But what makes Greyfriars Kirkyard more special than most other beautiful monumental cemeteries in Europe?
First of all because many gravestones have been there for so long that they have been covered with moss and grass, consumed until they became illegible, broken and torn but so charming. It looks like they came out of a 19th century horror novel, and in autumn, when the golden colours are added to the green of the meadows, it's really amazing.
The Greyfriars Kirkyard has a long history, it was built in the middle of the 1500s on the site of an old Franciscan convent (from which it takes its name) and is even older than the church that rises inside it. From 1500 to 1800, thousands of people were buried here, from the humblest villagers to some of Edinburgh's most important citizens: artists, writers, scientists, politicians and other illustrious personalities.
Greyfriars Kirkyard is also a true artistic catalogue of symbols linked to the theme of death. Many are the classic images engraved on the stones: skulls & tibias, the sad reaper, angels of death of various kinds, winged hourglasses, obelisks and so on. Other artistic representations are decidedly more original, and it is a challenge and also a game to discover them by carefully observing the details of the funeral monuments, often left almost in ruins. One of the most curious and original things that can be seen here are the large iron gratings that emerge from the ground and which are used to protect the bodies of the dead from the thieves of corpses that raged for Edinburgh a couple of centuries ago.
Greyfriars Kirkyard is also the most famous and haunted cemetery in the city. I said haunted, that's right. According to quite a few legends, this corner of Edinburgh is full of spirits and ghosts!
Many are the tourists who visit it, perhaps for its mysterious atmosphere, or for its beauty made even more special by the beautiful view of the Old Town that can be enjoyed walking through its tombs on the hilltop.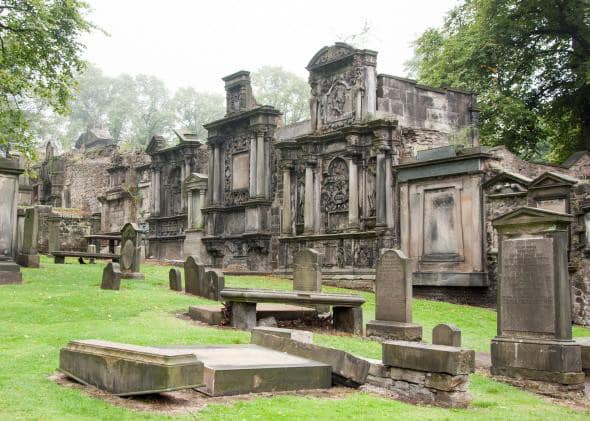 Greyfriars Kirkyard in Edinburgh
Greyfriars Kirkyard has existed since 1560 and it was built on a land donated by Mary Stuart herself.
The graves and mausoleums that can be admired and visited today are ancient, all except for two of them: you can immediately see the grave of John Gray and his trusty little dog Bobby, who woke up on its master's grave for over 14 years and who was then buried here, becoming the mascot of the city (I already mentioned him in one of my previous blogs). But there are some tombs over which some disturbing legends hover, first of all that of Mackenzie, the Bloodthirsty. The stories regarding this cemetery are so interesting and sources say that from 1999 to 2007 in the cemetery have been recorded as many as 400 paranormal activities!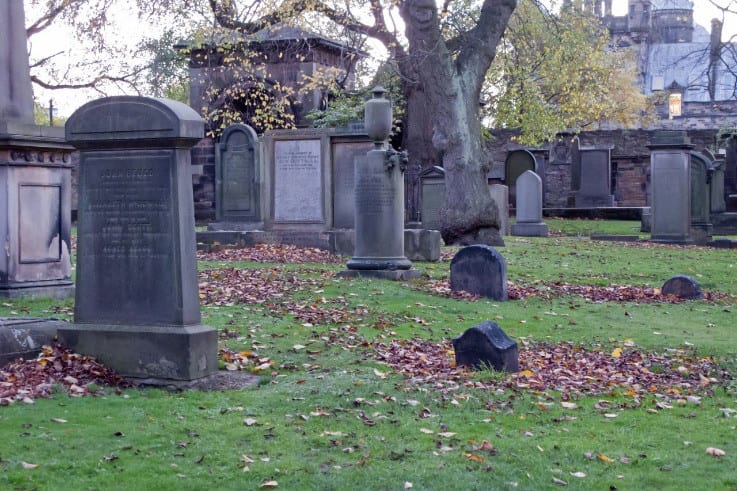 Greyfriars Kirkyard in Edinburgh
In the centre of Edinburgh, on the famous Royal Mile, is the Canongate Kirk church surrounded by its cemetery which was built starting in 1688. I arrived there following the traces of a legend, looking for the tomb of Queen Mary Stuart's secretary and probable lover. He was killed in the palace of Holyrood in a conspiracy organized by the husband of the Queen and, it is said, that he was buried in this cemetery in secret. It's all about legends, of course, but the thrill of going in search of his grave and finally finding it was definitely real! Together with Queen Mary Stuart's lover, in the cemetery, illustrious figures from the past of Edinburgh are buried as well as some famous British poets and economists.