The links between Glasgow and music are endless: between Glasgow, the underground scene, and Glasgow, the capital of folk music, there is a whole world of melodies and notes that you cannot miss. In this city, which is the business capital of Scotland, more than 100 concerts take place every week. In 2008, Glasgow was awarded the title of Unesco City of Music, and it would remain the only British city to bear this honour until 2015, when it was joined by Liverpool.
This title means that the music culture of the city is worth being preserved.
Glasgow is a sacred place for Celtic music lovers and it's the rock soul of the United Kingdom. I will tackle this theme by following two threads: the Celtic Connections Festival and the Glasgow's Rock soul.
THE CELTIC CONNECTIONS FESTIVAL
The Celtic Connections festival comes to Glasgow once a year to celebrate Celtic music, folk music and world music. This festival was born in the heart of Glasgow, around the Old Fruit market, a rather magical concert hall which used to be a fruit market about fifty years ago. In the first edition in 1994, more than 30,000 people attended the concerts organized at the Old Fruit market. On the first flyer of the festival, one reads: "Glasgow is the hottest place to be in January". Cheeky. And true because in the latest editions of the festival more than 120,000 tickets were sold every year.
A few weeks ago, I was invited to participate at the festival and there I quickly understood the great diversity of Celtic Connections programming. Celtic music does not only comprise old traditional folk songs as some people may think, but also new music beats from energetic solo players and funky groups.
Many are the young people who attend the festival and many are those who love Celtic melodies because it brings them back memories of a glorious past.
GLASGOW'S ROCK SOUL
In order to truly understand Glasgow's rock DNA, I would have only one tip: follow one of Glasgow Music City Tours, I participated in one and it truly amazed me. My guide in town was a girl named Hannah who first took me to Gallowgate, one of the veins of East Glasgow. In East Glasgow is Barrowland Park, a place that I probably would have missed walking around alone but I was lucky enough to be with her and to learn that this park is a place of pilgrimage for all lovers of live music. The long road that crosses it, it is dotted with tiles that bear names of groups and musicians. These are the names of over 600 artists who once played at Barrowland, one of Glasgow's concert halls.
Barrowland was the first place in Scotland to have neon lights Dozens of rock concerts are organized in town every evening, all the ig groups from Glasgow and groups from out of town made Glasgow a city of weight in European rock. Today, the Hydro Concert Hall hosts major groups every week, while small clubs in the city centre are beset by new talents. Glasgow's musical culture is imbued with the identity of the Gaelic communities, who brought sounds from western Scotland, and all that punk-rock had to offer in the 80s, when Glasgow was not the trendy city it is today.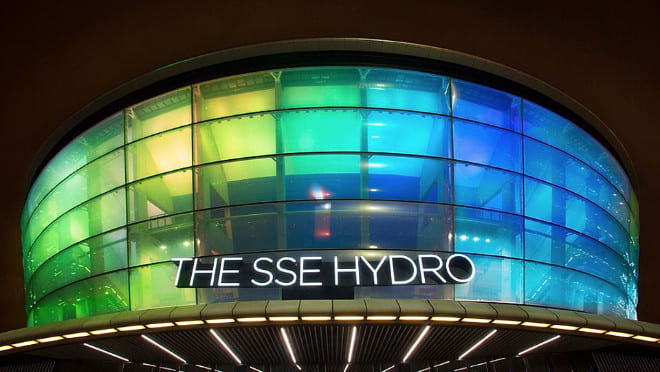 The Hydro concert hall
St. Luke's is a church converted into a concert hall. A place full of light, where mountains of events overlap. It used to be a church and now it's where people go for good old-style rock music. This is only one (perhaps the most picturesque one) of the many rock venues in town.