Street food and finger food are getting more and more popular in Canada as well. This trend moves on the wheels of food trucks (some of them are real works of art) and it's ever-present at food festivals, going from one part of the country to another. It tempts you on the roadside or in the brewery pub menus. International recipes go a long way: burgers, pulled pork sandwiches, cupcakes, tacos, pizza, sushi (and there is plenty of fresh fish in Canada), pita, empanadas, to please all tastes and to welcome all cultures, a reflection of that melting pot of backgrounds and traditions which unites the Canadian people. In this colourful scenario, however, there are also some local recipes and Canadian staple foods. I have tried some of them upon arriving in this country and some I have researched on (I can't wait to try them all!). What I realized is that different cultures in Canada intertwine and mingle, creating something unique.
Let's start with one of Canada's official national dishes:
Poutine
. Poutine is native to the Québec region but it is now widespread throughout the country and it's becoming popular in some areas of the United States too. Many people attribute the paternity of this dish to the French-Canadian restaurateur Fernand Lachance and to a customer in his restaurant who, as legend goes, had asked to have a side of curd cheese on top of his chips (or fries as they call them here). In addition to the cheese, the chef later on added the gravy sauce which is typical of this dish. Some Canadians say that poutine needs to be served just barely warm, while others say that it must be sizzling hot so the cheese can keep melting in your mouth. You can find this dish everywhere, from fast food places to elegant restaurants and, obviously, sold at food trucks all over the country.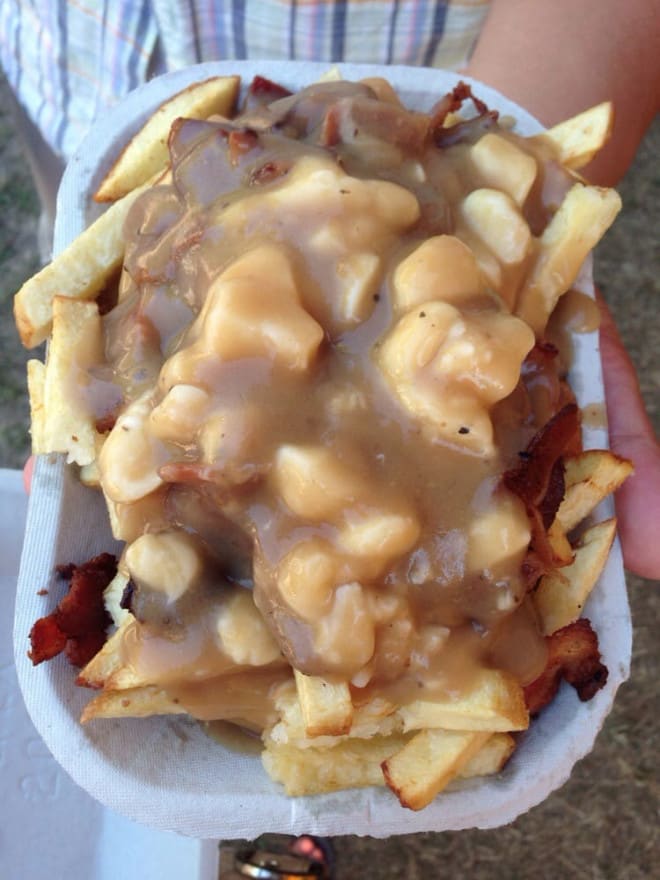 Poutine
Sausages
are in Canada a beloved ingredient and they are cooked in hundreds of different ways. In their street food version, they are often served as simple hot dogs, but the particularity is the variety of the category. There are for example smoked ones, those made with a French recipe (using pork and red wine as main ingredients), those from Lunenburg (a mixture of beef and pork) and even the lamb ones. Hot dogs in Canada can be either cooked on a grill, boiled or fried. International specialties such as bratwurst, chorizo, andouille, etc. are also very widespread and very popular and they were introduced by new immigrants. I was told that even the salmon and shrimp hot dogs exist (given the love of Canadian for fish) and of course many are its vegan versions.
The Nova Scotia-style lobster roll
is the Canadian version of the New England's lobster all (an American specialty). Nova Scotia is famous all over the world as the best place to have lobster. The roll is prepared by boiling the lobster and its pulp becomes the filling of a soft sandwich dressed with mayonnaise, lemon juice, onion and lettuce.
The
Bannock
it is an old bread, soft and similar to an Italian focaccia, introduced by the Scottish settlers and immediately appreciated by the natives of North America, especially in Canada. It was an important food for the diet of early explorers and fur hunters as it was easy to prepare and very filling. It can be baked or fried and it's now served as a side dish.
Montreal smoked meat
: Montreal is certainly an interesting city. It is known for a particular smoked and spicy kosher-style smoked meat sandwich, similar to the pastrami in the United States. The meat is cut into thin slices (it's a cold cut) and it's put between two slices of rye bread sprinkled with mustard.
Beaver tail
: let's move on to dessert. The beaver tail is an elongated and fried pastry, whose shape reminds that of the tail of the animal. The original is sprinkled with sugar and cinnamon, but today you can choose between different toppings: banana and chocolate, peanut butter, jam, among other flavours.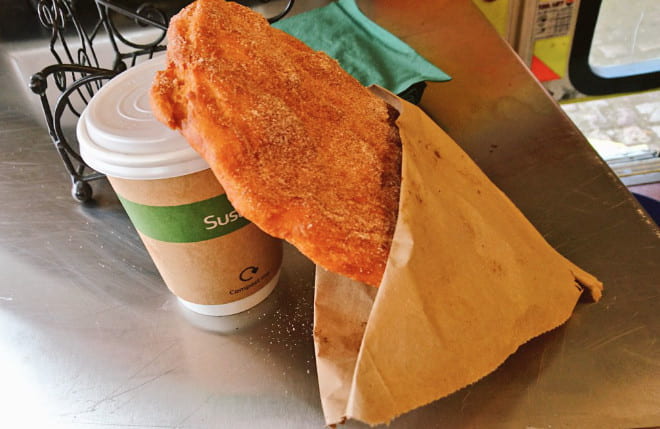 Beaver tail