I must admit that although I am happy to live in Ottawa…I had a great time in Toronto and I decided to go back there!
Canada's largest city is absolutely fabulous.
Its economic dynamism, its magnificent natural setting, an incredible sense of security, very rich cultural activities...Toronto is often cited as being the most cosmopolitan city in the world and it seems that half of its inhabitants were born outside Canada, probably one of the reasons that made me love this city.
In a day, you can go around the world here, whether you choose to go shopping in Little India, hang out in high tech gadget shops in Koreatown, enjoy a foot massage in Chinatown, eat Greek in Greek town, have a drink in the lively bars and cafes of Little Italy or Little Portugal…not to mention walking around Kensington Market (just off Chinatown): a neighborhood that is not confined to one nationality, but thriving with shops and crafts stalls from around the world, vintage thrift stores, as well as restaurants from all countries.
Among the best spots spotted in Toronto around the Kensington Market area is a Thai-Hungarian restaurant (Hungary-Thai bar and eatery) which I believe that perfectly combines the multi-origin of its owners, a perfect mingle of races, just like our Canada.
Toronto is a city that has made immigration a great asset and where the different communities seem to live in harmony.
Not far from the CN Tower, I came across the exhibition "Windows of the World" by photographer Chang, which summarizes very well the philosophy of this welcoming city and country.
In the gallery one can see 46 photos of 46 immigrants of different nationalities, with messages translated into all 46 languages.
I really liked the explanatory text that goes with the exhibition and the best quote for me was '…people from all countries see Toronto as their home. We speak Spanish and Somali, Polish and Punjabi. We wear kippas and kilts. We eat kimchi and kebabs. We celebrate Easter and Eid.'
Toronto has become a patchwork of stories of millions of individual experiences, most of which began somewhere else in the world and it has become a model of integration making cultural diversity an incredible asset for the country.
Toronto is the multi-ethnic heart of Canada. With over five million inhabitants, the city overlooks Lake Ontario for about 50 kilometres. It is the most cosmopolitan and the largest city in the country. The massive multi-ethnic immigration that began in the nineteenth century has left many traces in the urban fabric: in the historic settlements of Chinatown, Little Italy and Greek town which are the most ethnic and most visited neighbourhoods in the city.
Flavours and colours of the world are also intertwined in Kensington Market, the seven-day market located in the homonymous district, where among the shops of vintage clothes and various shops, you can breathe a pleasant bohemian atmosphere.
The Ontario International Film Festival has become one of the most prestigious film showcases in the world and its indeed truly international presenting films from many different countries.
The skyline of the metropolis, seen from the Toronto Islands, is an unmistakable feature and it's the setting for many films shot in Canada also.
But if you leave the center a little and head towards the north-western part of the city moving away from the elegant neighbourhoods of Yongee and Bloor, you find yourself immersed in a completely different atmosphere, among pretty Victorian streets that host art galleries, cafes, fashion boutiques and chic restaurants. This is Yorkville, a former independent village that is now the residential district of Toronto. Then Scarborough, a typical suburb that once looked like a rural village. Features are the cliffs that fall sheer to Lake Ontario known as Scarborough Bluffs, which are definitely worth a visit.
The Toronto Islands located on Lake Ontario can be reached in just a few minutes by ferry from the port.
They are an ideal place to bask on beautiful beaches, take bike rides, go canoeing and enjoy a splendid view of the lake and the city skyline.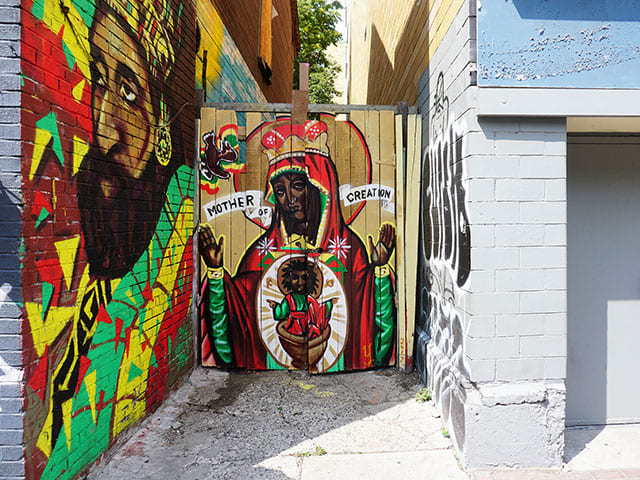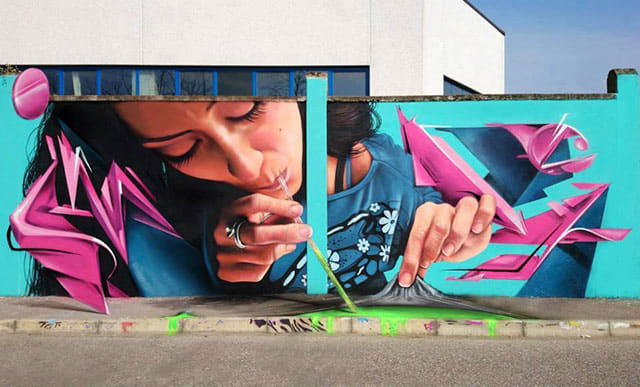 murals of Toronto -