Holidays are the time for parties and festivals and that means celebration and gifts. However, with the persistent economic crisis over our heads, giving gifts to every member of the extended family or may be all of our friends and neighbours may not be accessible. So, especially this year, the
white elephant gift exchange
looked like a saviour and with my friends we decided to do so.
This gift swapping game is not only a great way to save money, it is also interesting and fun and it is very popular here in Canada and North America although I did not know about this tradition before moving here. The white elephant gift exchange is similar to that of Yankee swap, but the only difference is that in the former case, people have the right to steal the person's gift if they get something they do not like. However, most people think they are similar.
The basic concept of the white elephant gift exchange is to give away things that you don't need or that you find useless.
The most important rule of the white elephant gift exchange is that the game should be played by at least six people and we played it among eight of us this year who decided to participate.
However, the more people participate, the more the fun. The next rule of this game is that anyone who wants to play this game should bring a wrapped gift with them if you have a party but this year, we either delivered the gifts in person or we mailed them.
If you are hosting a white elephant, you can exchange gifts at your party and mention in your invitation card that each guest must bring along a gift and also mention more or less what the monetary value of the gift should be.
We decided, for instance, that our gift should not have exceeded 50 Canadian dollars and should have not been less valuable than 20 Canadian dollars. Because of this White Elephant gift exchange rule, this game becomes a great way to get rid of things you don't use at home or something you don't like.
One of the very important White Elephant gift exchange rules is that the item you take as a gift should be in good conditions but we decided that the item had to be in excellent conditions or basically something new we received and we didn't like or use much.
It's more fun when the owner of the gift is secret so normally, at a party, when the guests arrive, they should be asked to place their gifts in the centre of the room where the game will be played. Once all the guests have arrived and are done with the food and drinks, everyone sits in a circle around the gifts then we make sheets of paper starting from number 1 to the total number of people who are playing the game and we fold these cards and put them in a large basket or bowl and ask everyone to choose a strip of paper.
The white elephant gift exchange game will start with the person who got the first number. This person should take a gift from the centre and unwrap it for all to see. Now the second guest can steal the gift that is unwrapped by the first person or take a new gift from the centre. If the second person has the gift of the first person, that person can choose a new gift. Each gift can be stolen 2 or 3 times, after which it becomes a
dead gift
and cannot be exchanged or stolen anymore. In this way, the game should continue until all gifts are taken.
We couldn't do it in person so a friend of mine put our names in a hat and we had a videocall in which he a drawing of our names and assigned to each person another friend to send a gift to…it was a bit like Secret Santa meets White Elephant without the secret so it was not as much fun but in 2020 everything goes I guess!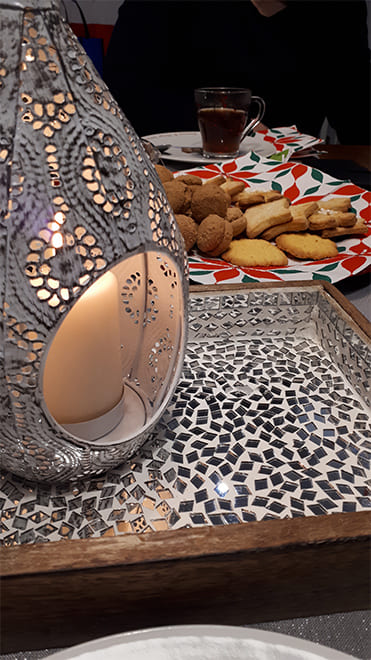 My White Elephant was nice : a tray with a candle holder and cookies