There is a sort of another national lockdown in place all over Canada…pubs, restaurants and cafes are closed or with a very limited access and with loads of restrictions so…what can I do? I cook! These days I like to cook at home for a small number of dear friends who come visit and have potlucks at my place.
It's great to cook Italian food for them and learn much more about Canadian foodie culture.
A friend who was visiting me the other day brought us some homemade and yummy lobster rolls.
Lobster rolls are a popular seasonal meal, particularly among people from Canada's maritime provinces, especially Nova Scotia, where they can also be served on burger buns, baguettes, or other types of bread and even in pita bread pockets.
Traditional side dishes for these lobster rolls are chips and dill pickles and, on this occasion, he brought pickles.
Even fast food chains in Canadian provinces, such as Nova Scotia and Ontario, as well as in New England, offer such lobster rolls as a seasonal item in the summer but this dish can be enjoyed year round using frozen lobster and that's how my friend prepared it.
Another friend brought dessert and she had made butter tarts.
Butter tarts are an iconic Canadian dessert made from butter, sugar, syrup and eggs, filled in a buttery pastry shell which also often includes raisins, nuts, caramel or chocolate. The filling can be liquid or firm, so it is difficult to spoil them while cooking because wither way it will be fine.
It is such a simple delight, yet so delicious and they never seem to go out of style although they are considered 'plain' and many pastry shops nowadays prefer to specialize in more refined French pastry.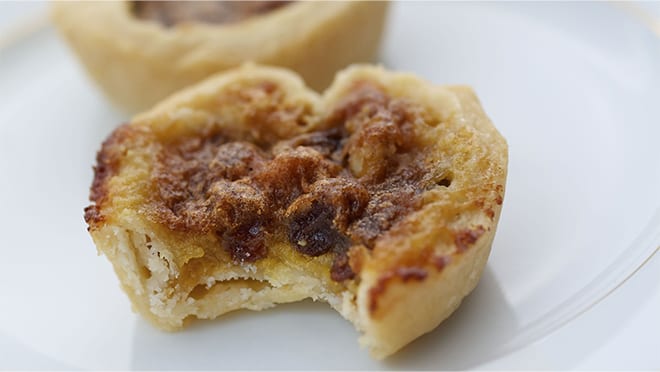 I had previously written a blog about Canadian desserts but I came to know…there are more!
Butter tarts were a recent discovery for me but I also got to try…donut holes!
Yes, you have heard right…apparently, donut holes were invented by a local Canadian fast food chain which makes this excellent round bites of donut dough fritters with multiple flavours and fillings including chocolate, cake dough, sour cream, honey sauce and vanilla. These fritters go very well with a classic double double, as they call it here, which is practically a coffee with two creams and two sugars, the perfect match for an afternoon sweet snack or a mid-morning break.
Another great dessert is the Blueberry 'Grunt'.
The name simply refers to the sound of blueberries when they are cooked slowly in an open pot with water and sugar. This dessert is a triumph of blueberries so you better not be allergic if you choose to have one. It seems it originally came from Nova Scotia but the dessert is now popular in most Canadian cities as it combines the fruity goodness of blueberries topped with simple flour and buttery sweet dumplings. Believed to be the favourite treat of the men who built the Prince of Wales Fort on Hudson Bay, this historic dessert was initially served with a simple cookie or biscuit. Modern versions available in restaurants and cafes typically pair warm stewed blueberries with a scoop of vanilla ice cream.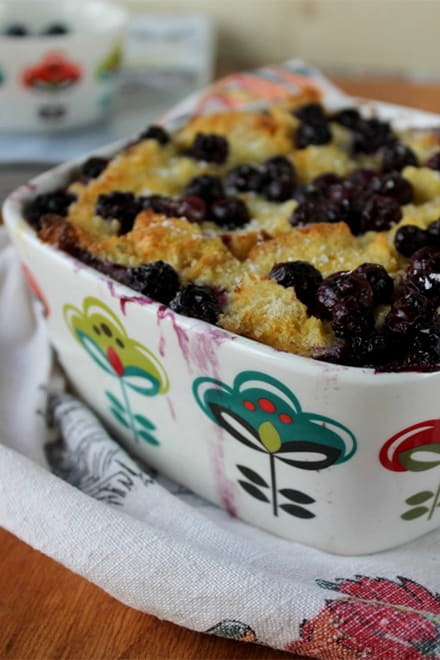 Another culinary discovery I have recently made, that is not a dessert, is Canadian bacon.
It is made from boneless pork loin, which is trimmed, stewed and then rolled in cornmeal. It is popular to eat it with eggs and cheese sandwiches for breakfast and it is also great on burgers. I obviously had it many times in the past, but I never actually knew it is leaner than American bacon, but also much higher in protein. Some might even say that it is more delicious!