In North America, therefore in Canada and USA alike, the sense of community has always been strong.
It is something children learn at school, it is about the 'sharing is caring' sort of mentality, it has to do with learning how to behave around your neighbors and how to do your part to make things better around where you live.
One project I particularly like is the book exchange program present all over Austin and the States in general. All over America there are tiny and colorful book houses in neighborhood parks and Scattered here and there throughout residential areas which are somewhat full of used books for both children and adults.
It's a community project called "Leave a book, take a book" and it's a national network for the free collection and sharing of books. As you can understand, it is a project that does not require a great deal of effort nor a considerable amount of work to coordinate, but which is purely voluntary, totally free for the entire community and amazing for book lovers.
"Leave a book, take a book" is a huge widespread library that embraces people, surrounding them with books and beautiful stories and the best part is that we can all contribute, bringing (and taking) a book or explaining the project to others.
There is also a website linked to this project where it is possible to follow some simple instructions to build a small library or, for those who are not inclined to D.I.Y., buy one (with prices ranging from about 100 dollars to 600 dollars). The small free bookshops are hundreds or perhaps even more scattered throughout the country.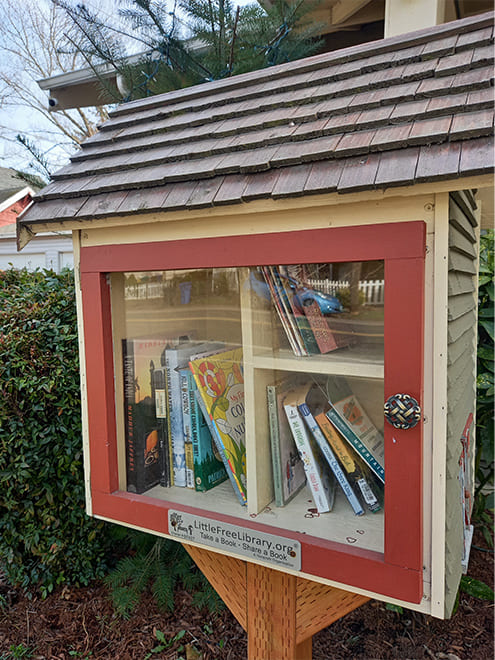 It followed the idea of literary cafés, also very popular throughout the country, where people get a chance to discuss the latest books and recommend some readings to the fellow participants.
Literary cafés launched the idea of book clubs and book sharing, a new way to exchange books in designated places and the "Leave a book, take a book" followed this path.
It is really nice to see some little free libraries on our streets, perhaps near a bench, where we can also just borrow a book for a short time and put it back when finished.
It happened to me to see a good book and not have one handy so I decided to go back the next day to get it and replace it with an old book I had but, unfortunately, it was gone.
The second time around I therefore decided to keep some books in my car and do the exchange on the spot the next time I'll find some interesting books around.
I also happened to find some children's books in the house I rented so, since I don't have children myself, I decided to leave them in one of these neighborhood libraries to give them a new chance.
Another very nice initiative which I truly find genius is the custom of leaving things at your doorsteps instead of throwing them away. These are objects or furniture that are no longer needed and they are left outside so that others can take and use them.
There are many associations that collect donations of this type and sell the items to raise funds for charities of various kinds but I find that they also throw away many things considered "not suitable for reselling".
It is therefore nice to make available to the neighbors or passers-by what is no longer needed and it is not uncommon to find such things on the roadside, especially at the corners that they call crossroads.
Sometimes the owners advertise this on some site or on social media and there are dedicated Facebook groups such as Buy Nothing and Free Stuff.
Sometimes the address or the cross street is given so anyone can go and collect them if they want. It is first come, first served and they usually go away in a flash!
They are usually very beautiful things, many people move around in America and can't or won't take things with them.