In my last blog, I described how some members of each community help other members of the same community by promoting book exchanges in their neighborhoods or by leaving unwanted items and furniture on the front lawn for others to take.
In this blog, I would like to describe how community members are also trying to help those members who need it the most and who cannot give back, the homeless.
Since homelessness is on the rise in the United States, a new community project I have seen - but of which I do not know the name - is that of leaving some food close to expiration date or just extra supplies in boxes or makeshift 'food stops' around the city, mostly in residential neighborhoods.
This is part of the so called 'sharing culture.'
I have mixed feelings about this project. The idea behind it is obviously good and done for the right reasons but leaving food on the streets is an hazard in my opinion.
I have seen (sealed) plastic containers standing with food inside for days and, although most food left in such containers is not meant to be stored in the fridge, food can be spoilt by the sunlight and by the high temperatures we experience here in Texas or perhaps the containers can be tempered with and wild animals (such as raccoons) can rummage around them. I think it's a great idea but it should be done differently, perhaps bringing this food to a local shelter.
Some non-governmental organizations support the homeless by distributing hot meals but it's not uncommon to see some community centers organized by local families and individuals offer to cook and distribute some food to the least fortunate members of their community.
It's also common to organize local food-drives in some neighborhoods. They are special events to collect and redistribute food items for people who cannot afford to get groceries.
A few months ago a "sleep-out" was organized to raise awareness about homelessness. In such event, participants had to experience, at least minimally, what it means to spend a night in the open by sleeping in the city parks, only with cardboard and a blanket to protect themselves.
This event was also the occasion for a fundraiser to collect money and purchase tents or ppay for accommodation for the least fortunate.
I've also learnt about the initiative called "Pending meal".
You basically just go for dinner or for a drink and leave one meal or drink paid for. There is no obligation for customers as it's not compulsory but, when they arrive at the cash register, they can choose whether to leave an entire meal or a quota as pending.
However, in this case, the basic idea is not only to leave a paid lunch for those in need, but to create a network in a solidarity way.
The meals and the sum collected are then given to the social services to be disbursed through vouchers to families with particular economic fragility, chosen by the motivated choice of the social workers working in close contact with such families.
My friends often ask me about the social welfare in the United States and I can say that the government does offer some money and food stamps (vouchers to purchase food) to those with no or little income.
It is the community though, meaning the citizens, who does the most to help those in need and most Americans are very sensitive about this issue which, unfortunately, is growing and getting worse after the pandemic and during this financial crisis.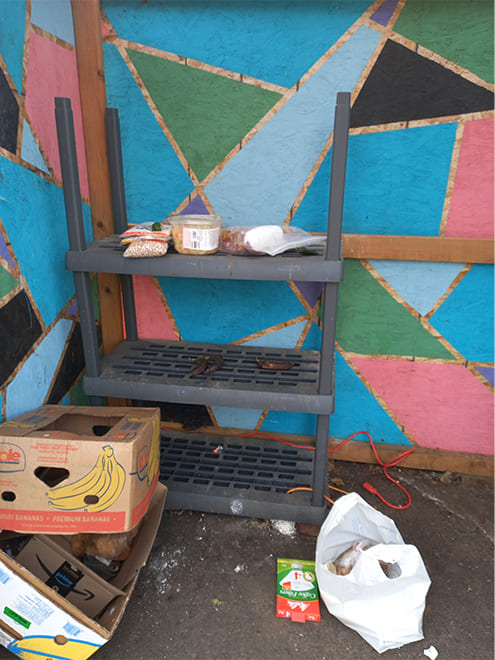 representing the food stalls with food for the homeless