Greetings. Since I live in the suburban area of Düsseldorf, Germany, I'd like to write about Japan Day, Europe's largest festival of its kind for introducing Japanese culture, which took place for the 14th time on Saturday, May 30, 2015. Japan Day, held in Altstadt (old town) of Düsseldorf, was unfortunately hit by rain for a short while, but the weather recovered again from around 3PM, and cosplayers as well as all the fans of Japan (total one day attendance of approx. 650,000) who were looking forward to the 11PM fireworks covered the banks of the Rhine river.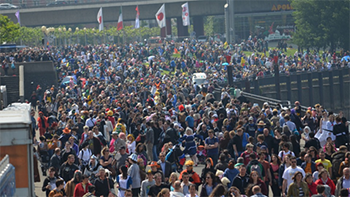 ●Burgplatz
On the main stage at the Burgplaz will be an opening ceremony with welcome greetings by the mayor of Düsseldorf, followed by a variety of exciting programs such as a chorus of Japanese citizens living in Düsseldorf, dancing, performances of Japanese drums and koto as well as live music performed by musicians from Japan.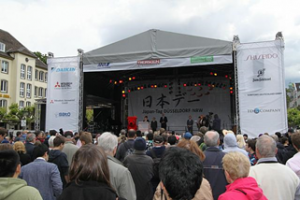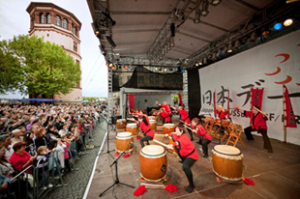 ●Rhine Embankment Promenade
Numerous tents were set up at the promenade along the Rhine river, offering a colorful taste of Japan ranging from traditional and pop culture to food culture. Enjoy a first hand experience of Ikebana (Japanese flower arrangement), kimono dress-up, origami and calligraphy, participate in a quick Japanese course, or even shop around for Japanese accessories and miscellaneous goods . Near the Burgplatz, you can also enjoy ramen, yakisoba fried noodles, takoyaki, sushi, ramune soda, etc. Every year I help out at the Ikebana and kimono stalls. The Ikebana stall has an exhibition and a workshop. Most Germans, excluding a few, do not know about Ikebana, and this was a great opportunity to demonstrate the appeals of Japanese beauty especially to the younger generation. Young German women interested in trying on Japan's elegant kimono contribute to the high popularity of the kimono stall. During the 6 hours between 1PM and 7PM, more than 100 people tried on the kimono with the help of many volunteers. When blond, fair-skinned women wear the kimono, the elegant colors appear even more splendid, and watching them joyfully taking photographs in their kimonos made us happy and forget our about our fatigue.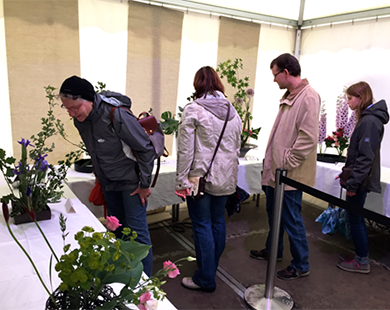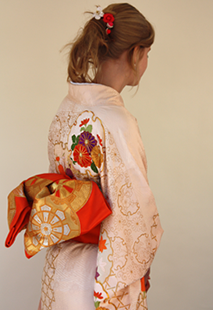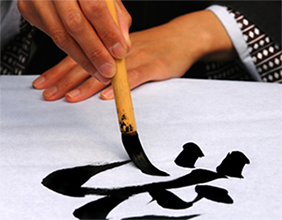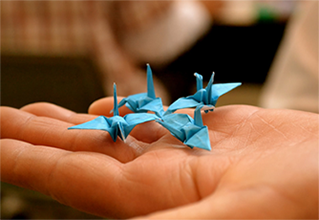 ●Japan's Pop Culture
There was an abundance of the pop culture Japan takes pride in, and the annual cosplay fashion show was held on the pop culture stage. Taking a walk along the Rhine river will give you the feeling of being in a fantasy world, where cosplayers proudly wearing their costumes gather from all over Europe. The karaoke competition seemed to be very popular as well.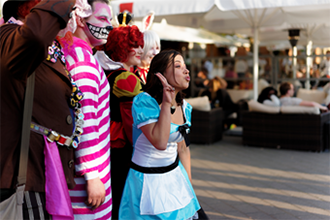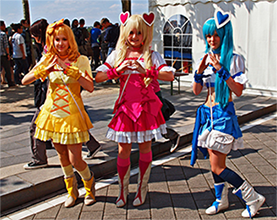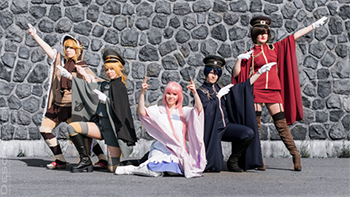 ●Martial Arts
Germans have a deep interest in the samurai spirit, with many actively participating in trainings. Public demonstrations of sumo, judo, archery, karate, kendo, etc., can be watched at the Johannes-Rau-Platz, and a children's play area is set up there as well. A battlefield presentation by the Samurai Group Takeda and a street soccer tournament are held at the adjoining Landtag Lawn Area.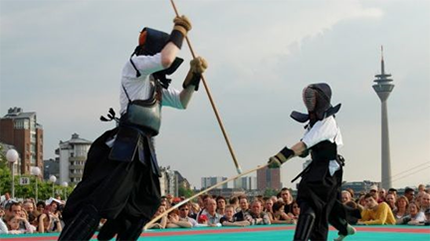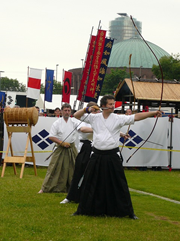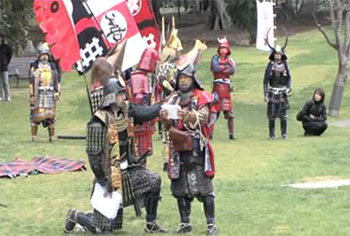 ●Japanese Fireworks
The crowning highlight of Japan Day is the firework display by a Japanese pyrotechnician . Fireworks will be set off for about 25 minutes from 11PM, with hundreds of thousands of people waiting along the Rhine river in anticipation for a glimpse of the display. The climax called the "golden rain" in which fire sparks fall like rain onto the river surface is particularly magnificent. It has become an annual event with even a live broadcasting from a helicopter of a local television station.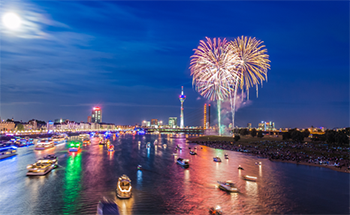 Düsseldorf, with a Japanese population of roughly 7,000, has come to be called Little Tokyo. Thanks to the help of about 300 local volunteers, Japan Day ended in a huge success. The fact that many Germans are friendly towards Japanese is something to be very grateful for, and it makes Germany a comfortable place for Japanese to live in. My wish is to continue sharing Japanese culture through opportunities such as Japan Day, and to contribute to further Japanese-German cultural exchange.