The winters in Germany are cold and long, with gloomy gray, cloudy skies that last until spring. So when summer approaches and there are more hours in the day, Germans become lighthearted.  Then you'll see grilling parties everywhere. Summers in Germany are quite crisp and refreshing, something that's hard for Japanese to imagine. The days can be spent comfortably even without air conditioning, which offers the best weather for grilling. Just like grilled yakiniku meat is favored in Japan to provide stamina in summer, families and friends in Germany grill sausages and meats while clutching a cold beer in one hand. These grilling parties are enjoyed to the fullest until 9 or 10 at night and are one of the joys of summer.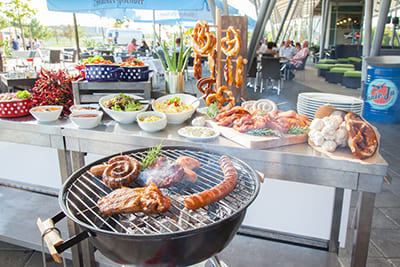 The most common ways to grill are with charcoal and gas. The preparation and cleanup is a bit of a pain when it comes to charcoal, but it's cheap and gives off a pleasant smell. With charcoal, you can gradually grill meat to burn off the fat, so it's the most popular form of grilling. On the other hand, gas grills are really serious cookers. Grilling meat covered for 10 minutes allows the heat to slowly penetrate without burning the meat black.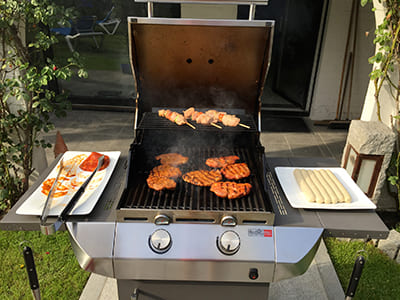 The main food is none other than potatoes. Potato salad is a must. Other dishes include noodle salads, cucumber salads, and salads with vegetables such as bell pepper salad. As long as you have these and bread on hand, you'll be ready to start the party anytime. It's a simple meal for summertime when cooking is troublesome and it is especially a treat for homemakers.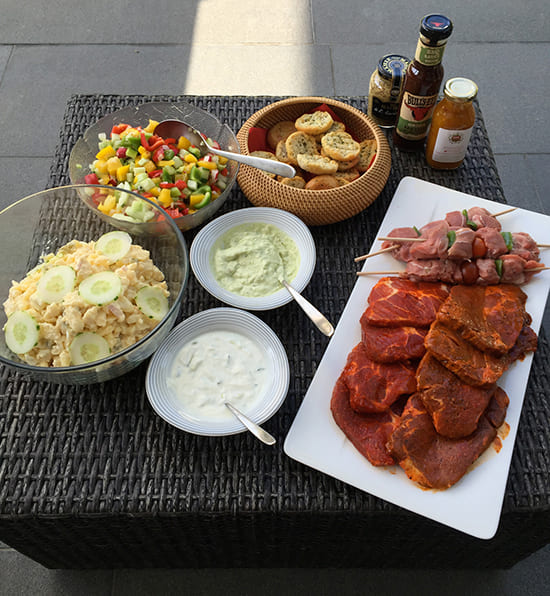 Also, a key sauce that I recommend is a Greek-style cucumber-yogurt sauce called Tzaziki. In Germany, in addition to yogurt, dairy products similar to sour cream, crème fraîche and Quark, are seasoned with cucumber, garlic, lemon, and salt and pepper to make sauces.  Not only does it diminish the strong smell of meat, but it's also an all-purpose sauce that pairs perfectly with vegetable sticks and bread. The simple and fun grilling parties are a typical event during German summers.