In Germany, a funfair called Kirmes comes to various cities. Kirmes, a word derived from "Kirchmesse" (church mass), is said to have started with street stalls and attractions being held at the market near the church. Every year in July, a Kirmes of roughly 17 hectares, one of the largest in the Rhine river basin, comes to Dusseldorf. With a history going back around 690 years, this year marks its 114th time. A total of around 4.5 million people come visit. It's very hard to think about creating a giant funfair in Japan for just 10 days, but the Germans are reasonable and good at logistics, handling it quite easily. Visitors can enjoy the atmosphere of the Kirmes for an entire day without getting bored, with everything from simple games like duck fishing and shooting games to attractions such as a swing ride, big Ferris wheel, roller coasters and other thrill rides that can be enjoyed by children and adults, and a line of around 70 beer gardens and street stalls.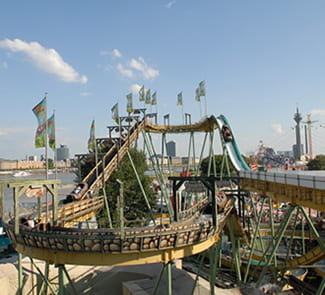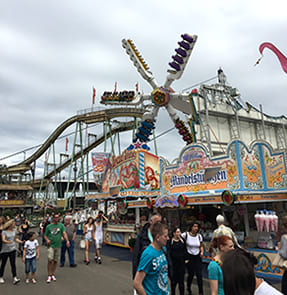 When going to the street stands in Germany, lebkuchen is the first thing everyone wants to try at least once. Originally a Christmas treat, it has a taste of honey and spices. The heart-shaped lebkuchens come with written messages like "Ich liebe Dich (I love you)," making them perfect gifts to give your crush. They're very cute when hung from the neck or used to decorate a room.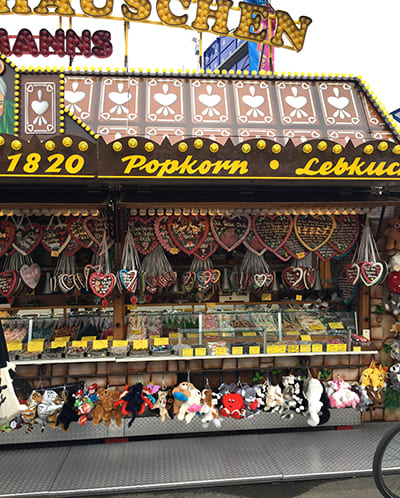 Out of the many attractions at the Kirmes, this one from Bavaria became my favorite. You go in through the entrance, pass through blowing water, and midway you put on something similar to 3-D glasses as you proceed through a mirror house. It gets hard to see in front of you and you desperately continue forward staggering as if you're a drunkard. Partway, you pass through a section of shaking floors and also walk through a pillar with pretty rotating lights. The attraction had an analog feel, but was filled with fantasy.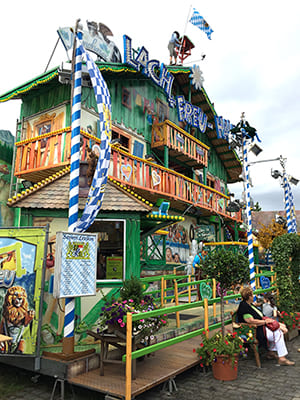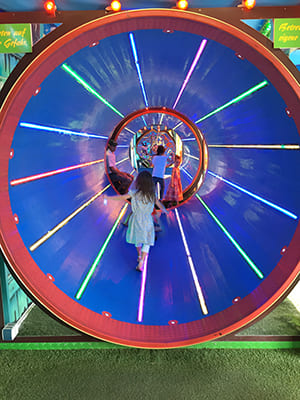 And, when you look out over the entire fair and the Rhine from a tall ride, you can tell just how immense it really is.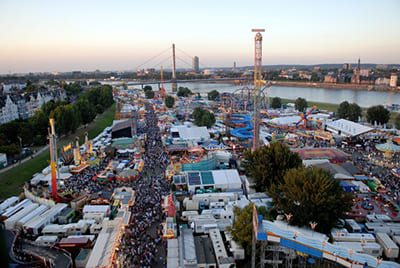 The funfair reaches its climax with fireworks set off on the night of the last Friday.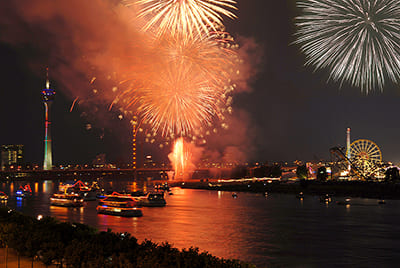 As for opening hours, the Kirmes is open from 2pm on weekdays, 1pm on Saturdays and 11am on Sundays until 11pm at night. This also impressed me as Germans' rational way of thinking that the longer summer nights can be enjoyed more fully.