Europe's largest temple, EKŌ Temple is located on the grounds of the EKŌ Center of Japanese Culture (EKŌ-HAUS) in Dusseldorf, Germany. At EKŌ Temple, which has a beautiful Japanese garden, every year on New Year's Eve people can ring out the old year with the temple bell, just like in Japan.
You probably know this, but "joya no kane," the custom of ringing the temple bell 108 times, is observed on the night of December 31st at Japanese temples. All humans have desires, including appetite, greed, lust, hunger for fame, and desire for sleep. Buddhism believes that those desires distract and trouble us, and with the hope that next year will be the year that we are not distracted by these worldly desires, the bell is rung 108 times, representing the number of desires. In Japan, it is also common for people to make the first visit to a shrine or temple early in the New Year to pray for health and happiness for their family. Here in Germany, too, many worshippers visit the temple and can quietly greet the new year.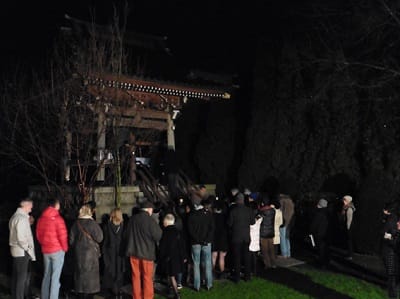 On the other hand, just as the holy celebration of Christmas is over in Germany, you can see people running out to buy fireworks for SILVESTER (New Year's Eve). Since setting off fireworks is normally restricted in Germany, it's quite difficult for an individual to launch fireworks in the summer like we do in Japan. But, since the ban on fireworks is lifted only from the night of December 31st to the morning of January 1st, everyone takes advantage of the opportunity and shoots off fireworks. Music, fireworks, and champagne toasts! In contrast to Japan, New Year's Eve in Germany is celebrated with really lively parties. Raclette is a food that is particularly eaten at this time. In French, the word raclette means "to scrape" or "to shave." Each person cooks cheese and ingredients they like in a small frying pan. The melted cheese is scraped with a wooden spatula, mixed with potato or other foods, and then eaten. This New Year's, I prepared foods including raclette cheese, cured ham, small potatoes, paprika, pineapple, pickles, and olives.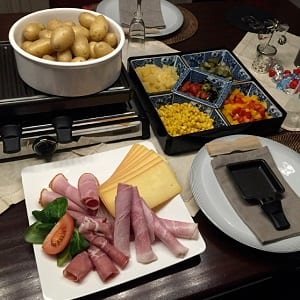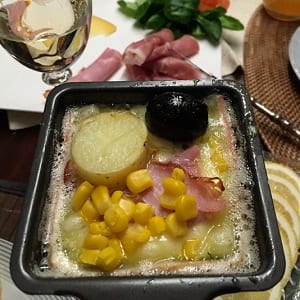 Unlike the long Christmas in Germany, New Year's celebrations are short, and for most work starts on January 2nd. The only lonesome aspect is the lack of an atmosphere of immersing yourself in the New Year's spirit like in Japan, where we go back and spend time at our parents' home while eating special New Year's dishes during the first three days of the New Year. Japan has a mixture of Shintoism and Buddhism, even when it comes to various events. That's difficult to imagine in other religions, but in Japan the mix of Shintoism and Buddhism is common. Here at EKŌ Temple, shichi-go-san (a day of prayer for the healthy growth of young children) has been taking place since 2013 to celebrate the growth of children living in the area. (There were 70 families who participated in 2015). Because we Japanese have believed in a multitude of gods since ancient times, we have accepted various races and religions, and think that love of peace is a virtue. In Germany in 2015, the over 1 million refugees was a problem that added to the German people's anxiety in one fell swoop. Because of further globalization in the future, it feels as if there are even greater obstacles to overcome, such as various races, diversity of religion, and language issues. While thinking of what we Japanese can do, I pray that the year 2016 will be a year when conflicts are eliminated and world peace prevails for the future of our children.