Employees in Japan are granted an annual paid leave of 10 days after 6 months of employment. That increases 1–2 days each year after that, up to a maximum of 20 days. However, many people actually only take a week of vacation and try to leave a week unused just in case they need to take sick leave each year. Unfortunately, there is a national tendency for people to find it difficult to take paid leave. In contrast, employees in Germany are given a minimum of 24 days of paid leave (in the case of a full-time employee working 6 days a week), based on the Federal Holiday Act. The average number of days of paid leave is 30, though it differs depending on the company of employment, number of working years, and contract. Add to that around 10 days of national holidays, and Germans can take about 40 days of vacation a year. Those who work 5 days a week get an astonishing 8 weeks! Since in Germany employees are obligated to completely use up paid leave, quite a few people take 2–4 weeks of vacation at summer and Christmas. Just like the Germans, Japanese people should value not only their work, but also private time spent with family and learn to enjoy time off. Taking summer vacation even in Japan has become considerably easier, but even so, because so many people take vacation during the Obon holiday season, the holiday traffic caused by people returning to their hometowns exacerbates the fatigue caused by traveling. In that regard, summer vacation in Germany has a funny system; schools begin at different times, anywhere from early August to mid September, depending on the 16 different states. If you don't know that, at first it's bewildering, but it can also be called a clever way to ease the congestion of summer vacation.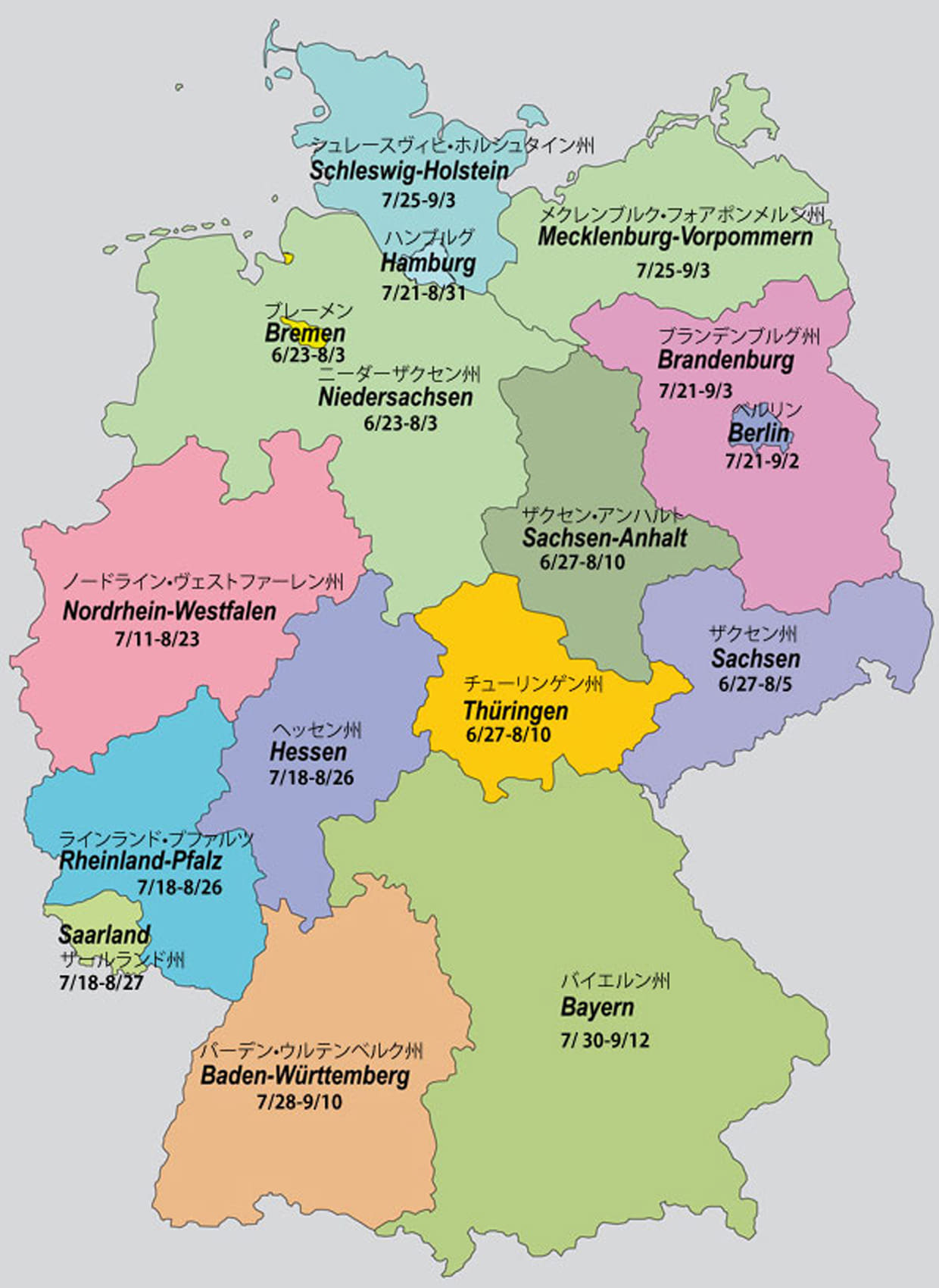 2016 summer vacation
In addition, Germans take vacations over an extremely wide area since the Schengen Agreement allows them to freely move throughout Europe.
The ocean
First of all, only upper (northern) Germany has an ocean, so many Germans yearn for the beach. •Majorca Island, Spain: Hands down, the most popular beach in Germany is Majorca Island. It's much like Hawaii is to the Japanese. There are direct flights, and the greatest allure is the fact that it can be reached in 2 hours. •Sylt Island: Sylt Island lies at the furthest point north in Germany in the North Sea along the Denmark border, and is known as a luxury resort island. •Ostsee (Baltic Sea; "East Sea"): The Baltic Sea, located in northern Europe and surrounded by the European continent and Scandinavian continent, is known to the Germans as Ostsee. • Germans enjoy going on cruises and to beaches that face the Mediterranean Sea in Italy, Spain, and France.
Portugal, Greece, and Turkey are also popular.
Mountains, rivers, lakes
Germans who want to go mountain trekking in summer head to the particularly popular spots of Schwarzwald in the Baden region (Schwarzwald: a mountainous area in Germany called the Black Forest that has a total area of approx. 5180 sq. km.), the Bavarian region that is home to the Alps mountain range, as well as Austria, Slovenia, Italy, Switzerland, Liechtenstein, and France.
Germans are very familiar with ways to fully enjoy summer vacation and pass the time leisurely while trekking, cycling, camping, canoeing, fishing, mountain climbing and doing other activities surrounded by Mother Nature.