Birthdays play a critical role in German culture, with people going so far as to decide who their real friends are based on whether those people remember their birthday or not. Japan doesn't place as much importance on birthdays, but there are those in Germany who, if a friend forgets to wish them a happy birthday, will be so upset that they will purposely not contact the friend on that person's birthday in return for the slight. The whole thing seems quite troublesome… When it's your birthday, though, the phone starts ringing off the hook in the morning with people wishing you the best. Herzlichen Glückwunsch zum Geburtstag! [Warmhearted congratulations on your birthday!] Alles Gute zum Geburtstag!  [All the best on your birthday!] In pour the cards, in come the phone calls… Some friends stop by and visit on your birthday, and even though it's the birthday person (Geburtstagkind) celebrating, it's custom for them to be the one to invite over guests. It all starts with cake at teatime. Each person eats at least two big cakes, so it's already a challenge to the system. I had the unfortunate experience of only preparing one cake for my father-in-law's birthday one time, and being forced to run out to the store and buy a second one when a cousin told me that one cake per person was not going to work. It's no wonder the Germans are built so big. The birthday person frequently throws a party at their home as a social gathering. Cold buffets featuring uncured ham, salami, sausage, cheeses, potato salad, and noodle salads are quite popular, and the Germans also have a tradition of eating fresh raw pork (mett). This is typically done on a slice of bread, but the buffet sometimes features it garnished with chopped onion to make an adorable hedgehog shape (the hedgehog is a beloved animal in Germany). I was a little hesitant to eat raw pork at first, wondering if it was safe, but bakeries regularly offer an item called ein Mettbrötchen bitte (one mett bread, please) that is bread topped with raw pork and julienned onion—which is apparently as common for the Germans as eating a salmon rice ball is for the Japanese. The Germans are also serious about bread, their staple starch. The photo below shows a bread loaf in the shape of an alligator.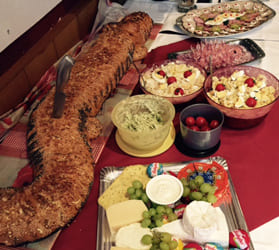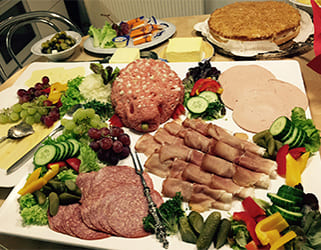 Hot food includes hamburger patties, stewed meat dishes, and seafood as well as boiled potatoes, spätzle, knödel (potato dumplings), buttered rice, steamed vegetables, and more.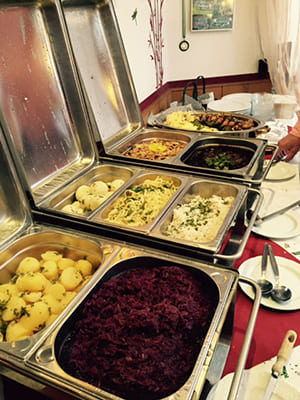 The Germans also often make a chilled rice salad with long, thin, loose rice grains and a milk rice dessert that is made by boiling rice in milk, sugar, and cinnamon and then allowing it to chill before serving. Given the way Japanese people eat rice as a staple starch, seeing it cold and topped with mayonnaise or fruit is a little shocking—but you can also think about it as if it's a pounded mochi rice ball being served as a sweet dessert (like ohagi sweets, for example). This makes the cultural differences between Japan and Germany quite interesting.