As December begins, both adults and children start the countdown until Heiligabend (Christmas Eve) using advent calendars. For chocolate lovers, there are many different types of calendars, so Christmas is eagerly awaited, enjoying the delight of one chocolate a day. During the advent, there is another custom of decorating an Adventskranz (advent wreath) made of evergreen fir tree branches with four candles. One additional candle is lit each Sunday from the first Advent Sunday until Christmas Eve when all four are lit. Advent starts on the Sunday closest to November 30, St. Andrews Day, and continues for four weeks until Christmas, so the first advent is sometime between November 27 and December 3, at the latest.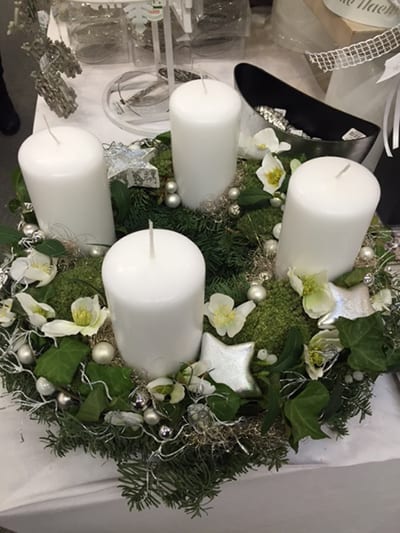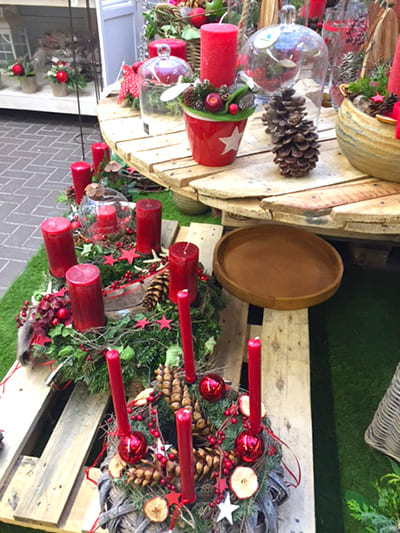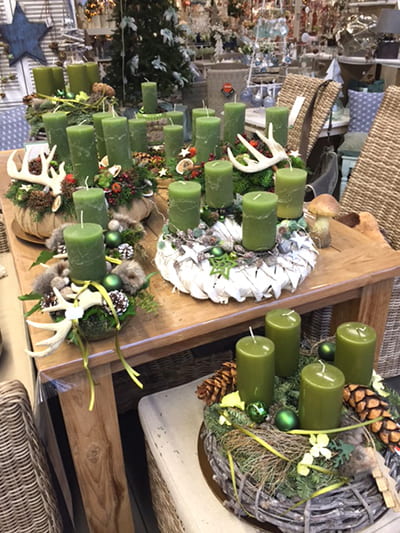 Adventskranz (advent wreath)
Christmas is, of course, the most important day of the year for spending with friends and family in Germany. Stylish Germans get decorations in colors that match the decor of their home. Shops have a vast array of decorations in different colors and materials, so one exciting part of the period leading to Christmas is arranging imaginative decorations in your own personal style.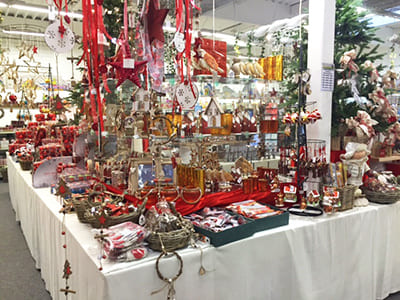 (Standard red and gold)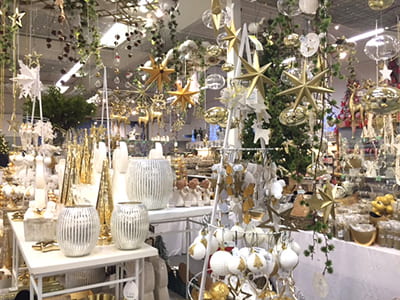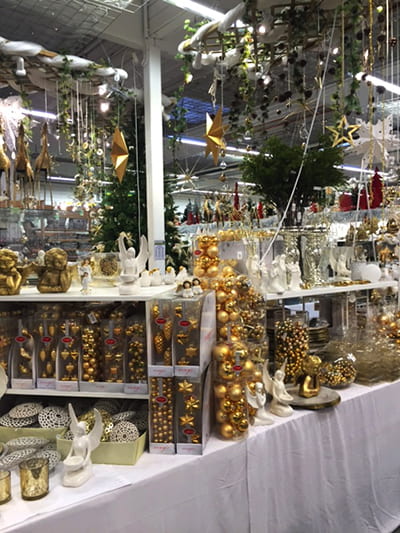 (Gorgeous gold and white)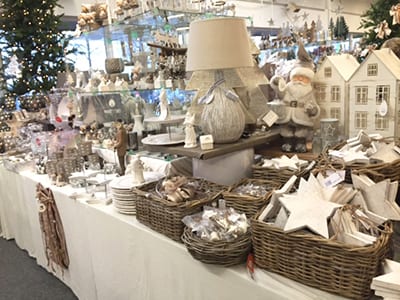 (Simple monochrome)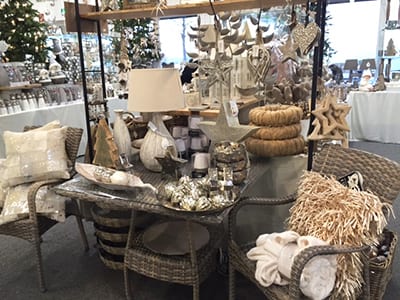 (Chic white and silver)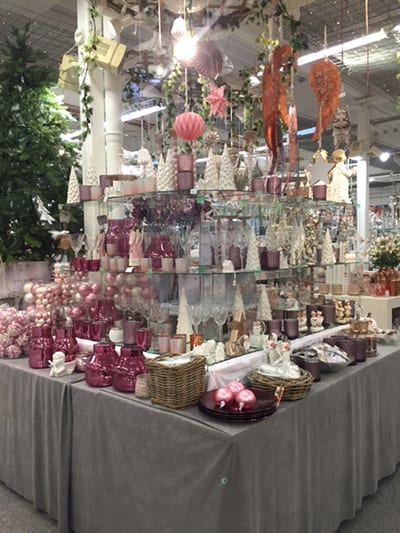 (Cute pink tones)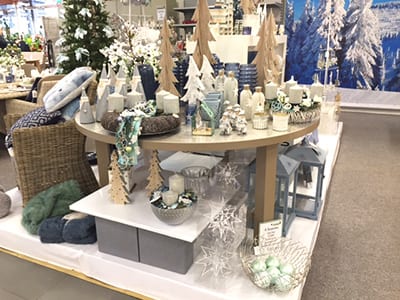 (White and sky blue)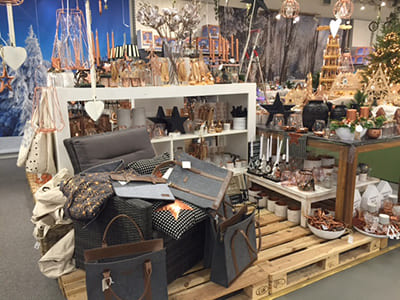 (Stylish combination of grey and bronze)
Krippe, meaning Christmas (the birth of Christ), is seen in the room's designated place for decorations all over Germany where the Christian faith (Catholic or Evangelisch, commonly known as Protestant) is very strong.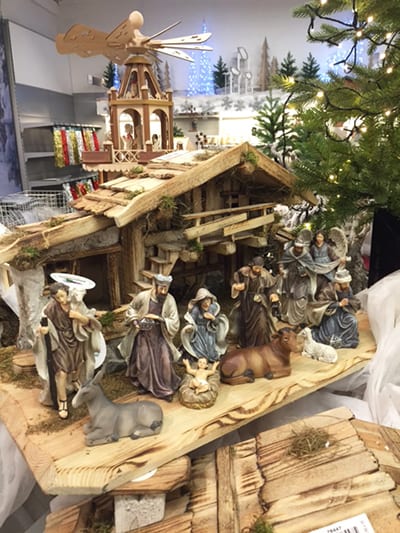 Erzgebirge in the Saxony mountain range in eastern Germany has famous traditional handmade wooden crafts. Pyramiden (Christmas pyramids), schwibboegen (Christmas candle arches), chimney sweep figurines, and nutcracker figurines are essential items for telling the story of Christmas.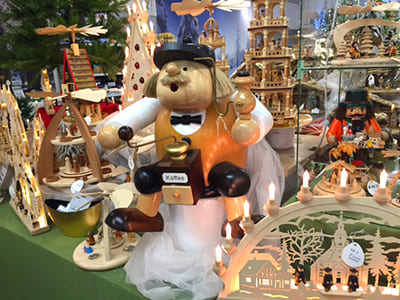 On Christmas Eve, the children help decorate the fir tree and the fireplace and candles are lit. If pure white snow falls, it is the start of a perfect, romantic Christmas. (Warm winters with no snow do not apparently feel like Christmas to Germans.)The next morning, everyone wakes up to a snowy world and the children are overjoyed to find Christmas presents brought by Santa Claus under the tree. On the first Day of Christmas (December 25) and second Day of Christmas (December 26), family and friends feast on goose, duck, turkey, and other delicacies, spending a leisurely and romantic Christmas together.Hot wine is the best for cold Christmas marketsGlühweinIngredients:1 bottle of red wine (Merlot or other low acidity type)1 orange1/2 apple1 cinnamon stick2 to 3 cloves1 tbsp granulated sugarPinch of cardamom, all spice and a dash of vanilla, if available*Keep it from boiling.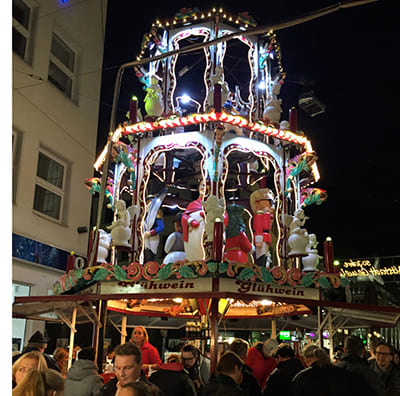 REPOTER
Rim

Age

Tiger( TORA )

Gender

Female

Job

Ikebana activist
She is in my 5th year of living in Germany. Not forgetting the spirit of Wa, she is engaged in Japanese cultural activities that involve ikebana and kimono. She will continue to devote herself to spread the beauty of Japan and to pass it on to the next generation.