Root vegetables are commonly eaten in Japan as they are thought to be good for the gut. Burdock, for example, is an especially vital ingredient of kinpira dishes and stews, and is associated with cooking techniques using mainly soy sauce and sugar. The European equivalent, Schwarzwurzeln, doesn't have the sharpness of Japanese burdock and it has a different texture, so the cooking technique is completely different. Its scientific name is Scorzonera hispanica and its common name in English is black salsify . As "hispanica" (Spanish) in the scientific name suggests, it originally came from southern Europe. Nowadays it is commonly eaten in Germany, France, the Netherlands, and Belgium. First wash off the soil from the skin. When you peel the skin with a peeler you get a very astringent milky sap that sticks to your hands, so you should peel the skin under running water. Straight after cutting the root into the desired size, put it into water with some vinegar or lemon juice to prevent discoloration.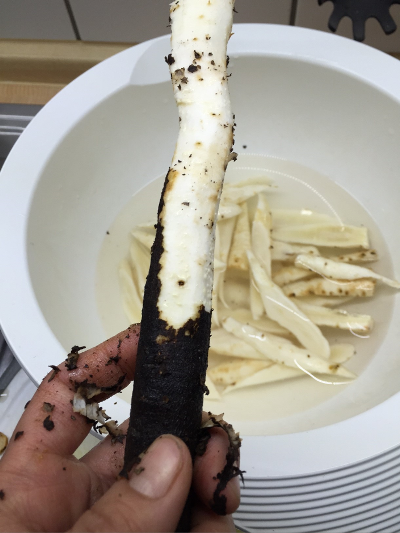 Black salsify isn't sharp and is rather like white asparagus. It has a crisp texture if you boil it for a moment, and if you let it cook through well, it has a little sweetness. In Germany people cook with it dairy foods such as butter or milk. Frying it with butter is very simple, but the most popular black salsify dish is a cream stew. It's nice stewed in cream together with winter vegetables such as Brussels sprouts or kohlrabi, and it's also good in soups or gratins. Black salsify doesn't stand out strongly on its own, so it's best with meat or other vegetables.
If you want to make it into a dish on its own, it's a good idea to add mustard to the egg before dipping it in the coating for frying and fry it in oil to boost the volume.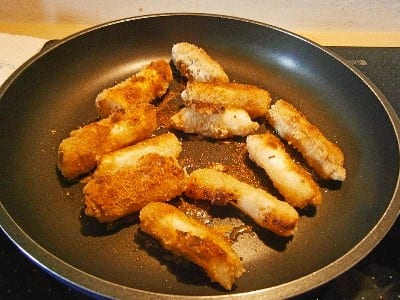 Right about now, as I enjoy the last black salsify of the season, I impatiently look forward to the arrival of white asparagus in spring.