Dusseldorf was blessed with perfect weather this year during its annual Japan Day (Japan-Tag) event—with blue skies and temperatures around 65ºF (18ºC). Some 650,000 people came from Germany and even neighboring countries to celebrate.Starting at 1 PM, the Consulate General of Japan in Germany, the mayor of Dusseldorf, and the president of the Japan Club kicked things off with opening addresses, while various Japanese groups living in Germany (Japanese kindergartens, Japanese schools, a kids' taiko drum group, Japanese dancers, koto players, choirs, and others) all came together to bring the stage to life.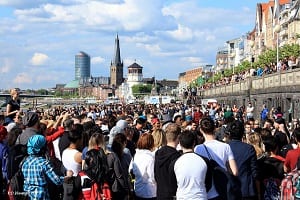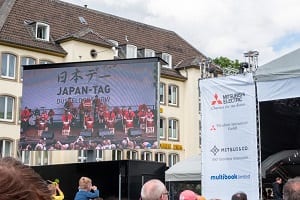 Japan Day takes place in a wide open area along the banks of the Rhine. A special stage is set up in the Altestadt (Old City) district, with tents along the promenade that runs alongside the river. Visitors can experience many different facets of Japanese culture, from music and dancing to taiko drumming, martial arts, origami, calligraphy, kimono, flower arranging, and more. There are also street vendors selling Japanese food and trinkets. Among these, sushi, ramen, and yakisoba are particularly popular.I helped out with the flower arranging and kimono tents again this year. In addition to displays of various styles of flower arranging, we also held a workshop so that visitors could experience the art of ikebana for themselves.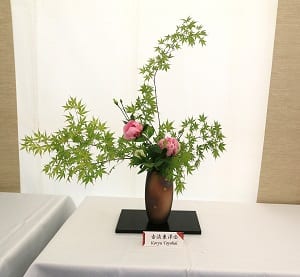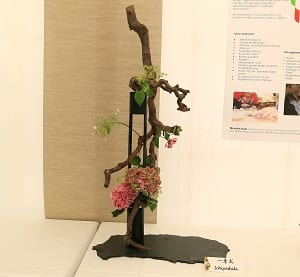 Left: Koryu Toyokai, right: Ichiyo style created by Monica (German)In the kimono tent, visitors could try on a kimono for 10 euros and have their photo taken (we had 100 people put on a kimono this year!). We were surprised to see so many repeat visitors from past years, and we even had some girls bring their own kimono and hakama this year.Furthermore, there were many pedestrians wearing a kimono or yukata, and the kimono population in Germany is steadily on the rise. We kimono enthusiasts are very delighted with this trend.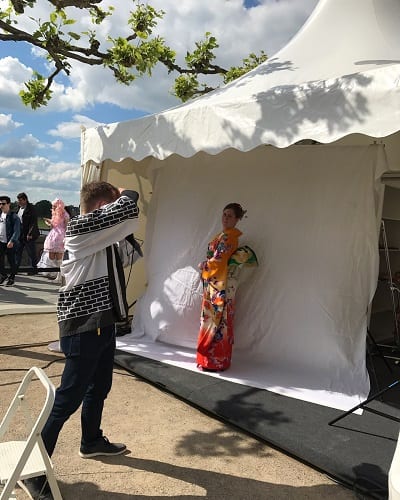 Cosplay groups also gather around on this day, with members dressed up to look like Japanese anime and manga characters. Anime and manga represent Japanese pop culture, and a combination of kabuto helmets and Star Wars is also a unique feature of Japan Day.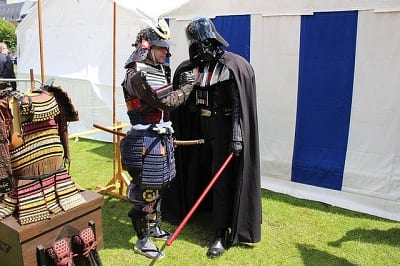 That night, a band called AKARA played rock using traditional Japanese instruments like the koto, shakuhachi and shinobue bamboo flutes, and taiko drums. Their rock music infused with classic Japanese sounds kept the crowd animated until it was time for the fireworks show at 11 PM.Finally it was time of the highlight of the evening—a Japanese-style fireworks display.In Germany, the general public is prohibited from setting off fireworks except on New Year's Eve. Because a Japanese fireworks expert actually flies in from Japan to put on a spectacular, authentic fireworks show for Japan Day, it has taken hold as one of the biggest events in Dusseldorf. You can find fireworks shows all over the place in Japan during summer, but it is extremely rare to see fireworks this big in Germany. It's all you can do to keep from shouting out Tamaya! (fireworks maker in Japanese) in awe of their beauty. You can enjoy a video of the grand finale below.Thanks to the efforts by related organizations in the preparation, management, and clean up, this huge event was made successful. It made me once again realize how many staff support this event.We hope to keep showcasing the magic of Japanese culture during future events with activities that bring more and more people joy.