In German elementary schools, new first graders proudly receive a big Schultüte (Schule: school, and Tüte: bag) at their school entrance ceremonies held in late August.
A Schultüte is a large conical bag about half the children's height and contains candy, stationery, and so on. They are also called Zuckertüte (sugar bags) because they contain so much sweet candy.
Come entrance ceremony season, you often see Schultütes on sale in shops, but traditionally parents make them by hand at kindergarten. A friend who has already raised children tells me the trick is to make the colors of the Schultüte match the colors and design of your child's school backpack, called Ranzen or Tornister, so first I went and bought the backpack.
My daughter's favorite color is aqua, Elsa from Frozen's color.
When I asked her what she would like, she latched onto a Ranzen with a dolphin motif. I was told you can get different types in the same design, and a wider Ranzen is better for shorter children while a narrower one is better for taller children. Although nominally six-years-old, the first graders born in September aren't six yet, and those born in October are about to turn seven, so their body types and physiques vary. My daughter is relatively tall, so I chose a backpack with adjustable shoulder straps and a hip belt to distribute the weight.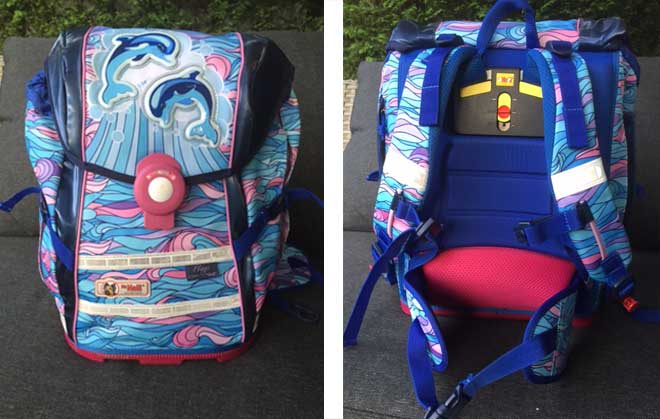 Once the aqua and the dolphin motif were decided, I got some colored drawing paper, shells, wooden fish, blue felt, and some colorful jewel box decorations. We got an opportunity to make the Schultüte together at kindergarten and managed to finish it in one hour, with guidance from the teacher.
The Schultüte my daughter and I made together was of course full of love, and it made the approaching start at elementary school more real for her. It was a really good experience.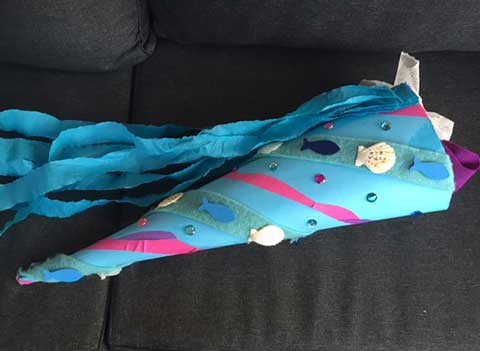 Five mothers from my daughter's elementary school volunteered to make a flower arch on the day before the ceremony. The school gardener prepared the materials in advance for us and we started by decorating the arch frame with greenery, then setting 2-3 dahlias and other flowers in various colors in each water container. Here and there we added some fennel and other fragrant herbs around the height of the children's noses, to put the finishing touches on this German-style ikebana.
Then came the day of the entrance ceremony.
As the name of each new student was called out, he or she was presented with a bunch of flowers by an older student while being accompanied to the stage, before passing through the flower arch on the stage to be greeted by the smiling teacher with a handshake. I was moved by this very thoughtful, heartfelt ceremony, reassured that my daughter had been properly accepted into her elementary school.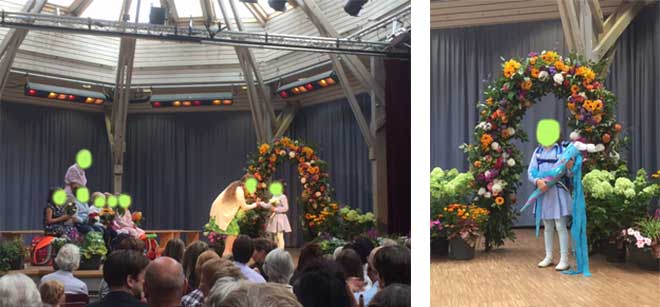 Apparently the Schultüte custom started out as a way of relieving children's anxiety, but for adults and children alike, it was a profoundly memorable event.