Federweißer (white) young fall wine and Zwiebelkuchen (onion cake) are intrinsic to the season from late-summer stretching into fall. The two are consumed together in this traditional combination. The red young fall wine is called Federroter. Although Zwiebelkuchen (Zwiebel: onion, and Kuchen: cake) is called "cake," it isn't sweet. It's an onion cake that is more like a quiche filled with plenty of fried onion, and it's delicious cold or hot.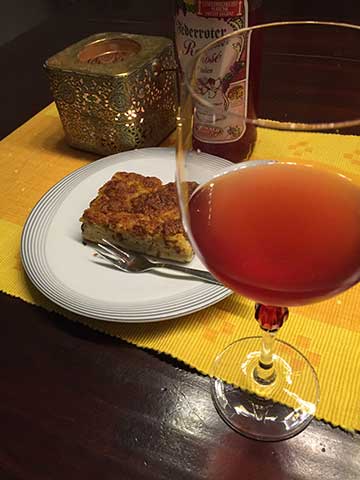 The recipe for Zwiebelkuchen differs from region to region.
Usually a filling of sour cream mixed with fried onion, bacon, and cheese is spread over a bread dough and baked in the oven. You can use onion and cheese only, or you can make a vegan version without any dairy products or eggs, so it's a favorite alternative for a light meal.
You make it in round cake forms, or spread it out on a baking tray to make a large rectangle, then cut it up into pieces that are easy to eat, and arrange them on a plate.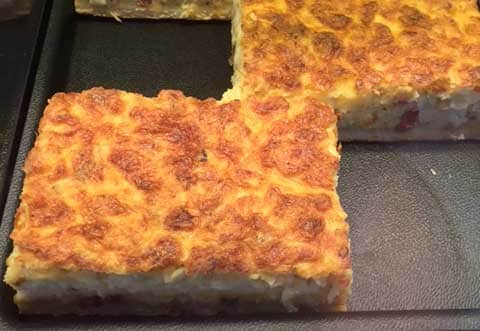 Zwiebelkuchen Recipe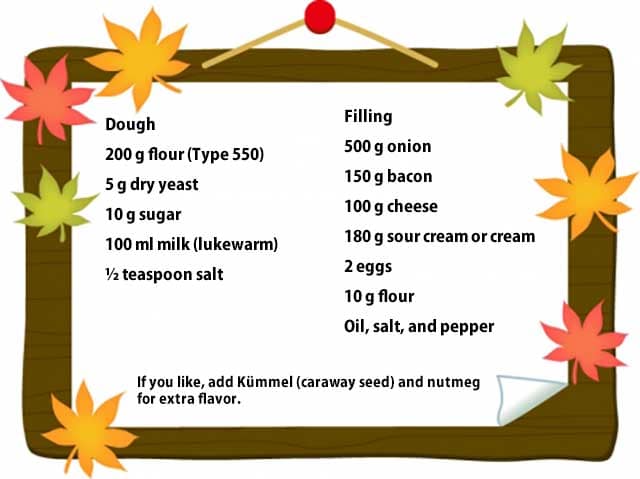 Method
1. Knead dough ingredients for 5 minutes then let rise at room temperature covered with a damp cloth.
2. Make the filling. First fry the bacon then remove only the bacon from the pan. In the pan with the remaining bacon fat, fry the onion for 20-30 mins. till well cooked but not burnt.
3. Grease a tart pan, roll out the dough (1) till a little larger than the base of the pan, then line the whole tart pan. Prick the dough with a fork all over.
4. In a separate bowl beat 1 egg and mix in the flour. Then mix in the other egg, the sour cream, caraway seed, and other ingredients, add the slightly cooled onion and bacon, and pour into the tart pan (3).
5. Bake for 45 mins. in an oven preheated to 180 degrees, and its ready!
The Federweißer drunk with the cake is a sparkling grape wine still under fermentation (Traubenmost: must), which soon ferments from an alcohol content of 4%, and ultimately breaks down into an alcohol content of 11%. It continues to ferment while on the shelves in stores, so you can't keep it long. The carbon bubbles keep coming off, so you have to gently open the bottle cap and carefully carry it upright. The season is generally from early September to about late October, although it depends on the timing of the grape harvest. Federweißer (Feder: feather, Weißer: white) means "white feather," or the white yeast floating in the bottle. Like Federweißer, weißbier (white beer) contains yeast, lactic acid bacilli, and plenty of vitamins B1 and B2, so it's said to be good for beauty and bowel regularity.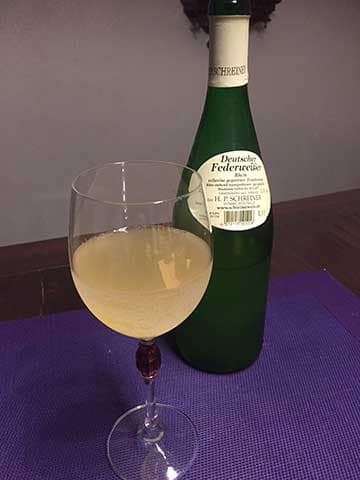 Federweißer
Fermentation Process
Bottling: Slightly cloudy, grape sweetness
↓
Alcohol fermentation: Breaks down into alcohol, cloudiness increases, turns into sparkling wine, sweetness halves
↓
Maturation: The yeast settles, it has acidity, is dry, and the alcohol content is higher.
I invite you to try the taste of fall as you enjoy the fall leaves, a glass of young wine with its acidity and sweetness in one hand, while you eat some Zwiebelkuchen.