In Japan, autumn brings a rich variety of delicious foods that come in season, like sweet potatoes, chestnuts, pumpkins, and matsutake mushrooms. This season when the weather cools after the hot summer and your appetite starts to grow is also called the 'autumn of great appetite' or 'delicious autumn.'
One of those foods that I have found in Germany and quite like is the Hokkaido, a Japanese variety of pumpkin. Large orange pumpkins used to be the most popular variety, but the Hokkaido pumpkin thus named because it can be harvested in the prefecture of the same name that shares a latitude with Munich, Germany, has become hugely popular in recent years. Last year's pumpkins were all orange on the outside, but this year I found dark green ones! I immediately made Japanese simmered pumpkin with kelp and small boiled-dried sardines and it was piping hot and sweet, with a flavor just like what I ate in Japan, and was very delicious. Now that I have finally found my dear pumpkin, I can increase my repertoire to cake, pancakes, pumpkin, gnocchi, gratin, tempura, curry, and other dishes.
Kürbissuppe pumpkin soup with ginger is popular in Germany. It is spicy, helps prevent colds, and warms you up. Here is the recipe for this soup that is made of β-carotene-rich pumpkin and carrot so it is good for your eyes and very nutritious.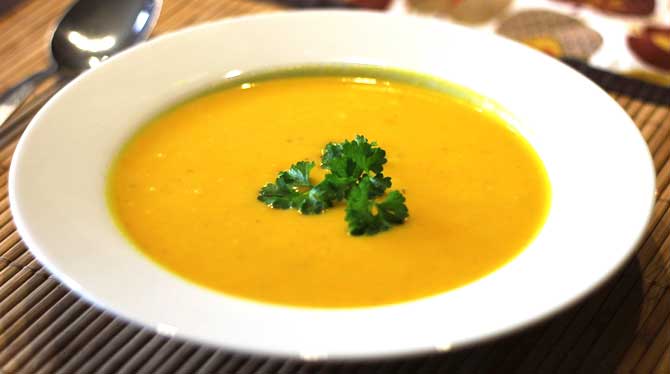 Pumpkin Soup with Coconut Milk and Ginger

Ingredients
1/2 a pumpkin
2 carrots
1 small onion
1 chunk of ginger
1 tbsp butter
600 mL vegetable soup
200 g coconut (or regular) milk
Salt and pepper to taste
Curry powder, chili peppers, and lemon juice as desired
Toppings
Some pumpkin seeds (dried) or croutons
A little pumpkin oil or soy sauce


1. Hollow out the pumpkin, peel the skin, and slice it thinly (also slice the carrots).
2. Mince the ginger and fry half in butter (leave the other half for later).
3. Add the pumpkin and carrots from 1 into 2, add salt and pepper, and fry.
4. Add vegetable soup to 3 and simmer for 10 to 15 minutes, then blend with a hand mixer or blender until smooth. Add the coconut milk, the rest of the ginger, and the curry powder, chili peppers, and lemon juice to season.
5. Top with pumpkin seeds (dried) or croutons, and pumpkin oil or soy sauce to finish.

Pumpkin develops wonderful aromas if you add curry powder or cilantro (powder) that make it more palatable. I also recommend making a salad by adding mayonnaise to steamed pumpkin and apple and seasoning with salt and pepper, curry powder, and cilantro (powder).
You can also make lanterns out of field pumpkins that are well-known as the Halloween variety and enjoy autumn decorations with uniquely shaped and colored pumpkins!