The Beauty Düsseldorf – International Cosmetics, Nail, Footcare, Wellness and Spa trade fair was held at Düsseldorf Messe from Friday March 9 to Sunday March 11 2018. Overlapping that was Top Hair International, an international hairdressing industry trade fair and make-up artist design show from Saturday March 10 to Sunday March 11, which all made for fascinating opportunities for those in the hairdressing industry to exchange information and ideas.
Some 1,500 corporate exhibitors from Germany as well as overseas set up stalls in a number of halls on the large Messe grounds spread out across a 70,000-square meter site. The halls were bustling with make-up artists and professionals in hairdressing, nail art, foot care, and so on. (Estimated attendance: 55,000) (Being a professional trade fair, unfortunately entry was not open to the general public.)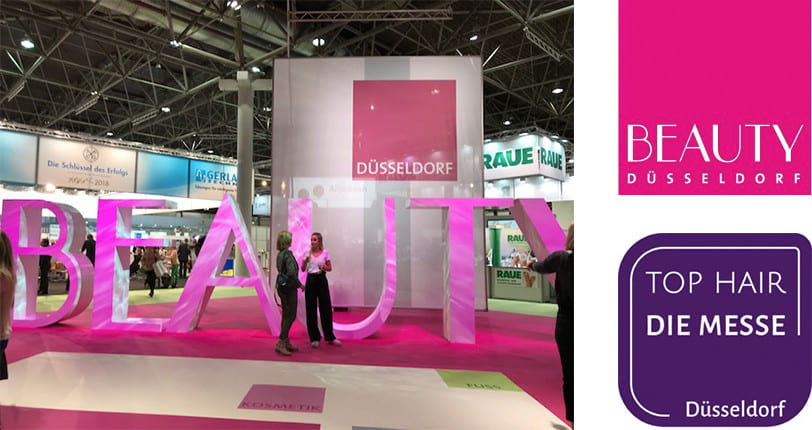 The trade fairs were full of attractions for exhibitors, including making direct contact with potential buyers; opening up new markets and brands; and meeting people in the same industry. There were also opportunities to get original new ideas from demonstrations by top artists, which made them events essential to improving skills.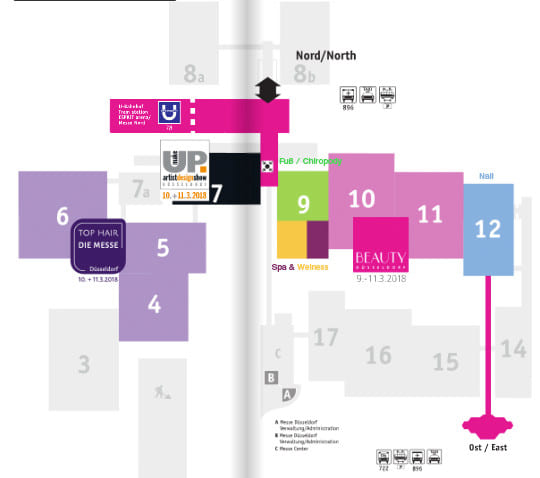 In the midst of that, I was given the opportunity to demonstrate ikebana at the booth of a Japanese company.
The spring flower theme was "Cherry, Bamboo and Iris."
With its four seasons there are plenty of cherry branches in Germany, which makes it a delightful place for some Japanese ikebana. A possible reason that ikebana has been deeply cherished over the last 50 years or so, is the abundance of material, including flowers and branches.
Fortunately, I managed to get some reasonably thick fresh bamboo, so I decided to use the bamboo leaves in the ikebana. Because you can't give bamboo water from the bottom, you pierce the joints where there are leaves with a steel rod and pour in some hot water with a pinch of salt. You can also keep the water up to them with some vinegar water or alcohol, such as strong vodka. Wrapping the leaves in wet paper is also an effective way of preventing the bamboo from drying out. Normally, bamboo leaves soon wither, but these methods make it is possible to keep them looking fresh for nearly a week. Ikebana not only teaches you how to arrange flowers, it also gives you the knowledge of how to keep them looking fresh for a long time.
For this exhibit I tried splitting some bamboo to create curved lines and bring to life its strength and its flexibility. Advantageously using bamboo's strength in returning to its inherent shape rendered lines with a spring-like liveliness, harmonizing the three materials.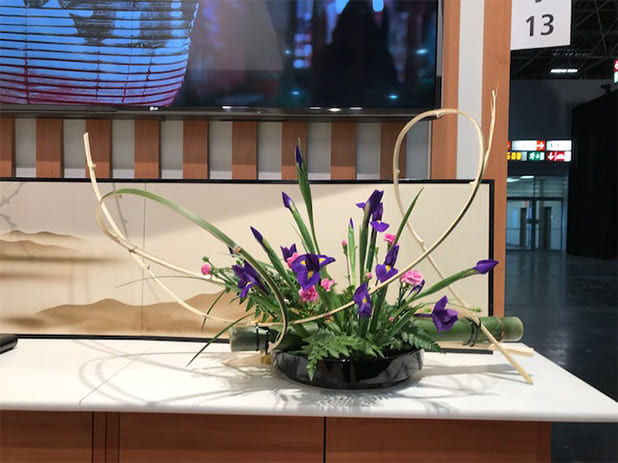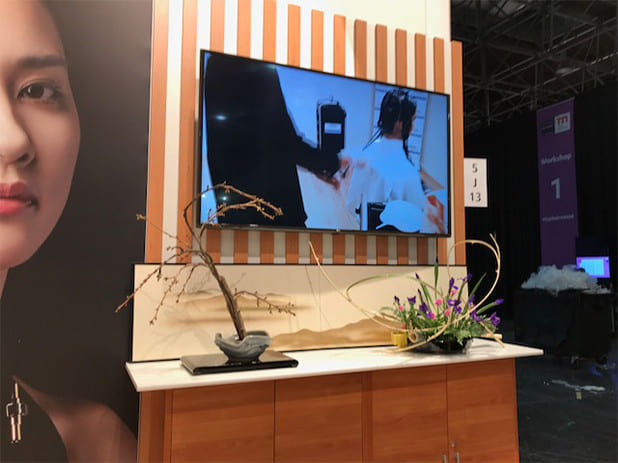 Weeping cherry ikebana, with bamboo and irises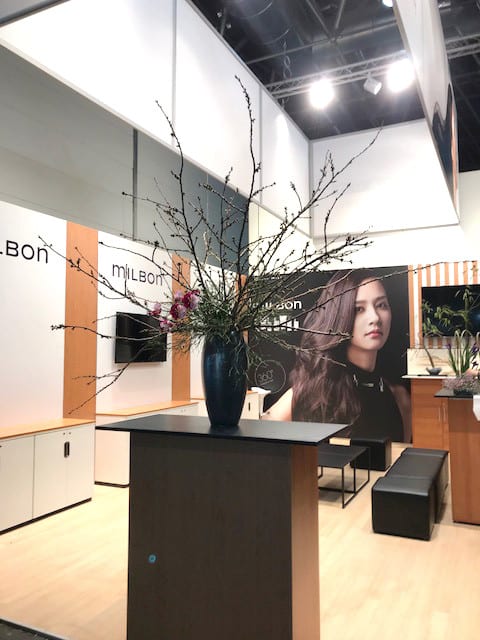 A large cherry ikebana work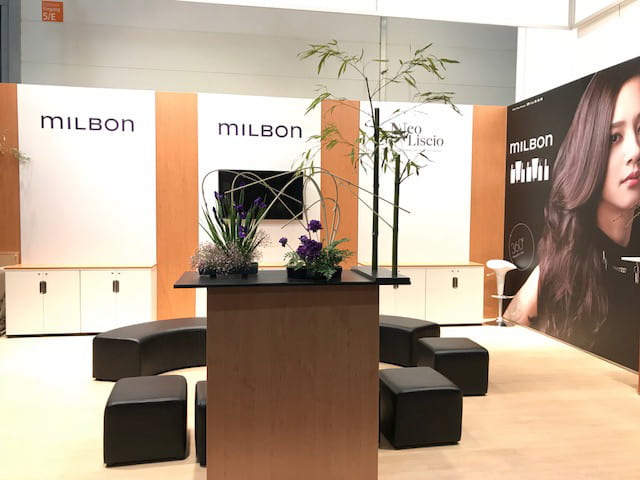 Works by a German friend
Ikebana is similar to make-up, hairstyling, nail art, and so on by professional artists from the point of view of its artistry, creating beauty with your hands. It was a very valuable experience for me, having the opportunity to introduce the beauty of Japan to so many people with an interest in beauty, even in a modest way. If the inherent natural energy of the flowers brightly decorating the venue soothed peoples' hearts and energized them even a little, I couldn't be happier.