Pirates of the Caribbean probably comes to mind when you hear the word "pirate", but memorable pirate dramas have been unfolding on outdoor stages in Germany this summer as well. There's a rural town about 60 kilometers to the west of Dusseldorf where a special venue was set up for just two or three weekends during the summer. I headed out there, thinking that they'd get a far bigger audience if they held it in a more urban area.
At about 5 PM, two hours before the play was to start, guests were warmly welcomed with snacks, a pirate play area for kids, a mini pirate concert, and more. Everything played out in an open area filled with rustic, handmade props. There were plenty of fun activities to do during the wait.

In the play area for kids, a strong-looking pirate taught them how to hold a rifle. The kids who passed the course were given a certificate, a gold coin, and a fake tattoo that marked them as part of the pirate clan.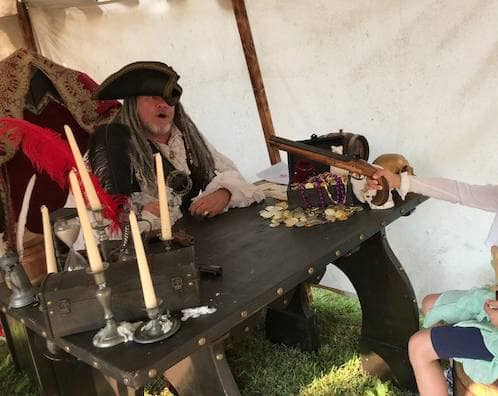 Reenacting the old pirate life

A pirate concert was held as an opening performance in a corner of the snack area. The music was as catchy as country music and really got the crowd going. Seeing those big pirates playing guitars and violins as they sang in hearty voices gave me quite a thrill.
At 7 PM, it was finally time for the main event.
The plot features a group of pirates, led by the British Captain Flint, who battle Spanish pirates for Spanish gold. They take a Spanish woman named Maria prisoner. Maria later falls in love with the Captain.
The repeated blasts of the cannon and guns threw off sparks and was very loud and realistic, while the authentic swordfight scenes were brimming with intensity and power. Seeing the women fighting valiantly was really cool as well!
There are almost no mosquitoes in the woods during the German summers, which stay cool under the shade of the trees and are quite pleasant. After participating in the event for five hours from 5 PM to 10 PM, I could see why people drove all the way out into the countryside to experience it. There was a sense of freedom being out in the wide expanse of nature, not to mention the excitement of the authentic pirate world. It was an experience in rural Germany that I'll never forget!