When fall comes and it gets cool, people like to eat stewed beef dishes such as rinderrouladen in this period up to Christmas. It's a treat, perhaps just like sukiyaki in Japan. The standard accompaniments are sweet and sour red cabbage stewed with apple, and potato dumplings called kloesse.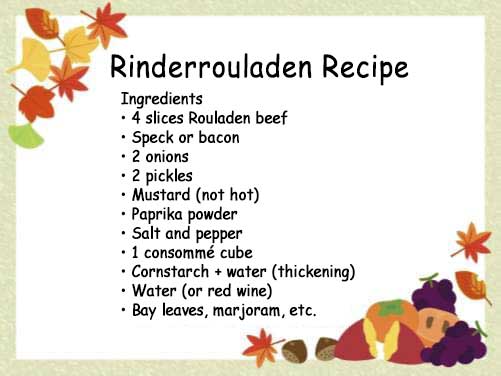 1.
First tenderize the meat with a mallet and season with salt pepper.
2.
Put the mustard (not hot), onion, pickles, and speck or bacon on the slices of beef and roll them up. Sprinkle on the paprika powder to give the meat a delicious red look.
3.
Key point when cooking meat!
Put a little oil in the frypan and
brown the meat.
This creates the color for the brown sauce.
4.
Once the meat is nicely browned, add the red wine (and water), consommé cube, and seasonings (bay leaves, marjoram, etc.) and simmer gently for 1 and a half-2 hours (or 20-30 minutes in a pressure cooker).
5.
Remove the meat, strain the gravy, then reheat and add the cornstarch (or wheat flour) paste to thicken.
6.
Ready!
Key points when making the red cabbage yourself!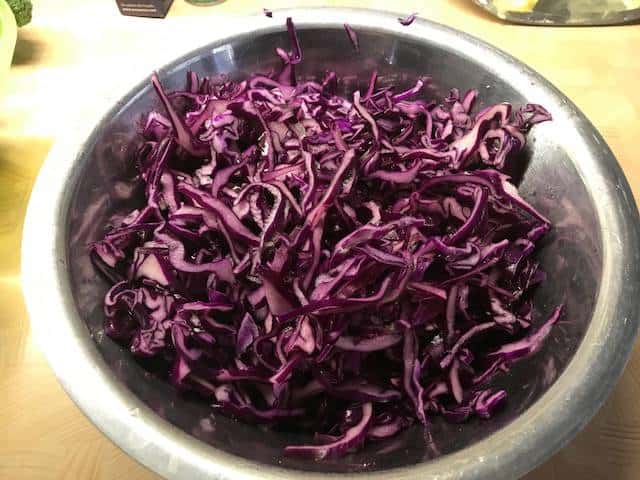 I recommend using a jar of rotkohl (red cabbage) as it is cheap and convenient.
But, if you shred the red cabbage yourself, the key point is to bring out the brightness of the color by rubbing it with sugar and salt! If you add some schmalz (pork or duck fat), an onion stuck with cloves, apple, bay leaves, and red wine, you will get delicious red cabbage stewed with apple.
You can use this same technique of browning the meat before stewing it with other stews such as goulash and schweinebraten (pork sausage). And you can also accompany these with side dishes like sautéed green beans or Brussels sprouts, or combine them with mashed potato, potatoes boiled in salted water, or a pasta called spätzle, etc. for a varied main dish repertoire.
So, this is one of the dishes people love eating at this time of the year.
Guten Appetit! (Enjoy!)