Strong spring breezes blow in the beautiful, bright season of spring, making the pollen fly. And in Germany, the Eisheiligen (Ice Saints) are said to come in mid-May bringing hail and sudden temperature drops.
But when May turns to June, the weather settles down, finally bringing good conditions for cleaning the windows.
This is when the Fensterputzer ("Fenster": "window", "Putzen": "clean") or professional window cleaners are worth their weight in gold. German homes have large windows with numerous places that can only be reached with a ladder, so most households can't get by without a Fensterputzer.
Winter is too cold for cleaning windows. They can't be cleaned because the spray freezes straight away, but in the present season when the daylight hours have grown a little longer, people value that nice feeling of always having the windows around them clean. Professionally managed properties usually have a Fensterputzer come once every one to two months.
That said, try as I might to clean the windows myself, I leave streaks and don't really manage to clean the windows properly, which causes me a lot of grief. Using the wrong method or the wrong cleaning fluid leaves windows looking even dirtier, so I guess there must be a lot of people who don't like cleaning windows.
Something that has surprised me about Germany and the Netherlands, the neighboring country, is that many people seem to deliberately make the inside of their homes visible by not using curtains. At night, of course, everything going on inside is in full view. At any rate, everyone keeps their windows at home sparklingly clean, so I'd like to tell you about the German method of perfect window cleaning.
Window cleaning essentials (washing)
1. Choose appropriate weather
Cloudy days are recommended, either in the morning or evening with no direct sunshine on the windows. When the sunshine is too strong the water evaporates quickly, which causes streaks. But if it's too dark, it's hard to see the streaks, so a low level of gentle sunlight is best.
2. Brush the windows
Brush off any loose material like spider webs, pollen, and dust with a broom.
3. Use the right cleaning liquid
Add just a little dishwashing detergent into 5 liters of lukewarm water, and some Spiritus (glass cleaning alcohol) if you have any.
Gently wash the whole of the window with a soft sponge (avoid hard sponges because they can damage the glass) or a window wiper.
4. Stubborn dirt
Applying vinegar or ammonia solution to stubborn dirt and calcium buildup restores the shine to windows. (Germans like cheap and environmentally friendly Essigreiniger ("vinegar cleanser") for cleaning pots and so on, too.)
5. Squeegee
Wash away the dirty water with a squeegee.
6. Cotton towel, microfiber cloth, and chamois
Wipe up any remaining water droplets around the edges using a microfiber cloth or a towel with as short a pile as possible. You can wipe the glass nice and clean after wetting the chamois then wringing it out well.
7. Window sashes and sash bars
Last, clean the sash bars with a toothbrush or the like using any water remaining on them, wipe them clean with paper towel and you're done.
Other recommended items
- Vileda 2in1
This window washer has microfiber for washing the glass and a squeegee attached, so you can easily clean windows in one go.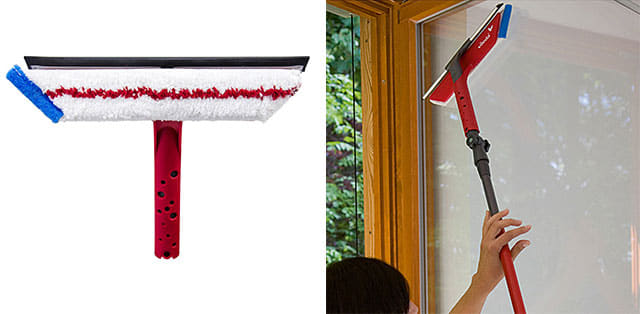 - Super time saver! Window cleaners
The Bosch and Kärcher window cleaners are ground-breaking!
When you wipe windows with a towel or the like, you always end up with streaks that show up in sunlight, but these cleaners have a sprayer attached and wash your windows then vacuum up the dirty water, so there are no drips. You can clean your windows easily in a third of the time.
I had been having a difficult time cleaning my mirrors properly, but the cleaner works with zero wiping!
I would definitely recommend this cleaner for households that have a lot of windows and mirrors. Window cleaning failures will be a thing of the past and you'll probably end up loving window cleaning!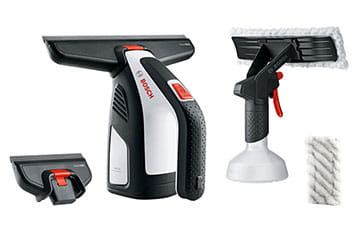 A Bosch cleaner

A Kärcher cleaner
I hope you enjoy the season in comfort with lots of bright sunlight shining through your clear windows.