Breakfast is usually bread with cheese and ham, and the countries in Europe share land borders, so you can easily get delicious cheeses from France, Switzerland, Austria, or the Netherlands.
In Japan, the range of dairy products extends only to milk, yogurt, cream cheese, and sour cream or so, but in Germany, the range of dairy products that have a relatively short shelf life, such as sour cream and quark, is quite large.
While fresh cream is given a higher fat content by removing non-fat content from the milk, sour cream is fresh cream fermented with lactic acid bacteria, which allows for its use in a wider range of dishes.
There are three main types of
sour cream.
● Saure Sahne: fat content 10-19%
Sauer = sour, Sahne = fresh cream
Because the fat content is low, it curdles easily when heated, so it is used in salads, dips, etc.
● Schmand: fat content 20-40%
The fat content is high and it's a little firm, but it doesn't have any distinctive flavors, the sourness is mild, and it doesn't separate even if you heat it, so you can put it in soups and sauces. Schmand cake is renowned in Thuringia.
● Crème fraiche: fat content 30-40%
Richer than Schmand, crème fraiche is also used for Flammkuchen ("flame pastry") and quiche because it too doesn't separate even when you heat it.
I love using crème fraiche to enrich meat sauces and to make salad dressings.
Quark
● Quark: milk content 10-40%
Quark is something between yogurt and cream cheese. You can spread it on bread or eat it with muesli or fruit, like yogurt.
Quark cheesecake is light, so it's very good!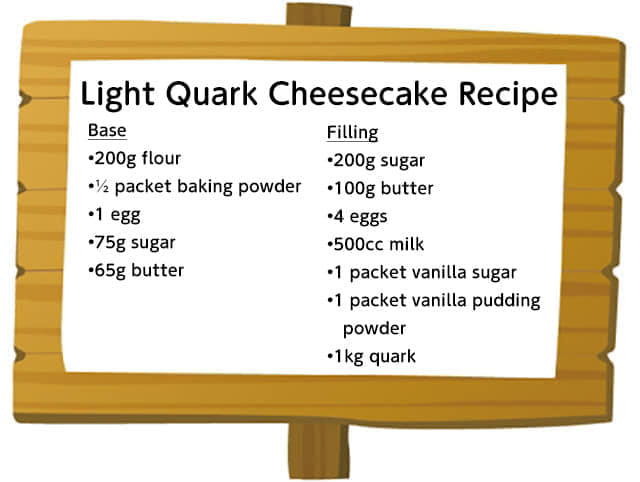 Recipe
1. Mix the dough for the base and divide it into two portions. Butter a 28-cm cake form, spread out one portion of dough over the bottom, and stick the other portion around the side of the form.
2. Put the filling ingredients into a large bowl and mix well.
3. In an oven preheated to 170 degrees, bake the cake long and slow, for about 1 hour and 15 minutes. It burns easily, so bake it on a lower shelf or cover it with baking paper midway through.
4. It's baked when the surface is brown, and the filling is cooked through.
Easy "Quarkbällchen."
You can get lots of Quarkbällchen made quickly and easily when the children get together.
(Bäll means "round ball" and "chen" is the ending you use to make something sound cute, like "-chan".)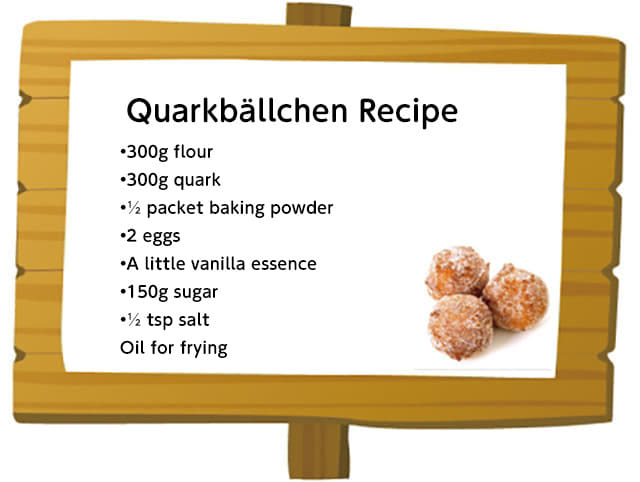 You can also quickly transform quark into a dip or a topping for foil baked potatoes by seasoning it with lemon juice, salt, and pepper. Adding a salad to the baked potatoes makes a very healthy meal. Quark is a very important ingredient for Germans.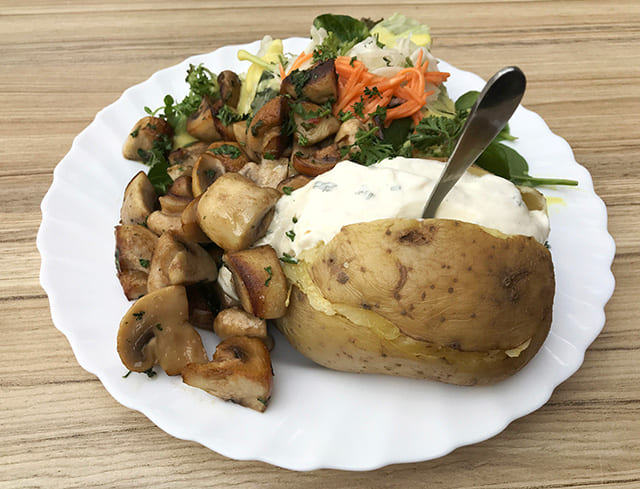 Quark as a beauty face mask!
1 tbsp quark (low fat)
1 tsp honey
1 tsp lemon juice
2 tsp milk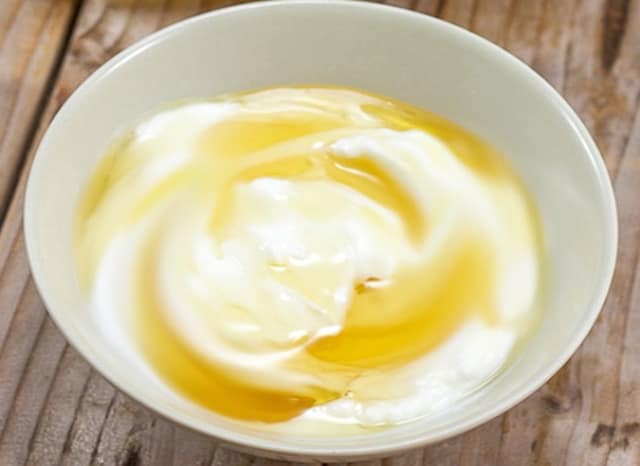 Mix the above ingredients well and apply thinly to your face as a pack.
After leaving it for a while, rinse with lukewarm water for moist skin.
In Germany, when you have such a wide range of dairy products on your side, you can have fun using them to enhance your lifestyle. I hope you take advantage of them.