Before we get down to the main subject, here are a few questions to help you grasp some basics of Thailand.1)How much larger is the area of Thailand compared to that of Japan?2)What is the approximate population of Thailand?3)Thailand is known as a Buddhist country, but what percentage of the population are Buddhists?4)What is the name of Thailand's king?5)Is the national budget of Thailand large or small?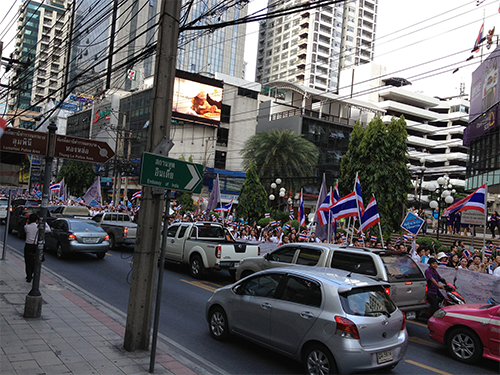 The answers are as follows. All are important facts in better understanding Thailand. I will get into the details at another time.1)The area of Thailand is 1.4 times that of Japan, and is about 513,000 km
2
.2)Thailand has a population of approximately 66 million. The proportion of geniuses in the country are about half of that in Japan.3)Buddhists account for 94% of the population. Muslims make up 5% and can often be seen in the cities. This religious diversity is also very important in terms of internationalization.4)The current monarch is King Bhumibol Adulyadej, Rama IX. Most likely you have seen pictures of the king. Politically, Thailand is a constitutional monarchy state.5)The scale of Thailand's national budget is roughly equal to Tokyo's budget. For that reason, allocating much of the budget for infrastructure improvement or the advancement of science and technology is quite difficult. This is a challenging issue that becomes an obstacle in conducting joint developments or joint researches.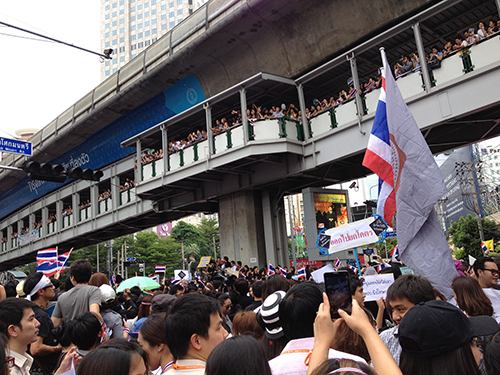 Now, something unique to Thailand is their demonstrations. Perhaps you have often heard about the conflict between the so-called red shirt and yellow shirt political groups. The most recent demonstration occurred in November, 2013, and it arose when the Yingluck administration forced through a pardon bill that paved way for the pardon and return of former prime minister and Yingluck's older brother Thaksin. You probably know that the People's Democratic Reform Committee (PRDC) led by the resisting Suthep, former deputy prime minister as well as former secretary-general of the Democratic Party, held a large-scale anti-government demonstration. This led to demonstrators forming a blockade of main roads, intersections and government agency buildings. The symbol used for the demo was the national flag of Thailand, and various goods such as T-shirts with a design of the national flag selling like wildfire at the demonstration grounds left a striking impression.One thing I found impressive about demonstrations of Thailand was that they begin from the evening. People are working at the office during the day, but also because of the heat, many started to gather from the evening. Buses functioning as public toilets and bathing areas were set up at the demonstration site, and even simple massage shops were opened. There were food stalls to no surprise, but it seems that free food was offered as well. Also, the modernization of the demonstrations deserves attention. At each of the demonstration grounds, large screens were set up and the same image was projected at each. This makes it possible for any leader to give propaganda speeches from anywhere.Demonstrators did not display a sense of despair. The lively demonstration could perhaps just be the temperament of the Thai people. This demonstration was something that a Japanese person would find challenging to understand. Due to the demonstration and the military government that follows, measures were taken to prohibit business trips from Japanese corporations and public institutions, but actual activities did not seem to be that affected. These lively demonstrations could be a display of the temperament of the Thai people. Afterwards, the military created a tentative government focused around the military and a new constitution for avoiding conflict between the political parties.I will leave it at here for now. Net time, I would like to introduce you to a peculiar street scene.Sawatdii khrap (Bye)