During midsummer in Bangkok, sensible temperature exceeds 35 degrees Celsius day after day. Even sunflowers wilt in the heat.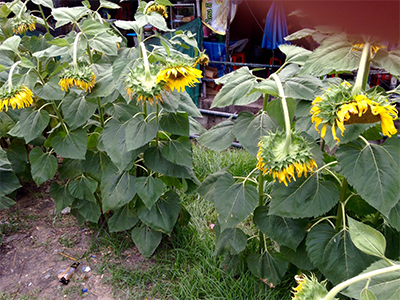 Photo:Sunflowers in the city
Today, I would like to share something about the city infrastructure within Bangkok. Take a look first at the fire hydrant installed in the middle of the sidewalk. Such a sight is unlikely to be seen in Japan. Even an advertisement is placed in the middle of the sidewalk. This too is unlikely to be seen in Japan.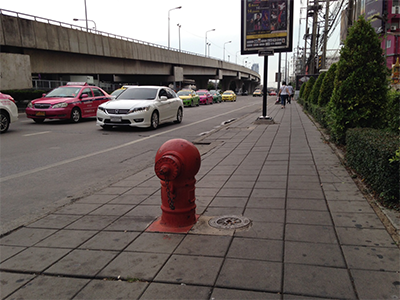 Photo: A fire hydrant and advertisement board on the sidewalk?
These could be attributed to the administrative attitude of the government or local authorities that does not give full consideration to the convenience and safety of pedestrians, and is perhaps also due to the nature of the Thai people. Actually, it may simply be that the Japanese are overly attentive.Now, let's get into our main subject of spaghetti in the sky. This photo shows electric cables in Bangkok.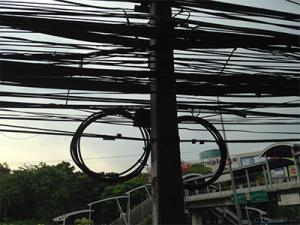 Photo: Cable spaghettis 1, 2
Visitors from Japan look up at the sky and are surprised. "What is that?" they say. Try to search for "Bangkok electric cables" to find many blogs on this topic. In such blogs, one expression in particular caught my attention. These electric cables were being called "cable spaghetti." Although there are various opinions, this clutter of cables is mainly made up of phone lines. Most likely they are phone lines that were wired without proper arrangement as increasing phones were installed. With such a mess, you would think that it's impossible to tell which line belongs to you, but surprisingly, phone companies seem to know how to tell. Similar sights can be seen in Vietnam as well, suggesting that perhaps these sights are common in developing regions.According to one theory, there is water 30 cm under the ground, making it difficult to install underground cable wiring. Large-scale underground transmission networks are being prepared with the assistance of the Japanese government, but installment of underground cable grooves has only just begun. We're expecting electric cables to all be done away with someday.Transmission networks that pose hazards seem to be well maintained, but giant transformers like the one in the photo can be seen throughout the city.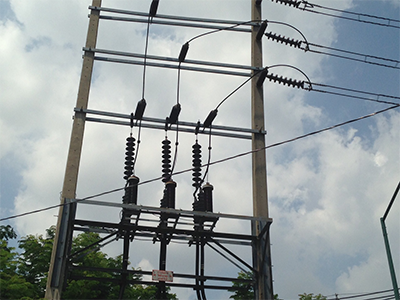 Photo: A power reception facility against the sky
At times, there have been cases of fires caused by lightning. Also, many deaths have resulted from electric shock during a heavy flood. However, that was caused by electric leakage due to the low placement of electric plugs in homes that were submerged, and was not due to the transmission system. It was especially dangerous since 220V is generally used.So it seems that the infrastructure of the townscape displays unique national character. When traveling overseas, why not take a look above in the sky while window-shopping? For your information, this seemingly careless thinking of Thai people influences their business as well as industrial goods. Next time, I hope to share with you information on Thai universities, which is related to my profession.