In this report, we present the experiences of junior and senior high school students at the 5-day Programming Course Conducted in English, hosted by Knowledge Capital from Monday, March 25 through Friday, March 29, 2019.
These programming courses are part of a series that started in the summer of 2018. The recent course was the second one held so far. Instructors were invited from Koding Kingdom, which offers cutting-edge programming education in Hong Kong. The classes at Koding Kingdom are taught entirely in English. Learning computer programming—which already seems like a difficult subject—in English may seem incredibly challenging, but don't worry! A friendly male student from the Graduate School of Information Science and Technology at Osaka University, who is a programming expert, was there to walk you through each step. A female law student from Osaka University also joined in to help translate the English into Japanese.
The six students who participated in the course were taught by one instructor and two assistants, creating an intimate learning environment with one educator for every two students.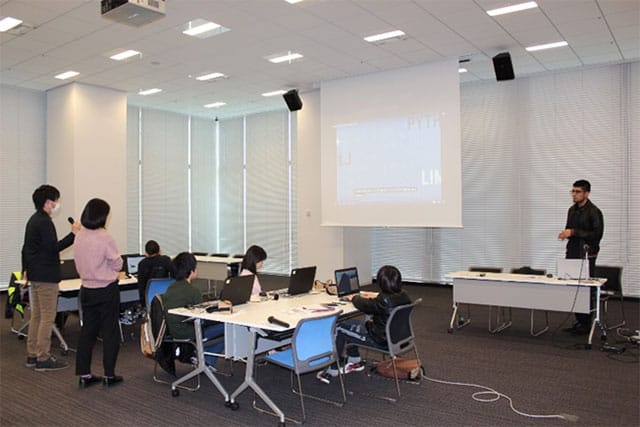 On the first day, the instructor began by asking the students if they had ever programmed before. Two or three responded that they had tried programming at home or at a nearby cram school. So even though the students were familiar with the idea of programming, they were basically complete beginners—both excited and nervous to start from scratch.
The course kicked off with an easy English game and some self-introductions, which allowed everyone to gradually relax. The first half began with students assembling their own virtual reality goggles out of cardboard. In the afternoon of the second day, everyone's virtual reality world was complete. The students' creations allowed them to experience 3D spaces and look around cityscapes in 360º. It was fun to see all the different characters and buildings that they came up with.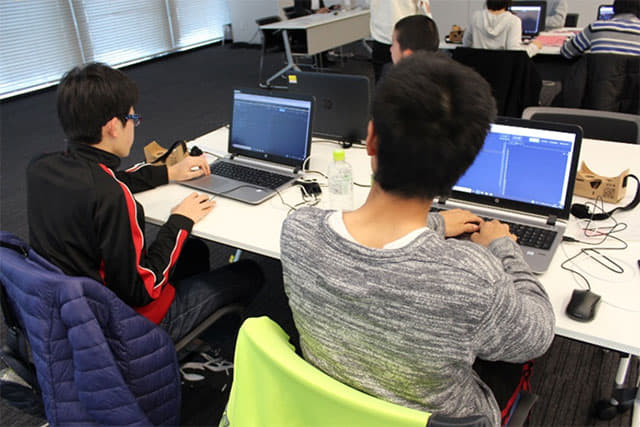 In the second half of the course, the students used an application-building platform to add buttons to an app, install a camera function, and so on. They then linked their apps to iPods to actually test out the features. When the students presented their finished products to the class, everyone was amazed. You could hear oohs, ahs, wows, and "that's cool!"
The students began actual coding on the third day, using programming language to type commands into computers. The students were guided through everything step by step, though there was still plenty of head-scratching as they carried out their tasks. Once they were taught a new code, they were asked to apply it and then take on a more challenging assignment. Things got more difficult by the hour as students were asked how they would write code in order to create certain conditional statements, for example. But I was amazed as the students started tackling one problem after another—almost as if they were trying to put my mind at ease.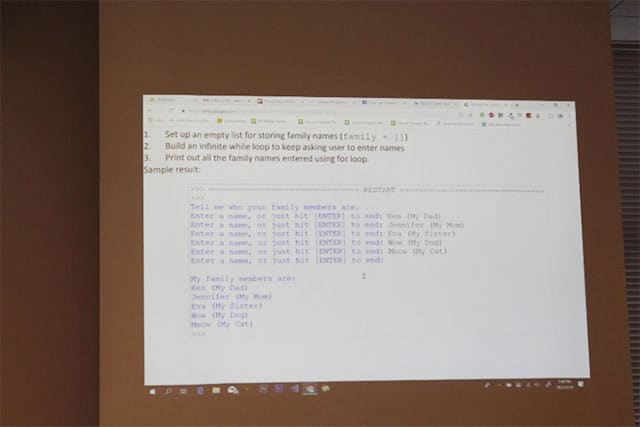 Even difficult lessons incorporated English animation and other strategies, keeping the class fun.
It would be too much for the students to sit in front of their screens all day, so during the break they were invited to explore "The Lab - Creating the Top in the World" at Knowledge Capital. The exhibits gave them a chance to listen to and experience virtual reality presentations. The experience sparked new interest in programming, with the participants amazed at what was possible thanks to the different perspectives that The Lab offered.
The students wanted to get up and get moving on one of the afternoons, so they also participated in Knowledge Capital workout performed by communicators in the Lab every day starting at 3 PM. After a bit of stretching, they felt refreshed, recharged, and ready to learn more.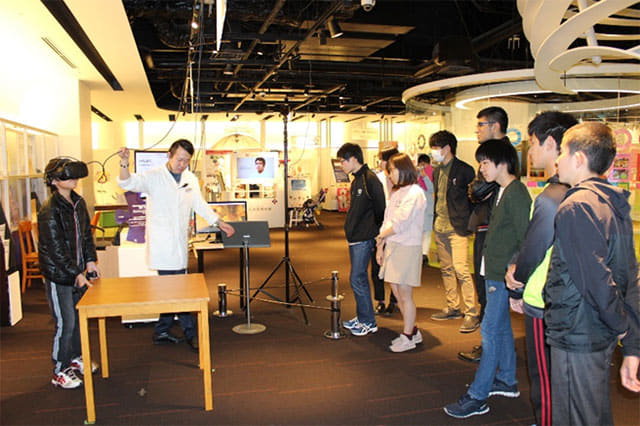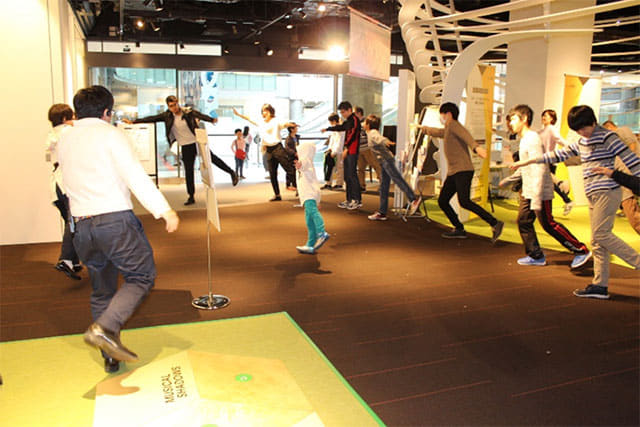 The fifth day was the last day of the course. The participants split into groups to review everything they'd learned and presented their projects. The participants dove into their assignments, which served as an overview of the course and gave them a chance to try out this and that to test out their ideas. The group had grown close working together over the five days, which seemed to make them engage even more excitedly in their projects.
Once they finished, they came to the front of the classroom to describe what they had created and explain what code they had used. All of the projects were nearly perfect, and even the teacher was deeply impressed.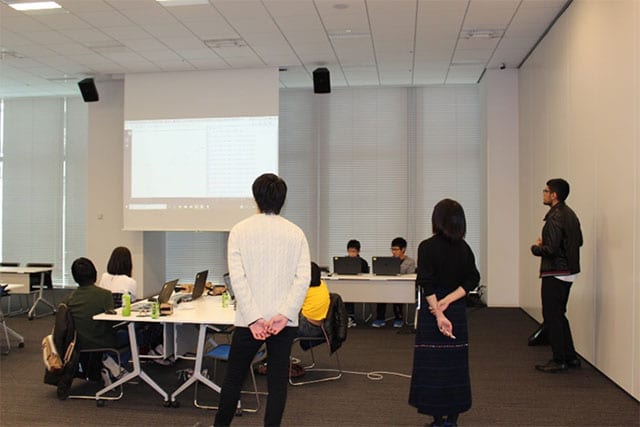 Programming is going to be a required elementary school subject in 2020. And almost all language used for programming is English. Japan is currently suffering from a lack of IT professionals.
It would be wonderful if students who participated in this program developed a deeper interest in the field.
This was the second time the course was held, and we are already looking at continuing it further. We hope to give more students a chance to experience programming for themselves while coming in contact with the English language.