We often hear the term "The Age of Centenarians" and attention is focusing on the need for lifetime learning and to learn flexibly inside and outside the framework of traditional school education.
At Knowledge Capital we offer new learning opportunities through various activities, such as experiential programs that include lectures and workshops, for everyone from children to seniors.
Recently, 15 junior high school students who participated in an innovative education program in Thailand came to Japan to experience a learning program at Knowledge Capital. Here is our report.
The 15 participants were selected by the National Innovation Agency of Thailand (NIA), a Knowledge Capital partner. NIA is implementing STEAM4INNOVATOR, an innovator incubator program for junior and senior high school students in collaboration with Samsen Wittayalai School, an integrated junior and senior high school in Bangkok.
The starting point for this program is to learn ways of thinking about innovation through interaction with experienced entrepreneurs. Participants then identify issues, create business models, and finally, give presentations on the projects they think up. This gives the participants a very practical learning experience.
The 15 visiting participants were selected from about 80 program participants. The three-day learning program was full of lectures and workshops provided by Knowledge Capital's corporate partners and "Knowledge Persons," as well as opportunities to get outside Knowledge Capital and visit some other places in Osaka.
After the orientation on Day 1, the participants toured the facilities at Knowledge Capital. At "The Lab. Minna de Sekai-ichi Kenkyujo" ("The world's best laboratory for everyone by everyone"), where you can try out advanced technologies and prototypes created by companies and universities, participants learned about initiatives in the corporate and academic worlds in Japan, while interacting with the exhibition.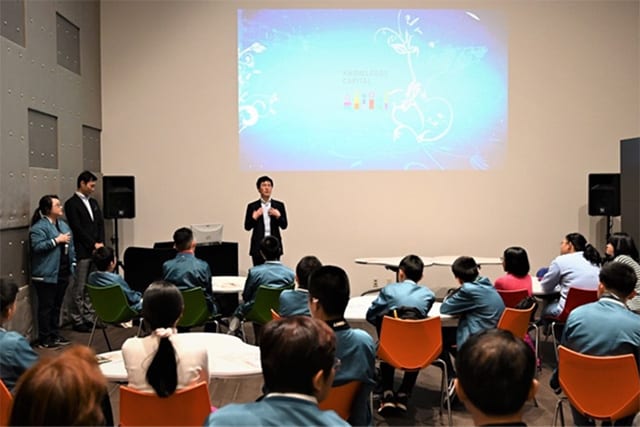 Still tense at the orientation...

Getting involved with an exhibit in The Lab. and even discussing it on the spot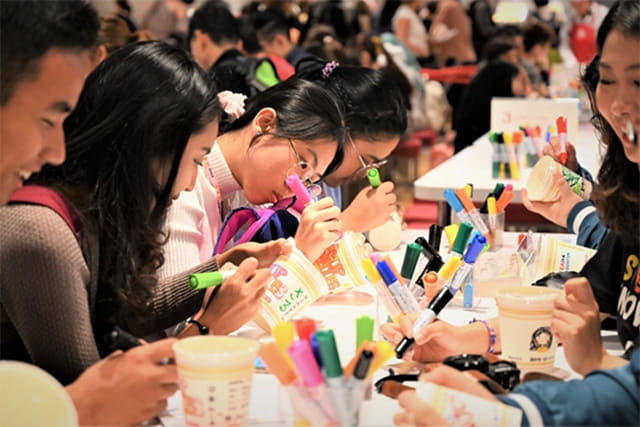 Off to the CupNoodles Museum Osaka Ikeda in the afternoon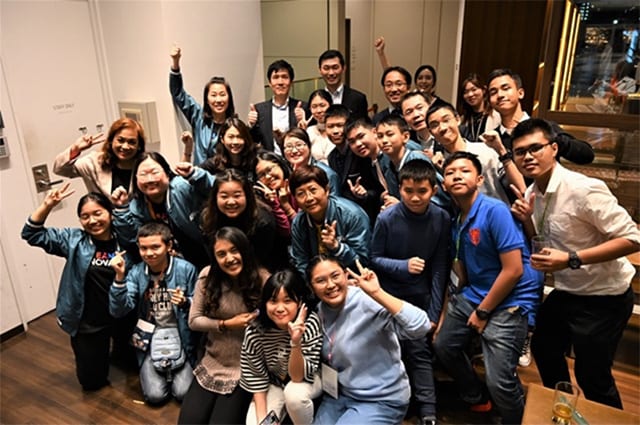 Exchange meeting between Knowledge Capital and NIA staff
On Day 2, the visitors participated in an air conditioner dismantling demonstration at fuha:Osaka - Daikin Solutions Plaza, inside Knowledge Capital. After they enjoyed a Kindai Tuna lunch at the Aquaculture Research Institute, Kindai University, the afternoon continued with a VR experience led by Knowledge Capital Researcher Atsuhiko Yasuda as well as a lecture on cognitive science and machine learning by Hiroshi Sakuma, who is an Osaka University student, cognitive scientist, and also a Knowledge Person.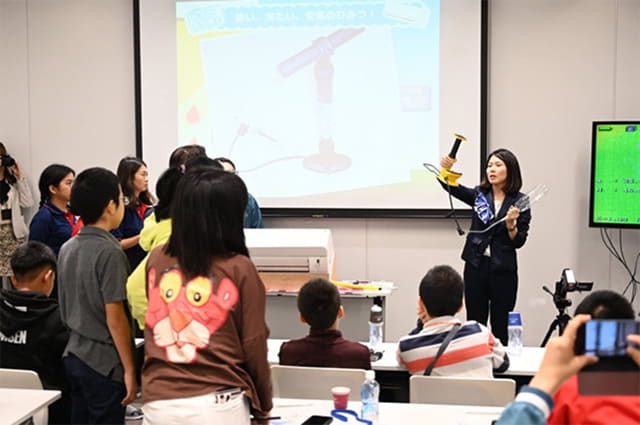 Dismantling an air conditioner and learning how it works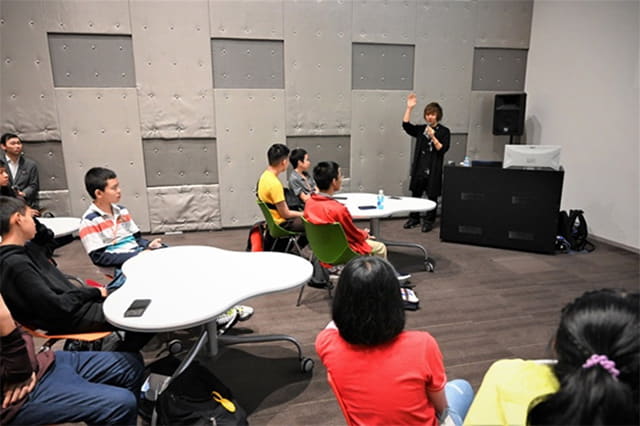 Valuable opportunity to interact with a university student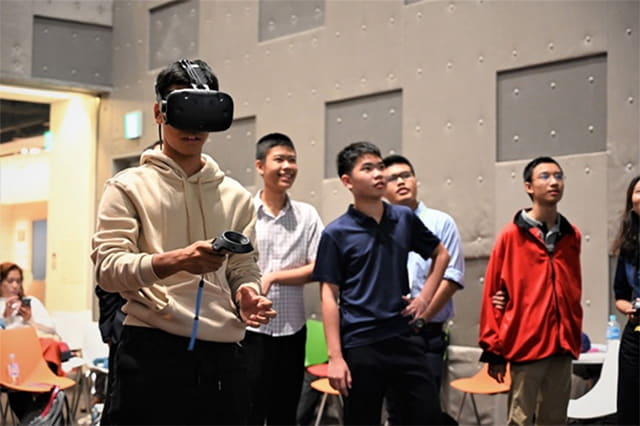 Trying out VR calligraphy and a virtual drone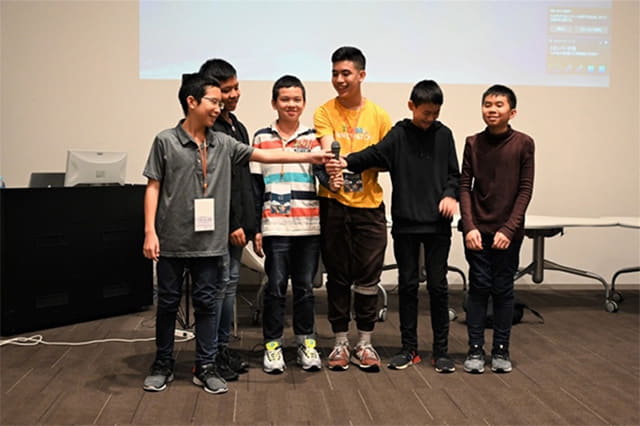 At the end of the day, reporting the learnings from that day.
On the morning of the last day, the participants visited the Technology and Innovation Center (TIC) at Daikin Industries, Ltd. to learn about their R&D department's innovation initiatives.
In the afternoon, two leading innovators gave a presentation about the process of converting an idea into a business. The first innovator was the user interface designer Tatsuya Honda, a winner of the World OMOSIROI Award, an award program organized by Knowledge Capital that selects people from all over the world who are engaged in various kinds of "OMOSIROI" ("fun", "interesting") activities and ideas, and the other was Tomokazu Hirose from NOVENINE, Inc., a company that develops IoT toothbrushes to help prevent periodontal disease.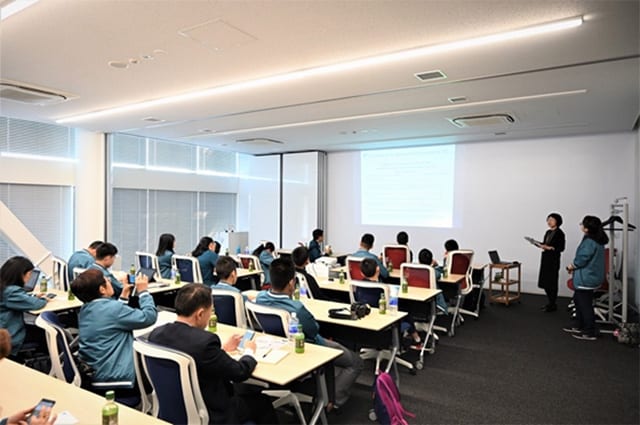 Visiting the TIC R&D workplace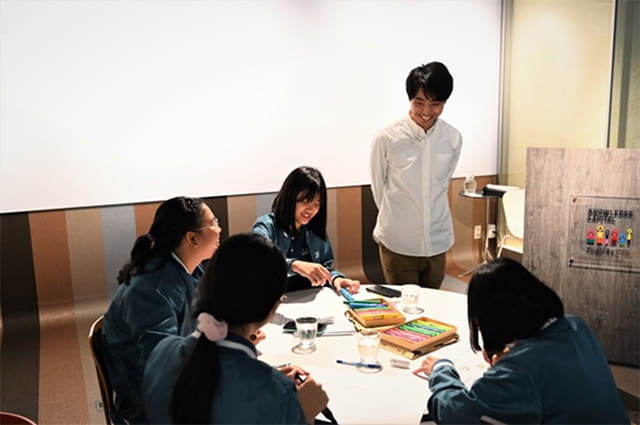 Workshopping ideas with Tatsuya Honda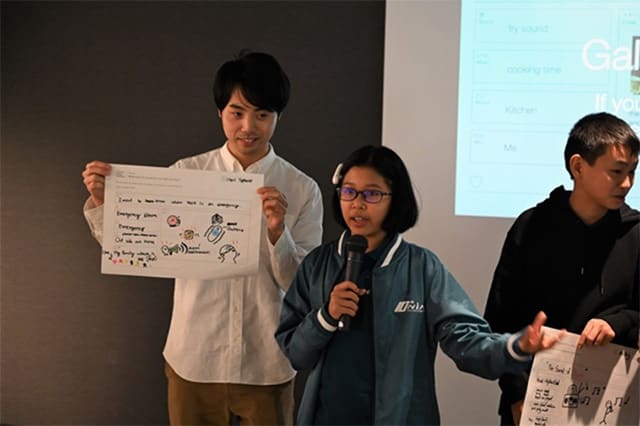 Each group presented their ideas.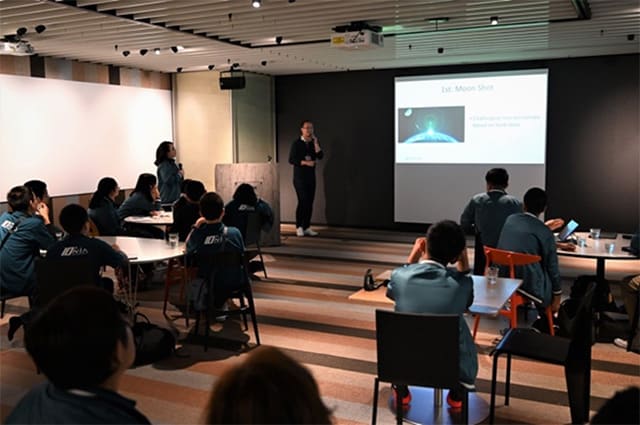 Taking a lesson from an experienced startup entrepreneur
To finish up, program completion certificates were presented to all the participants. Every participant had joined in the activities very enthusiastically across the three days and had engaged in intense discussions with the lecturers about searching questions that would put adults to shame.
Comments from the participants included, "It was fun to have lectures as well as a hands-on program," and "I'm glad I was able to interact directly with Japanese innovators." The NIA has already asked Knowledge Capital to run this program again next year.
Knowledge Capital intends to continue providing a variety of programs for new learning opportunities in cooperation with Japanese and overseas partners. We certainly hope you too will join us for an exciting learning experience at Knowledge Capital.