I'd like to continue a bit more on the subject of rising property value, which I briefly mentioned in the last post, since this is something of key importance when discussing Berlin.The popularity of deteriorated neighborhoods in large cities has led to an influx of the wealthy and displacement of the poor. This is called "gentrifizierung," or "gentrification" in English, and is commonly seen during the growth process of cities. In Berlin, the wealthy from both within and outside the country for investment purposes buy older buildings that are preferred for their styles, and as repercussion, it's not rare to hear of low income residents who originally lived there having to move out because of getting behind in their payment after they were no longer able to afford rent. On one day when the police were forcing residents out, numerous protesters staged a sit-in on the street to block them.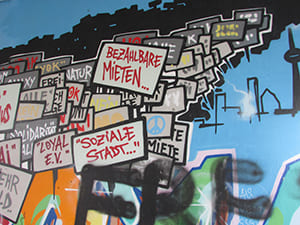 The gentrification of Berlin, as expected, has been caused by the fall of the wall. It is only natural that Berlin, where prices were less expensive compared to other cities in the country, would raise their value along with the relocation of the capital and redevelopment. Lehrter Station, which used to be a platform standing alone in the sandy plain of an area scheduled for development only a bit over a decade ago, has now been reborn into a central train station of glass construction. As Europe's largest overhead crossing station, trains to various areas of various countries as well as the city's public transport come and go here. Potsdamer Platz used to be filled with vacant lots during the 90's, but now is lined by office buildings and high-class hotels. Gentrification has been accelerating since the middle 2000s, and looking back, it's actually surprising how gradual the development has been taking place.At a corner of a region in Kreuzberg, a residential district in former outskirts of West, now the centre of Berlin, stands a building designed by architect Bruno Taut who is representative of Germany's expressionism. It has remained in the same state as its completion in 1932. However, once it was allotted and sold as a luxury apartment, people threw rocks and paintballs at this Taut House and the first floor was damaged mercilessly. No matter how many times the glass were replaced, they would immediately be broken again, so instead of repairing them, some messages began to be posted next to the giant bandage covering the damaged portion. To translate just a few of them, they say things like "Monument for the people living behind this glass," "Monument for the ever changing city" and "Monument for the coexistence of a variety of people." I feel that this Taut House being maltreated in such a way despite having been left uninhabited for eight years and having no one being forced out is symbolic of the opposition towards gentrification.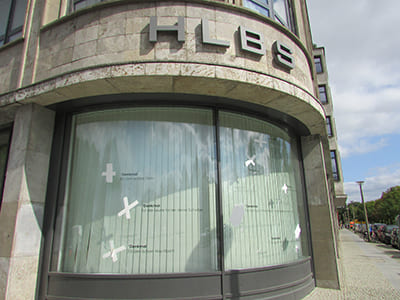 With the rising property value, the changes are made in social class of the residents, the class of shops and the atmosphere of the city and the original residents have been feeling it harder to live there. As one graffiti reads, "Kreuzberg remains filthy" graffiti and broken glasses do have an aspect in the creation of a city atmosphere by the original residents that opposes the stylish boutique shops and organic food stores. On the other hand, the property owners have some room in their minds, as can be seen in how they display these in a modern art style. You can say that it's very much like the wealthy Kreuzbergers to fixate on the residential districts after having built up financial power.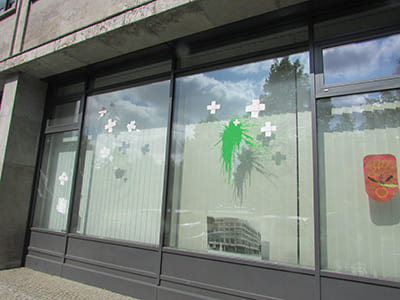 With the overlapping of residents with wealth and those that can't afford rent, the distinctive trait of the Germans who all assert their rights and the ripples of localized gentrification, property value in all of Berlin continues to rise. We want to keep a close eye on how these will play out in the future.