Teepees refer to tents in the Native American language. Today I'd like to introduce to you the small tent village in Berlin called Teepee Land, but please let me first tell you about squatting, a culture probably not so familiar to the Japanese. To squat means to occupy an area of land or a building that is possessed by someone else. The extent to which this kind of activity is tolerated here would be unimaginable in Japan.In the case of squatting in Berlin, the turning point was the city planning of the mid 1960s. In a large project led by the city, the old townscapes of multiple blocks were demolished depending on the district, and new housing complexes were constructed. Obviously there would be no way that the complex can be completed on the day after the original residents move out, and if this were to take place in more than one district, then a housing shortage is bound to occur. Also, many years are needed before all residents can be successfully moved out. Even if one house were to become empty, they cannot turn it into a vacant plot of land as long as there's one neighbor who still hasn't left, and there were instances when a building in some areas were empty for over 10 years. Due to the strain from the housing shortage, those who were disadvantaged such as young people flocked into these areas, and a considerable number of homes became occupied by squatters before the 80's. There was even a case of demonstration that even escalated the conflict between the squatters and the authorities to the point of causing deaths.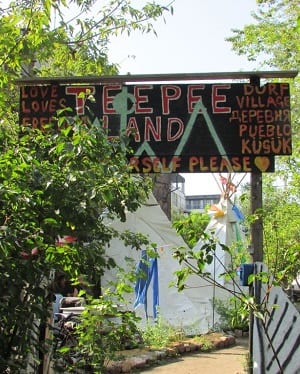 Entrance to Teepee Land
Although Teepee Land is a tent village illegally occupying public space since three years ago, it is accepted by the district of Mitte, which oversees this plot of land, and Teepee Land seems to enjoy good relations with the local authorities.The open space sandwiched between the Spree River and a vacant lot of an old ice-making factory is lined with tents along the promenade. There is no running water or heating system, and only the necessary electricity is borrowed from the vicinity. Even travelers come stay in tents during the summer, and on this day there were about 30 people living here. Apparently, only a dozen or so people continue living here during winter when it can get as cold as -20℃.
Mr. Flieger 's tent from the outside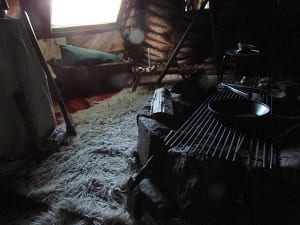 The fireplace inside Mr. Flieger's tent
I wondered if the small teepee was not too cramped for Mr. Flieger, who is the leader of Teepee Land and is almost 190 cm tall. As he let me enter his tent, my doubt had disappeared. The cone-shaped tent that appeared to have a diameter of about four meters was actually quite spacious with two beds and one fireplace. I was surprised to learn that he's even invited 27 people for a party one time.Next to Mr. Flieger's tent, Mr. Ko , a Japanese, is currently working on building Germany's first Shinto shrine using scrap materials. And right next to him is an older Turkish man who is raising an Oriental frill.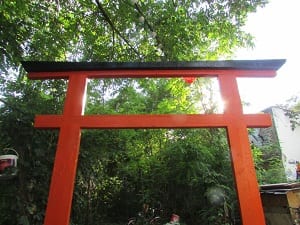 The torii gate currently being constructed by Mr. Ko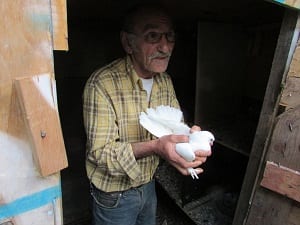 An older Turkish man and his Oriental frill
Would it be too much of an exaggeration to say it's an oasis? But Teepee Land seemed set apart inside this neighborhood with nonstop construction of high-end apartments and with many clubs where tourists flock, and I felt as if time passes slowly here.This open space, which used to be a zone separating East and West Germany, is now a registered cultural heritage site. Nestled under the shade of trees at the point where the separation line along the Spree River penetrates into the land are a wall and a mast of the lookout post for monitoring anyone who tried to escape by swimming across the river. Seeing this simple lookout post reminded me that the separation of the East and West was not something too distant in the past. As I stood at the lookout thinking about people who had swam for their life, I could see a bunch of people basking in the sun at the café of the beach across the river. I felt ever more grateful for the peace we enjoy today.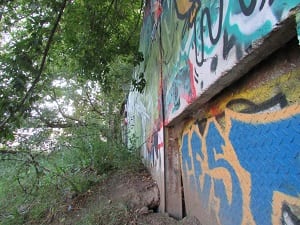 Part of the wall that separated that East andWest Germany,now a cultural heritage site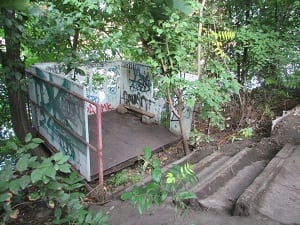 The lookout post for monitoring any that tried to escape is also now a cultural heritage site