A peculiar building stands in my neighborhood. People tend to pass by thinking it to be just an oddly-shaped piece of architecture, but that is a tragedy caused by the busyness of adult life. When I went inside with the idea of introducing it here, I was surprised to find that this innocuous building in a residential district is filled with a great deal of history.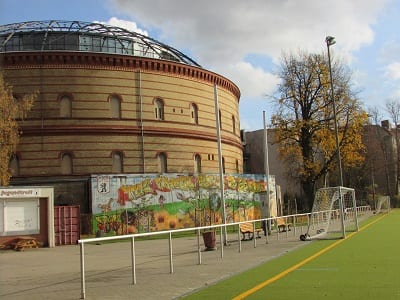 Adjacent children's park and the east side of appearance
The cylindrical building with a glass dome serving as its roof was constructed in 1874 as a gasometer to supply gas for streetlights. The structure, 54 meters in diameter and 27 meters tall, could apparently store 30,000 cubic meters of gas. In 1922 the gasometer fell into disuse due to the transition from gas to electric lighting, and for nearly 20 years thereafter it stood empty and abandoned.In 1940, Germany used Polish and French prisoners of war to convert the building into an air-raid shelter. The modifications included adding a roof more than 3 meters thick. Thus it became a six-story air-raid shelter for women and children with a capacity of 6,000 people. There were air-raid facilities of this kind in three locations in the city at the time, but Berlin's population swelled to 4.5 million people because of the Greater Berlin Act, so a shelter for only 6,000 barely made a dent. Priority was then given to working women engaged in arms production and the like. The building became fairly luxurious for an air-raid shelter, with a hotel-like front desk to store residents' keys, private rooms and even an elevator in the tiled lobby.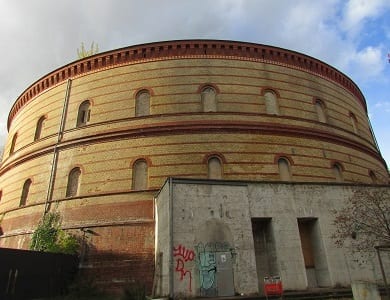 The outward appearance seen from the front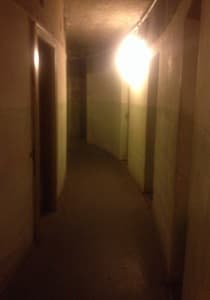 Corridor that is curved to match the cylindrical
To accommodate such a large number of people in the airtight gasometer, a ventilation system with an air purifier was installed, while in winter a heat exchanger warmed the purified air. The building had a kettle room and linen room, along with a simple infirmary. The infirmary's ceiling was coated with luminous paint to prevent sudden darkness during surgical operations in the event of a blackout. There was also a diesel generator set up to provide some amount of power during blackouts. In fact, this generator is still operable. When it moves it rumbles like something out of a Hayao Miyazaki animated film and turned dimly the lights on.As the air raids intensified, citizens filled the bunker beyond capacity, with 30,000 people cramming in during a massive bombing on February 3, 1945. On this date, when bombers focused their attacks on the northwestern Kreuzberg district with 2,000-ton bombs and 250-ton incendiary bombs, strong winds contributed to causing an estimated 25,000 deaths. If we divide the floor space by the 30,000 people who pushed their way into the air-raid bunker, they were packed in at four people per square meter. When I think about the 30,000 terrified souls crammed inside and those on the outside who couldn't make it in and died, I can't help but feel yet again how irrational war is.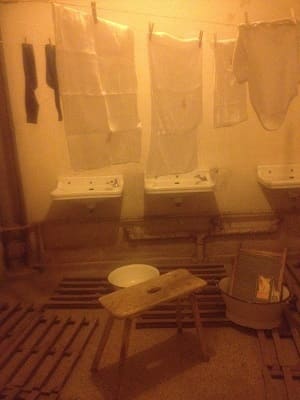 Linen room of the air-raid shelter era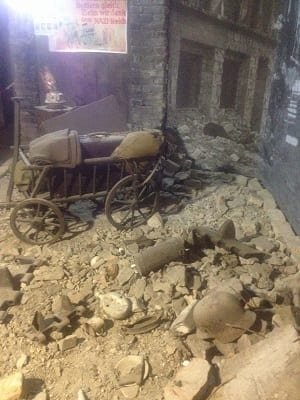 Baby carriage that was destroyed outside the air-raid shelter
The building was occupied by the Red Army in April 1945, then fell under the American administrative zone as the war came to an end. In the war's immediate aftermath, people such as those who had lost their homes and refugees from East Germany found shelter here. Later the old gasometer became a juvenile detention center, then a nursing home, and finally it was used as simple accommodations for the homeless. However, the shelter, where rooms were 2.5 Deutschmarks a night, was plagued by illegal prostitution and other crime. In 1963 there was even a murder, and the facility was closed, due to poor sanitary conditions. Later, the government of West Berlin during the Cold War made preparations for the possibility of a repeat of the 1948 Berlin Blockade and used the structure as a storehouse to hold a massive amount of canned goods and other supplies. After the Wall came down, however, the building was again empty and abandoned for 16 years.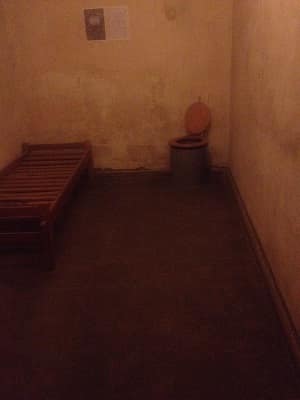 Room in the boy prison age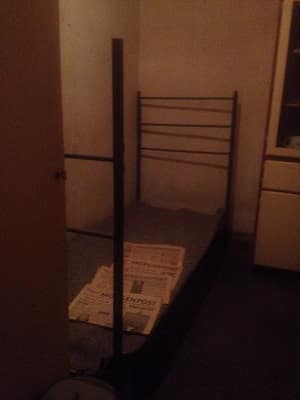 Room of the nursing home age
Later on, when fears of bombings and blockades evaporated, the domed roof and top two floors were renovated into luxury residential units with rooftop gardens and sold as condominiums. When I look at the air-raid shelter from the children's park next door and think that mothers and children like those there today fled for their lives among falling bombs, it conjures up thoughts of Berlin's past and the conflict-ridden regions of today, providing me another poignant reminder of how important peace is.