Currently, a rather peculiar mini exhibit is quietly being held at the Prado Museum. Only six pieces of art, such as that of Velazquez, Goya, El Greco,and the La Gioconda or Mona Lisa, are being displayed. This exhibit, entitled "Hoy toca el Prado" (Come touch the Prado), features works of art that can be felt directly with the hand. This exhibit was designed to allow the visually impaired to more closely experience the art.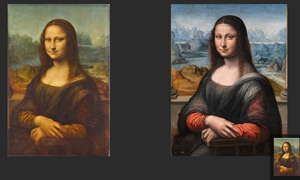 ●Photo 1:Mona Lisa and La Giocolanda (from the Louvre museum website)
Speaking of the Mona Lisa, one would think of the Louvre museum in Paris, the city of flowers (why flowers?). The quality and number of art collection, and the number of visitors all make the Louvre a treasure of mankind, a museum worthy to be called the world's best. Of their vast collection, the Mona Lisa is praised as the painting among paintings. The official name of this piece, according to the Louvre website, is the Portrait of Lisa Gherardini, wife of Francesco del Giocondo. This masterpiece of Leonardo da Vinci is shrouded in many mysteries. Many imitative paintings as well as parody versions of this piece have been produced. A famous imitative painting of the Mona Lisa is the La Gioconda, housed in the Prado Museum of Madrid, the city of passion (why passion?). It's said to be the earliest piece of the imitative paintings. Its size is very similar to the original as well, being just 4cm wider. The painter still has not been identified, but the accepted theory is that a pupil of Leonardo painted this beside Leonardo as he painted the Mona Lisa. The background had been painted over in black after the year 1750, and had not received attention for a long time. With the restoration work in recent years, the same background as that of the original in Louvre had reappeared. In 2012, the Louvre museum received the La Gioconda for the da Vinci exhibit, and displayed both pieces together.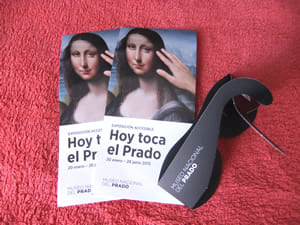 ●Photo 2:Information of the mini exhibit and blindfolding glasses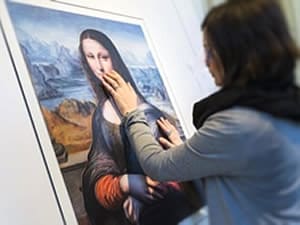 ●Photo 3:La Gioconda that can be touched. This piece is a copy and not an original. Explanations in Braille texts are provided next to the pieces, and audio guides are also available. They have even prepared blindfolding glasses for the sighted. This was an exhibit where masterpieces could be touched and enjoyed in a peaceful atmosphere where the noise accompanying exhibits of Velazquez and Goya could be briefly forgotten.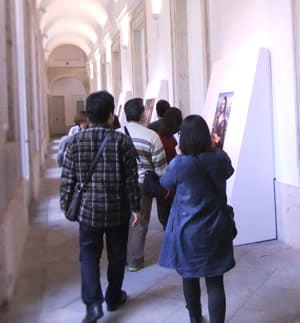 ●Photo 4:Tour groups enjoying the exhibit
Postscript 1: This mini exhibit is open until June 28, 2015, and can be viewed with the admission ticket (general public 14 euro) to the Prado Museum. Postscript 2:     From October 10, 2015 to January 31, 2016, the Prado Museum Exhibit is scheduled to be held at the reconstructed Mitsubishi Ichigokan Museum in front of the restored and renovated Marunouchi station building of Tokyo Station. Unfortunately, both the La Gioconda and its touchable copy will both remain home.