Around the time you start seeing Jacarandas on the streets blooming in purple throughout the towns of Andalusia, the tuna*1 migrating in the waters of the North Atlantic head towards the Mediterranean Sea in order to spawn. The Strait of Gibraltar is where the European continent and the African continent gradually come closer to be within hailing distance of each other. It is here that a fixed net is set up close to the coast lies in wait of the school of tuna headed there. Called Almadraba, this method of traditional fishing has continued for about 3,000 years since the Phoenician and Roman times all the way down to this day. Back in the days with no refrigeration or freezing methods, tuna would be caught and preserved in salt or processed into dry fish, which were then shipped to various locations throughout the Mediterranean as a coveted food. An example of such tuna product is the garum, an essential condiment on Roman tables. Garum was what we call fish sauce, made from tuna trimmings and intestines as well as small fish that were salted and fermented. The city of Cadiz flourished greatly due to this tuna industry*. Located in southwest Spain along the Atlantic coast, this city was the center of tin trading with Britannia. According to Strabo, a historian and geographer of the 1st century BC, Cadiz was second to Rome as the largest city of the Mediterranean world in those days. [caption id="attachment_293" align="aligncenter" width="300"]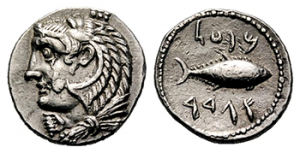 Photo 1: A picture of tuna on the back of a Drachma coin forged in Cadiz around the 3rd century BC. On the front is the Phoenician god Hercules (Melqart).[/caption]
Although the Almadraba fishing technique declined, four towns in the province of Cadiz still hold on to these traditions. One of which is the town of Zahara de los Atunes (literally meaning Sahara of the Tuna), where the tuna fishing industry is flourishing and even the name carries the word tuna. Every year during the time of Almadraba, a tuna festival called the Ruta del Atún (Tuna Route*2) is held. This year it was held for one week starting from May 12th. It began with a tuna dissection show and 39 restaurants participated in a cooking competition of tuna-based tapas. With tuna songs and tuna related exhibits, it was a lively festival all about tuna.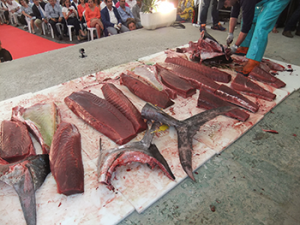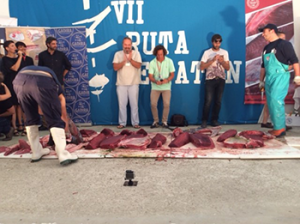 Photo 2:The Tuna Festival starts with a tuna dissection show. Dissecting a 210kg tuna fish takes 12 minutes with a two person team
On the beach about 10 km away from this village is a ruin called the Baelo Claudia(Emperor Claudius' Baelo) that was constructed by the Romans around the year 200 BC. It was built on the beach to be a center of the tuna industry, in consideration of convenience for shipping ocean-fresh fish and processed products. The remains of a tuna dissecting area, a place for salting, a vessel for fermenting fish sauce as well as a public plaza, an outdoor theater, and a temple that are gorgeous in comparison to the village are reminiscent of their prosperity back in the day. Today, the stone statue of Roman emperor Trajan stands at the center of the plaza looking down on the beach, where tourists who came from Northern Europe seeking the sunshine lie like a school of tuna caught fresh from the ocean. [caption id="attachment_294" align="aligncenter" width="300"]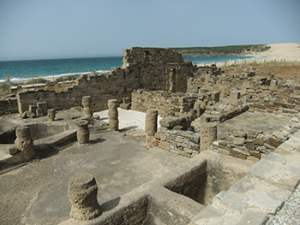 Photo 3: A basin for salting and a vessel for fermenting fish sauce in the ruins of Baelo Claudia.[/caption]
With today's techniques of quick freezing at ultra-low temperatures, we are now able to enjoy fine tuna at anytime. However, the seasonal Atlantic bluefin tuna from when the Almadraba begins is truly superb. Instead of the classic wasabi and soy sauce, briefly sear the tuna, sprinkle some rock salt and freshly ground black pepper, and add a few drops of olive oil for a dish to go well with red wine. If you ever see tuna from Spain at a supermarket, please enjoy its taste as you picture the blue ocean and sky of Andalusia. [caption id="attachment_292" align="aligncenter" width="225"]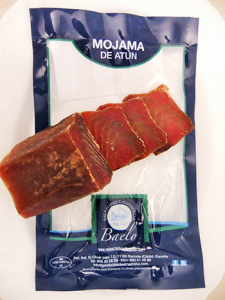 Photo 4:Mojama, a delicacy made of dried tuna with the name taken from the ruins of Baelo. It may have the same taste as 2,200 years ago.[/caption]
Explanatory Notes *1. Tuna – Atún rojo del Atlántico in Spanish ("Atlantic
red
tuna," if literally translated).   Called Atlantic bluefin tuna in English("Atlantic
blue
tuna," if literally translated)   and "Atlantic
black
tuna" in Japanese. Different colors for different areas. *2. The website for the tuna festival Ruta del Atún is
http://rutadelatun.com/.
  Tapas presented in the competition can be viewed here as well. *3. Born in Seville, Hispania (Spain), he is essentially the Roman Emperor of Spain