The bar is a type of eatery essential to daily life for the Spanish. A bar is sometimes called a cafetería or a taberna, but the concept is much the same. It's like a café open from morning until night, a snack bar and an izakaya-style bar all combined into one. It's like a spot where neighbors regardless of age or gender gather around and get caught up in idle chat. In Japan you may go for a cup of tea, whereas in Spain you would casually invite someone for a drink at a nearby bar. At times, it may be a coffee or a coke, but the most common is having a glass of beer or wine for a change of pace, which in fact is almost like a daily occurrence.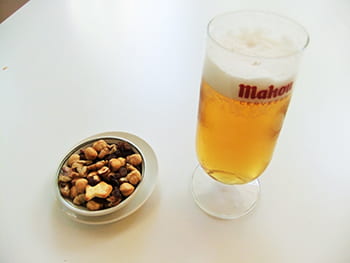 A side dish that almost always comes with the alcohol or soft drink you order at a bar is the "apertivo." Generally, they are simple dry snacks such as peanuts, potato chips, pickled olives or cheese. They may be like the small bag of peanuts and crackers served with your drink on a flight. The cost of the snack is typically included with the drink. With that said, however, wouldn't you be tempted to try the delicious-looking dishes displayed in the glass case at the counter when you enter a bar? When you order a portion of those dishes, they come out in small dishes called tapas. Of course these have to be paid for, but it's still a very convenient system when you're just a tad hungry. You can say it resembles the dishes served in small bowls at an izakaya bar in Japan. Spanish bars or tapas bars that offer these tapas dishes seem to be increasing in Japan as well. The other day, I made a visit to Granada, famous for its world heritage site Alhambra Palace. When I ordered a beer at the bar, a fine tapas dish was put right in front of me. Surprisingly, this is served to all customers who take a seat at the bar. As I put on a display of my genuine greed (and/or drinker spirit) and ordered another glass, they served another tapas dish of tremendous volume and of fine quality. From what I heard, Granada is a town famous for the free tapas served in many stores. It's as if you're at a Japanese izakaya bar, but they serve free stewed beef tendon or deep-fried skewers as an appetizer when you order a beer or sake. It's hard to stop wanting to order another glass as you hope to find out what the next tapas will be...simply addicting!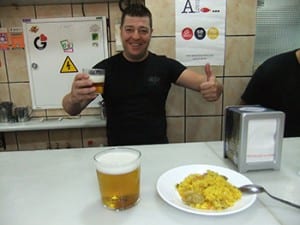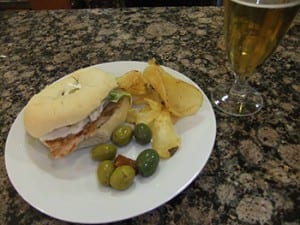 It was the first time in a while that I stayed in Granada. As I made tours around bars tasting various tapas, I was recalling the tapas of Japan. Quite a while back, I accompanied a friend to an izakaya bar run by a sake brewery in Ikeda, near the Ohatsu Tenjin Shrine in Osaka. With the first order of sake, they immediately served one whole cake of tofu as an appetizer. I was first amazed by their generosity of serving the whole cake of tofu, and then amazed next by its delicious taste. Down to this day, it's still a fond memory of mine down.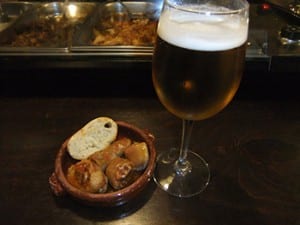 To help you see how simple and reasonably priced the tapas are to enjoy them in everyday life, though it may be disgraceful, I made a note of their prices below. (Prices in Granada as of June, 2015)