In a previous post, I talked about the patron saint of Catalonia, Saint George. In this post, I will tell you about James, a saint who safeguards the entire country of Spain. This patron, who is known as Jacob in Japan, was one of Jesus Christ's 12 apostles. He became the patron saint of Spain because he carried out missionary work on the Iberian Peninsula. James became a martyr in Jerusalem in 44 AD, ten years after the crucifixion of Jesus. Two of his disciples took his remains by ship to what is now the Galicia region in northwestern Spain. There, they transferred his remains to a sarcophagus and buried it. Though the exact location is unknown, on July 25th in the year 814 (some say 813), a shepherd led by a mysterious light discovered the grave. Monks who saw the same light told the bishop of it. After hearing the story, King Alfonso II decreed that a church be built on the spot, and Supra Corpus Apostoli was constructed in 829. After repeated subsequent extensions and reconstructions, different architectural styles overlapped to produce what is today called the Cathedral of Santiago de Compostela.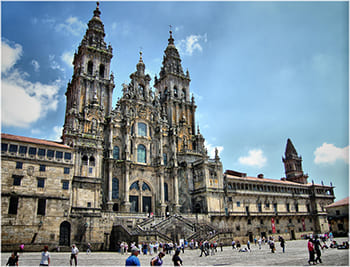 Photo1:

The Cathedral of Santiago de Compostela
These series of events led to July 25th becoming Saint James' Day. Throughout Spain, particularly in the Galicia region, this day is a grandly celebrated festival. Also, this cathedral has become one of the three major places of pilgrimage in Europe and is visited each year by many pilgrims as the final stop on the Camino de Santiago pilgrimage route.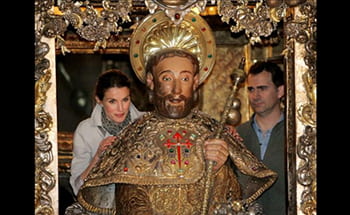 Photo2 :

King Felipe VI and Queen Letizia pay homage to Saint James
Switching gears…during the Heian period in Japan, Sugawara no Michizane stopped to worship at Settsu Taishogun Shrine before heading to Dazaifu (government headquarters) where he was relegated. One day 46 years after his death, in 949, it is said that seven pine trees suddenly appeared in front of this shrine and began emitting a mysterious light. Emperor Murakami heard about this and issued an imperial ordinance, resulting in the establishment of Osaka Tenmangu Shrine. At the shrine, Osaka Tenjin Festival is held on July 25th, the same day as Saint James' Day. It is one of Japan's three largest festivals, alongside Gion Festival in Kyoto and Kanda Festival in Tokyo.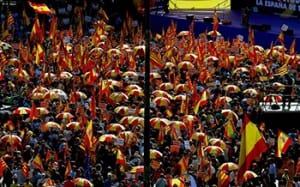 Photo3:
Umbrella of the Spanish flag colors( Do  you think that it is Similar to Umbrella of Tenjin Festival? )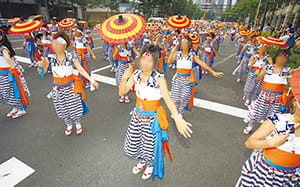 Photo4:
Tenjin umbrella festival
Over a thousand years ago, a mysterious light led the king of Spain to order a church be built, and the emperor of Japan to order a shrine be built. Santiago de Compostela and Osaka—two towns over 10,000 km apart—hold huge celebrations to honor a saint and a god on the same day, July 25th (there is actually a 7 hour time difference). What an interesting coincidence.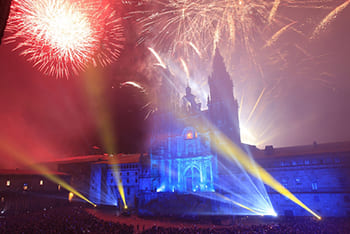 Photo5:

Fireworks at Saint James' Day celebrations
Incidentally, the deified spirit of Sugawara no Michizane represents the god of thunder, and Saint James was said to have been called "the son of thunder" because of his fiery character. What another coincidence!