Trying something you do not regularly eat in a place that is different from your everyday surroundings is one of the true pleasures of travel. Not only the eating, but even just walking around local supermarkets, markets, and shopping streets and looking at the food there can be fun.  In Spain as well, looking around local markets and supermarkets is very popular alongside touring the various historic sites, shrines and temples, museums, and world heritage sites. If you find some fresh seafood while traveling in Japan, you can use the convenient refrigerated courier service to send it directly to your home, but this is not possible in other countries. Although fruits or sweets are no problem, you cannot take fresh sardines found in a market back to your hotel and cook them in your room, so you are left with only taking a picture with your camera to bring home with you as a memory of something you wanted to taste.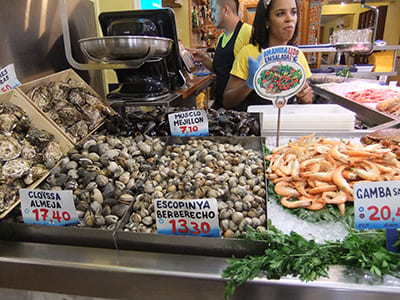 Photo1:Four types of shellfish
In Barcelona, I found a shop that fulfilled my desire. At first glance, it looked like a fish shop for the neighborhood wives, but in fact it had a kitchen and an eat-in section in the back with tables and chairs... like a very simple cafeteria. To order, you chose however much you like of the main seafood products and say how you would like it cooked, for example grilled, fried, or steamed in alcohol.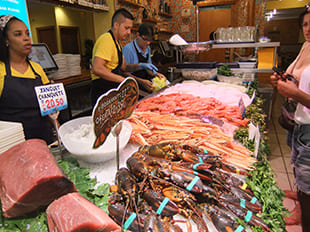 When you first enter the shop, you see heaps of fresh seafood in front of you. The day I went, there were oysters, blue mussels, Burchard's cockle, manila clams, gamba prawns (boiled in salt water and raw), stone crabs, live lobster, Japanese lobster, Mediterranean Sea Pacific bluefin tuna, anglerfish, sardines (like raw whitebait), golden cuttlefish, Japanese common squid, baby octopus, baby squid, and more. The season was mid-summer and everyone was on break, so that selection may have even been smaller than usual.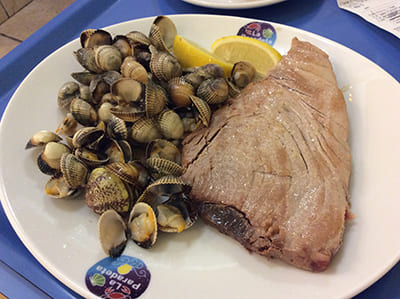 Photo 4: Luxurious tuna and Burchard's cockle platter
Next, I gave my order to a vigorous staff member. I ordered 300 grams of tuna, 400 grams of baby octopus, 300 grams of Burchard's cockle, and 300 grams of gamba prawns and asked for each to be grilled. When it was ready, they asked me, "Would you like the house garlic and olive dressing?" Although I was tempted, I decided to flavor it myself Japanese-style, with raw wasabi from a tube and a small pack of soy sauce that are essential for domestic travel. I also ordered one bottle of dry white wine, mineral water, and a pre-prepared vegetable salad for a modest feast at about 6000 yen. Considering the freshness of the ingredients and the price, the rough arrangement and simple flavoring were actually great. On the next seats over, a middle-aged  local couple were sitting and eating steamed blue mussels, grilled squid rings and Burchard's cockle, and some other things. Then a huge plate of gamba prawns arrived! I admired their hearty appetite, and here are some pictures that I took with their permission.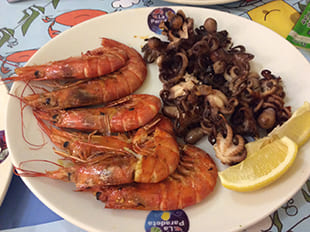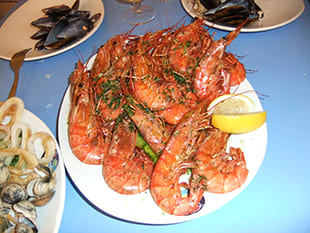 Incidentally, the word "gamba" in Spanish refers to small prawns like shiba shrimp, Yellow Sea prawns, and Japanese tiger prawns. This being the case, I thought Gamba Osaka might mean "naniwa prawns", but apparently it comes from the Italian word gamba for "leg", and means "Osaka that fights hard with the legs".