Galicia, which we first introduced for its Celtic ruins, lies at the western edge of Western Europe—a place that the Romans called finisterre, or "Land's End". The coastline faces the Bay of Biscay to the north and the Atlantic Ocean to the west, and is marked by a complex network of coves. This signature topography is known as ría in the local language, and today the word is known around the world as the general term for these kinds of coastlines. Even Japan has famous ria coasts along the Seto Inland Sea and in the Sanriku and Ise-Shima regions, where abundant nutrients and calm waters give rise to delicious seafood—local oysters from these regions being particularly prized nationwide.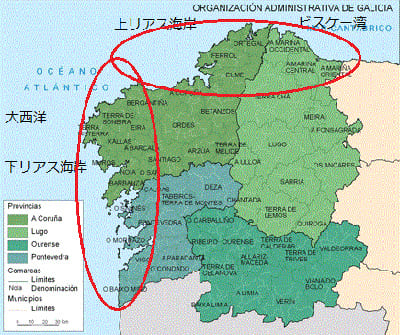 Galician seacoast in northwest Spain. The upper ria coast is shown along the north, and lower ria coast along the south.
Galicia is a treasure trove of seafood on par with Japan's ria coastlines. The mussels, oysters, and scallops grown on rafts floating in these coves are delivered to every corner of Spain. Crustaceans of endless variety–from lobster to crab and tiny shrimp–are plentiful here, so the local octopus that feed on them can hardly be anything but delicious as well. This is one reason that the Galician specialty of boiled octopus was worth covering in another post.We recently participated in the seafood festival held in a ria coast fishing village at Land's End, Galicia. The little port town of O Grove is home to just over 10,000 people, its shores dotted with lines of culture rafts. Many vacationers summer in O Grove for its beautiful seaside and cool weather, and a tourist boat that takes people out to see the rafts is extremely popular. The boat takes about an hour and a half to travel around the bay, and explains how the oysters are cultivated. The biggest draw in town, however, is a boat that serves all-you-can eat freshly steamed mussels and all-you-can drink local white wine. Priced at just 15 euros (about 1700 yen) a person with tax and service charges included, it was dream come true for us (lovers of all-you-can-anything), and sent us waddling off the boat in satiated delight.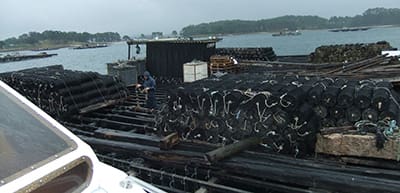 The boat stops alongside the rafts to explain cultivation methods.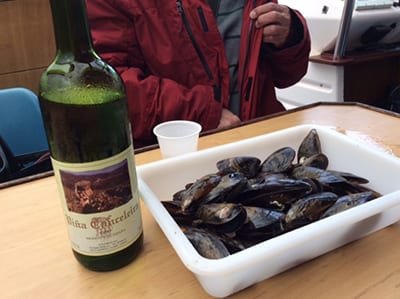 The actual all-you-can-eat-and-drink set, including the bucket of mussels that gets replenished as soon as it is finished.
We next moved to the giant seafood festival tent, where we topped off our meal with stand-and-eat seafood paella, raw oysters cultivated just a stone's throw away, a pasta dish resembling seafood udon, salt-boiled shrimp, and more. The seafood festival is a brilliant idea the locals had for livening up the area during the rainy off-season—and with bus after bus of tourists flocking in, it was clearly a great success.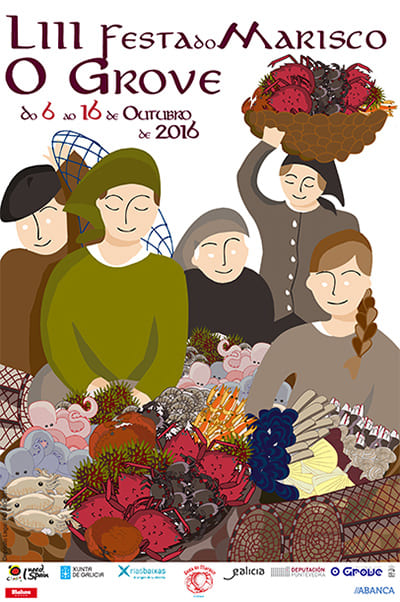 Promotional poster for the festival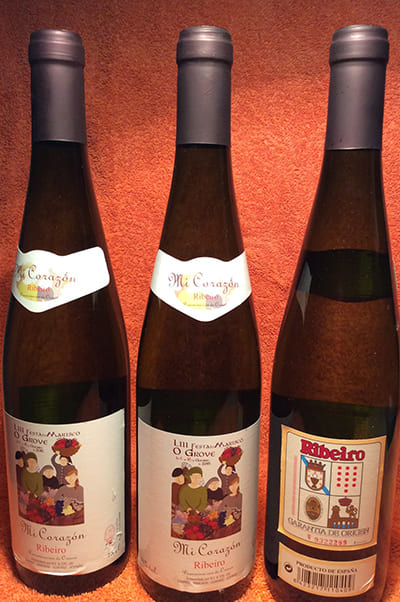 The town even made white wines exclusively for sale at the festival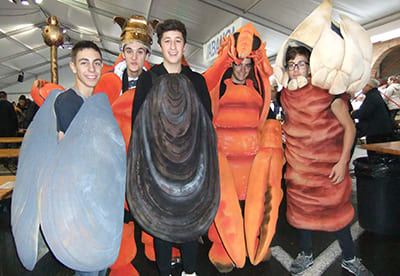 A group of five seafood boys livening up the festival for some pocket money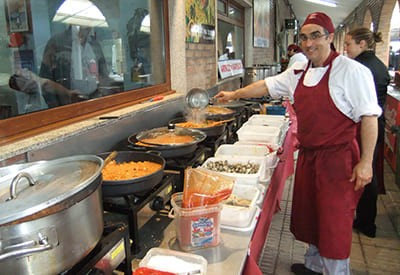 Alphonso, head chef at the paella stand, normally works at one of the famous local restaurants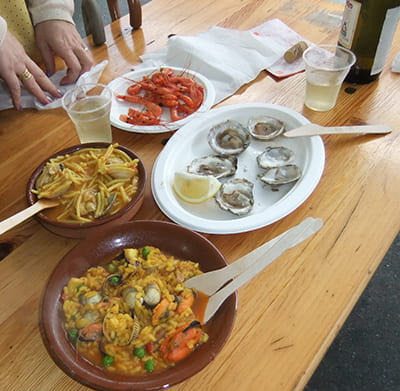 After the all-you-can-eat mussels, this was all the food we could manage at the festival's main venue.
Interestingly, the neighboring region of Brittany, France also has a department of Finistère (Land's End), which is also its westernmost point. The regions apparently share many similarities, with identical meandering ria coastlines giving rise to similarly rich seafood catches. They are also both known for their delicious potatoes, for some reason, and are both home to important naval bases. Another shared characteristic is bonito flakes (katsuobushi), a signature Japanese product. The European Union banned the import of bonito shavings due to the presence of harmful substances, but with Japanese food enjoying a global boom and authentic ingredients in high demand, it ended up calling foul on a critical item. The task then fell upon the Land's End regions of Spain and France to produce bonito flakes in line with local standards, so a well-known katsuobushi maker from Tsukiji in Tokyo set up shop in Fisterra, Galicia, while another from Kagoshima started production in Finistère, France. Perhaps this was less about huge bonito catches in these regions and more about their long tradition of seafood processing. Today, the people of Europe have gradually developed a taste for authentic, Japanese-style katsuobushi, and are moving away from the once-popular use of imitative Chinese and Korean-made bonito flakes that are processed without smoking.