There is a bench with the ostentatious Spanish name, "el banco más bonito del mundo." It is set upon the edge of a cliff near the border of the Bay of Biscay and the Atlantic Ocean on the northernmost tip of Galicia, the region northwest of Spain we talked about last time. The bench itself is nothing out of the ordinary, and actually somewhat on the shabby side, but what you see when you sit down and look out is spectacular. As you watch the vast sea spreading outwards past the cliff, you sink deep down into a world of only the sound of the wind and the cries of playful seagulls and begin to feel that the name of the bench is not an exaggeration at all.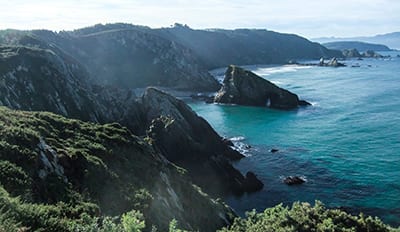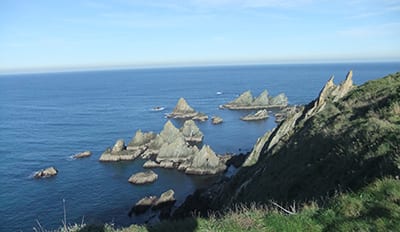 The scenery around the cliff
This story is actually the result of a misunderstanding and mistranslation. A Celtic folk festival is held annually in Ortigueira, the seaport near the cliff, and musicians come from all over Europe to play traditional Celtic music. In 2010, some musicians from Scotland visited the Loiba cliff. They were astounded by the scenery, and wrote "The Best Bank of the World" on the back of the bench. "The Bank" in English was translated literally into the Spanish word banco (meaning "bench").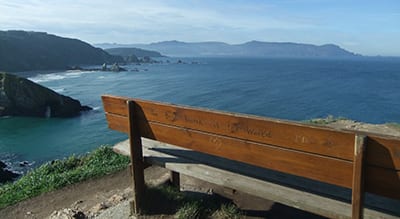 This is the original bench. As it became famous, it starting receiving many visitors, so it is frequently maintained, with the original graffiti being replaced each time.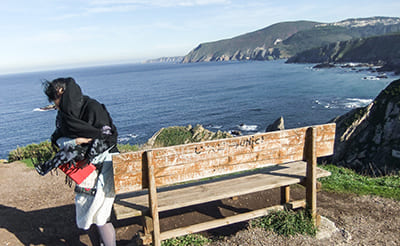 Older Japanese woman who was relaxing on the second installation of the bench being blown from the bench by a sudden sea breeze.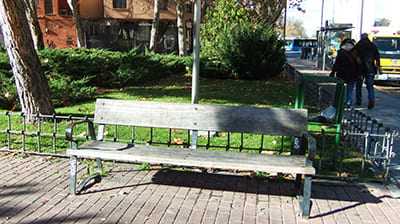 Completely ordinary bench in a small park near my home in Madrid. For comparison.
This name might seem like an extravagant advertisement, but the scenery that includes this simple bench creates a happy moment in the midst of nature where you can forget the hustle and bustle of the big city. People have even said that it inspired them to consider their past and future. Because of this, it debuted on a TV campaign in 2013 for a famous furniture manufacturer and retailer in Northern Europe.This is an excellent video of the wonderful bench from the air taken by a drone.
https://vimeo.com/148284618
If this were Japan, this cliff edge facing the sea would be the perfect location for the typical final scene of a two-hour-long suspense show: the real perpetrator, the suspect thought to be the perpetrator until a moment ago, and the cops and investigators are all together; they go over all the events leading up to that point and solve the riddle, revealing the truth behind the crime; suddenly caught off guard, the true perpetrator is securely caught and placed in a police car and case solved. The Spanish version of the Tojinbo cliffs in Japan.