While the announcement by Japan's Emperor of his intention to abdicate has provoked much debate, the way forward remains unclear. Three years ago in 2014, however, Spain's King Juan Carlos I relinquished the throne after 39 years of service to his country, passing the mantle on to his first son, Prince Felipe VI. Having turned 76, Juan Carlos announced his intention to abdicate on June 2 that year, citing ill health and various other circumstances. While Spain is a monarchy, it is a constitutional monarchy, like Japan, so his abdication on June 19, the date marking the birth of the reign of King Felipe VI, was predicated on approval by the parliament. The photo shows the new king on the balcony of the Royal Palace of Madrid announcing the generational change to the Spanish people. The image of his mother, Queen Sofia, from behind as she thanks her husband for his services on the occasion of his abdication is quite moving.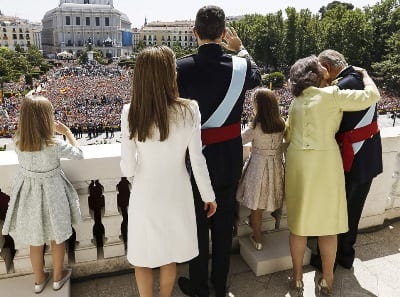 Queen Sofia who thanks King Juan Carlos for his services on the occasion of his abdication.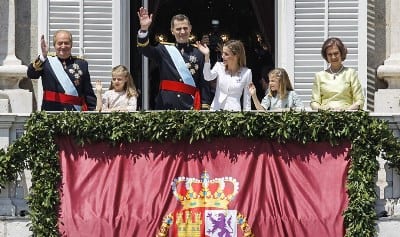 announcing of the generational change.
Queen Sofia married into the Spanish royal family as the first daughter of King Paul I of Greece. In other words, the daughter of a king married a king, hence becoming the mother of a king. And by the way, her younger brother was also a king.He is Constantine II, the last king of Greece and also a sportsman known for winning a gold medal in sailing at the Rome Olympics. Speaking of which, both Sofia's husband and son represented Spain in sailing, Juan Carlos I at the Munich Olympics in 1972, and Felipe VI in 1992 at the Barcelona Olympics.The Spanish royal family are also on close terms with the Japanese imperial family. Juan Carlos I has visited Japan seven times and the new king, Felipe VI, three times, both visiting during their time as crown prince. His Imperial Highness visited Spain for the sixth time in 2013 to commemorate the 400th year of relations between Spain and Japan. While it is 400 years if you count back from the Keicho Japanese embassy mission to Europe led by Hasekura Tsunenaga, the Jesuit Francis Xavier landed in Japan in 1549, so the relationship is actually closer to 470 years old.Yet another link in this long Spanish-Japanese relationship is about to be forged. The Spanish royal couple, Queen Letizia and King Felipe VI, are to visit Japan as state guests from April 4 to 7 this year. Although the visit is limited to four days, I hope the royal couple thoroughly enjoy their stay in Japan as they attend to their official duties.