Like other national capitals, Madrid has numerous art galleries and museums.Some of the famous ones include the Prado Museum, the National Archaeological Museum of Spain, the National Library of Spain, and the Museum of the Americas, one of the museums related to Central and South America. And there is another institution, one that has "
cherry picked
" items from these other institutions, but is based in the US, not Spain. It is located in Washington Heights, in the north of Manhattan, New York. Its name is The Hispanic Society of America and was founded in 1904 by Archer Milton Huntington.Although born the son of a railway and shipbuilding magnate, such was his lack of interest in business that he is described as an archaeologist, book collector, philanthropist and poet. Accompanying his parents on a trip to Europe in 1882, the young Huntington, aged 12, came across a book while in Liverpool, England called The Zincali or an Account of the Gypsies of Spain, which sparked his deep and all absorbing interest in Spain. Although it would be some years before he set foot in Spain, he devoted himself to learning Spanish, Iberian culture, and even Arabic, so when he finally visited Spain at the age of 22, he already spoke Spanish and had a library of over 2,000 books on Spain. On that first trip he demonstrated the extraordinary extent of his enthusiasm by following in the footsteps of the great Spanish hero El Cid, from northern Spain to Valencia.Huntington the Spain enthusiast amassed a collection spanning a very wide range, going beyond Spain and Portugal to the culture of the Arabs who controlled Spain in past times, crossing the seas to the Middle Eastern countries and the Philippines; including fine arts, antiques, books, ancient manuscripts, gems and other cultural materials; and ranging from the old stone age to the present day. The collection was housed in The Hispanic Society Museum & Library, the Society's museum, opened four years after its foundation. While this all appeared to be merely the hobby of an immature young man from a wealthy family, it developed to the extent that "even if Spain were to be annihilated, the Hispanic Society in New York could ensure its survival." Huntington resolved that the Society should not take his name, that the museum entry be free, and that the collection be shared with as many people as possible, which gives us a sense of how genuine was his love of Hispanic culture.Now, a small museum has appeared inside the Prado Museum exhibiting 220 pieces, some of the Society's special "treasures," also "
cherry picked
" from that collection, including paintings, sculptures, ceramics, gems, ancient manuscripts, and ornaments. The Treasures of the Hispanic Society of America exhibition is being held at the Prado Museum from April 4 to September 10 this year.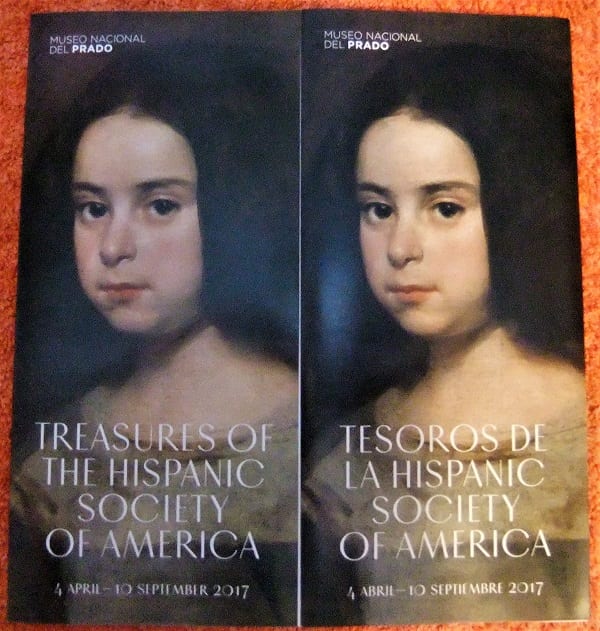 The Spanish and English versions of the exhibition pamphlet, with Velázquez's Portrait of a Young Girl on the cover.
Among the many precious exhibits, of particular appeal are the Spanish paintings, which of course cannot be normally seen in Spain as the exhibition is being held at a museum. The exhibition is packed with masterpieces by top Spanish painters, including El Greco, Velázquez, Murillo, Zurbarán and Goya.One of the paintings of particular interest is a portrait by Goya of the wife of his patron, the Duke of Alba. The words "Alba" and "Goya" can be seen on the rings on the Duchess' index and middle fingers of her right hand, and she points to the words "Solo Goya": "Only Goya" written on the ground. Originally, "Solo" had been painted over leaving only the word "Goya" visible, however, it was uncovered during repair work in 1959. By the way, it is posited that the words on the rings were later repainted by someone other than Goya. This extraordinary relationship between the Duchess and her own painter would have made for quite a topic of conversation among the gossipers of those times.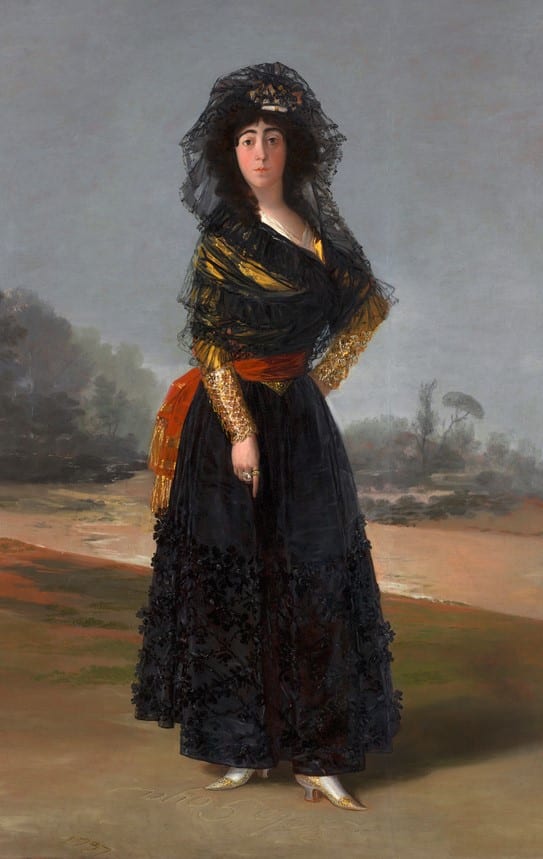 Duchess Alba in black
The two rings, testament to her love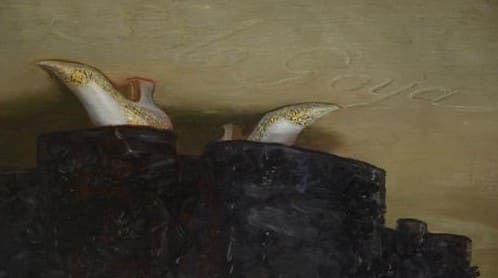 "Solo Goya": "Only you!"
On a slightly different topic, next year's Prado Museum Exhibition Agreement was concluded during King Felipe VI of Spain's recent visit to Japan. The agreement involves holding the Prado Museum Exhibition – Velázquez and the Glory of Painting in Tokyo and Kobe as part of the 2018 celebrations of the 150th anniversary of the establishment of diplomatic relations between Spain and Japan.The Tokyo exhibition will be at the National Museum of Western Art from February 24 (Sat) to May 27 (Sun).The Kobe exhibition will be at the Hyogo Prefectural Museum of Art from June 13 (Wed) to October 14 (Sun).The exhibitions are to display some 60 works by the top masters of the golden era of the 17th century, featuring Velázquez, and with El Greco, Zurbarán, Ribera, Tiziano and Rubens.