The widespread impression of Spain is that because it's in southern Europe, it's warm. Madrid, on the contrary, experiences harsh winters because it's located inland at altitude, so hot meals permeate both body and soul. This is the season for Madrid's favorite stew, Cocido Madrileño, "Madrilenian stew," which appears on tables everywhere, from home kitchens and the local bar to top rated restaurants.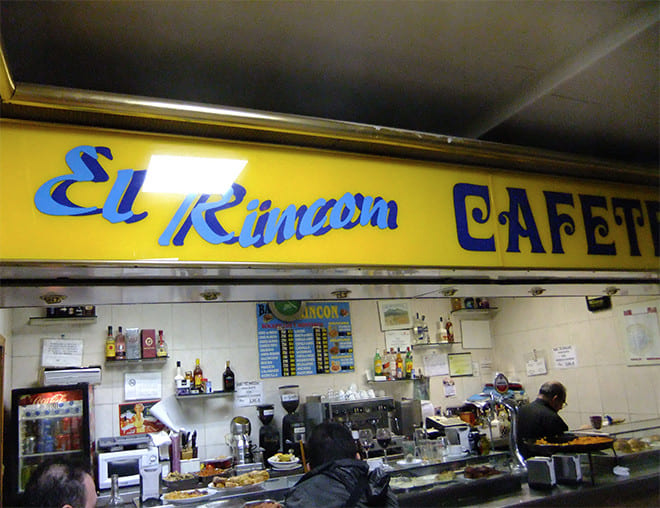 El Rincón, a bar in a corner of a downtown Madrid market and a favorite among local residents. On the right-hand side of the counter is a large dish of paella, the national dish, eaten as a "snack" with beer or wine.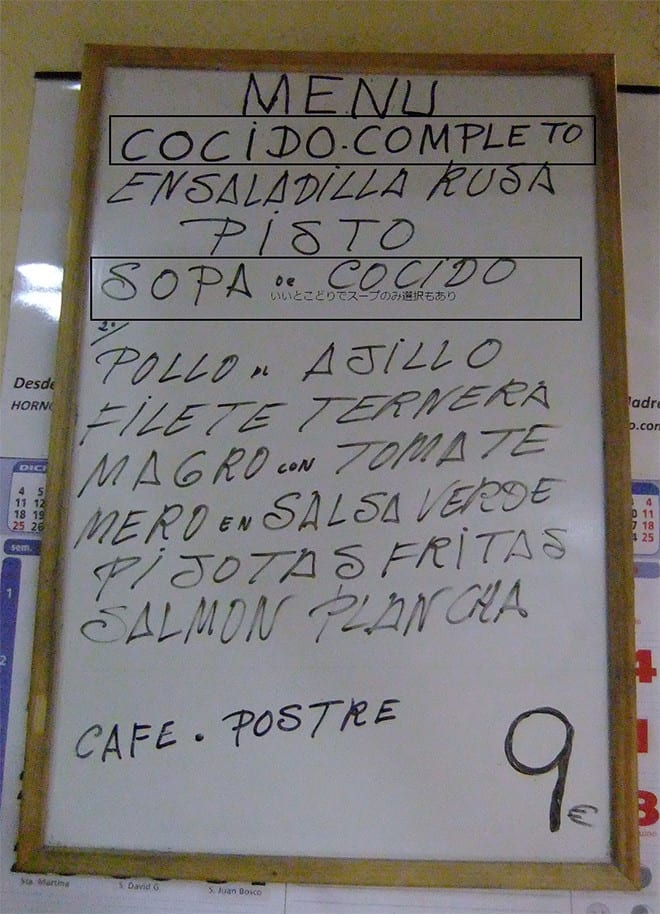 Cocido never fails to appear on the set menu on Tuesdays in winter. Nine euros includes bread, bottled wine, and dessert.
The main ingredient in cocido is a bean called garbanzo in Spanish (pronounced "-tho" not "-zo"). By the way, Zara, the major Spanish apparel retailer which now has stores in Japan, is pronounced "thara" not "zara." I saw these beans at the front of a dry goods store in Tsuruhashi shopping street in Osaka once and I'm sure the label said "Egyptian peas." As well as the garbanzo, the vegetables that must go into this stew are cabbage, potato, and carrot. Other than that, there's no problem adding any of your other favorite vegetables, at your own risk. Common additions include giant white radish, onion, leek, and celery, a lineup that would be easy to get together in Japan.
Next, the meats that must go into a cocido are beef shin, beef bones, dry-cured ham bones, salt cured pig fat, chicken (hen if possible) meat on the bone, chorizo, and morcilla (blood) sausage. At this point, the hurdles for a Japanese home cook trying this dish would become rather high I think. It's a favorite home-cooked dish in Madrid during winter, so the shops sell cheap and easy "cocido sets," which have all the ingredients. I'm sorry to say that in Japan the equivalent sort of thing would be "Anko nabe sets" (angler fish hot pot sets) with the liver. More mature housewives can settle the matter by going to their usual butcher and simply telling him, "I'm making cocido. Can you get everything together for me?"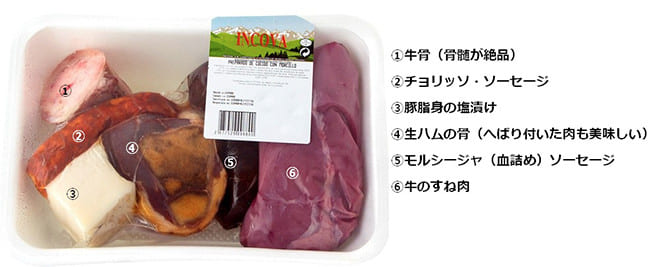 A cocido set. Chicken sold separately.
Although the ingredients are many and varied, the method is exceedingly simple. First you rehydrate the garbanzo beans in water overnight. You also tame the salt content in the salt cured pork fat by removing the salt overnight. Then the next day, you put all the ingredients I mentioned into a large pot, heat the pot to boiling, then simply simmer gently over a low heat. If the foam bothers you, you can remove it when you occasionally check on the pot. The stew is done when you can easily squash a bean between your fingers and the meats are tender. To prevent the potatoes from falling apart during the stewing, putting them in just before the end would be the procedure, something people familiar with making Japanese curry would already know.
They say that in times gone past people used to just put a pot of ingredients by the fireplace with the firewood flickering (called "leave alone cooking"). Now the pressure cooker has appeared in kitchens, making it more convenient and faster. If you were to open an apartment kitchen window on a winter morning, you would hear the hiss of steam from a pressurized pressure cooker and smell the unique aroma of garbanzo beans and meats, urging you "Yes! I'll have Cocido tomorrow!" It's the taste of mother's cooking, and it truly sings of winter in Madrid.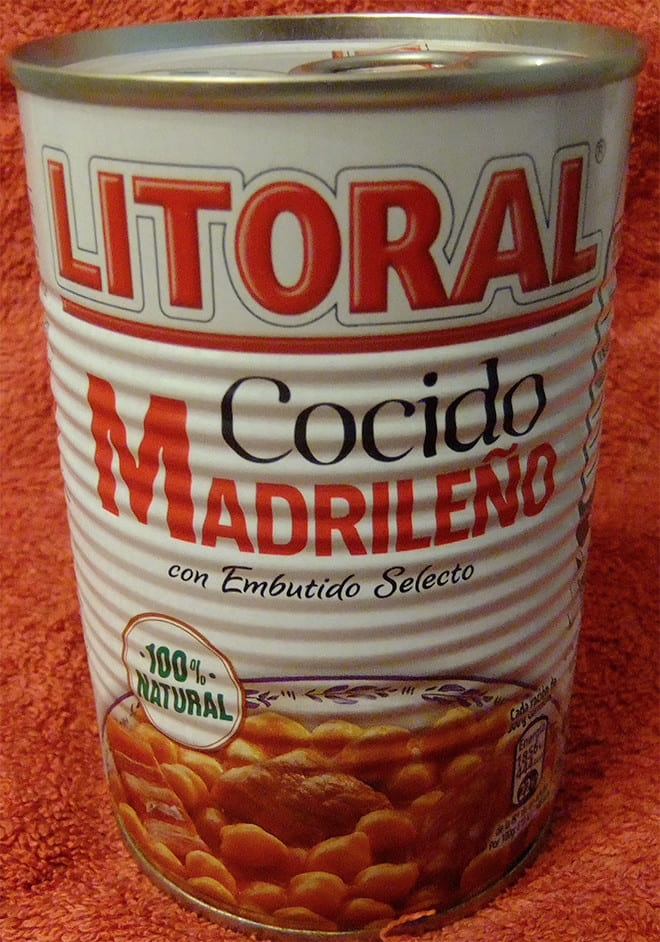 Canned cocido. Eaten with tears by fathers living away from family for work, alone, remembering happy family gatherings at home.
There is also a unique way of eating cocido. With Japanese hot pot dishes you provide some carbohydrate at the end by making a kind of gruel with some added rice, or throwing some udon noodles into the pot, the aim being that sort of deliciousness that makes the whole dish. But with cocido it's the exact opposite. First you put very fine pasta, cabello de angel (angel hair), into the delicious soup that comes out of the stew. Then you serve up the vegetables separately, before setting out the meats. Trendy restaurants serve it up as a splendid 3-course meal. At home, apart from the soup, it's a matter of piling it up on a large dish then inviting people to help themselves, in their own way. There are usually leftovers, and most "careful" housewives use them up by frying the cooked beans with garlic, and using the thinly slice meats in croquettes.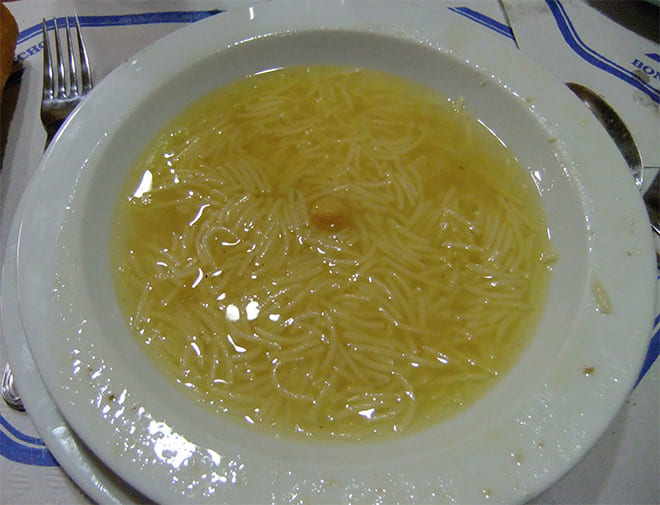 The "closing" soup, which comes first. I'm terribly sorry for this unsightly photo. I started eating before I remembered to take the photo.
People also have their own individual preferences when it comes to eating the beans. Some people (myself included) relentlessly mash the beans with the back of their fork, as though with a "parent's revenge", virtually turning them into baby food. Others mix them up with the salt cured pork fat into a slimy mixture (I do this too). Eating this dish together with many people also offers the enjoyment of people watching. Well, I could go on talking about its good points forever. Cocido uses ingredients readily available to everyone, and it's a kind of rustic cooking that warms you up and builds up your energy to keep the cold at bay. There are infinite ways of cooking it, everyone has his or her own way of eating it too, and in the end, as long as it makes the garbanzo beans tasty, anything goes.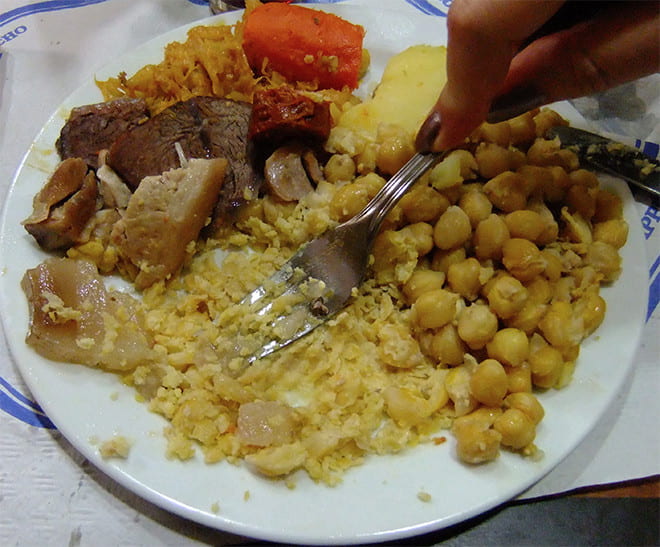 Halfway through the process of mashing the beans and pork fat
Incidentally, Spain's neighbor, France, also has its favorite winter pot stew, called "pot-au-feu." It's a stew featuring beef with vegetables and herbs. On a different topic, I heard that the tap water in Madrid is softer* than in Osaka, so it's excellent for producing soft and plump stewed beans, while the tap water in Paris is harder, making it suitable for stewing meats.
I suppose traditional cooking develops out of the kinds of dishes that suit the various lands, their climates and customs. Thinking about this just now, if you added garbanzo beans when you cooked a pot-au-feu, you might end up with an odd kind of hybrid dish called Paris-style Madrilenian stew. If I were to make such a dish, I might hold the herbs and spice essential to French cooking, such as bay leaves and cloves, and add some processed pork products to bring it a little closer to Spain.
* Although also in Spain, Barcelona's tap water is hard, so if you ever have the opportunity to travel in Spain and stay in both Madrid and Barcelona, please try comparing the soap and shampoo lather while you take a bath in each of the two cities. I think that will really show you the differences in their water quality.