Since July 1st, it has been mandatory for all retail stores in Japan to charge for single-use plastic bags. There was a similar announcement in Spain exactly two years before that, on July 1st, 2018. At the time, a lot of shops were already charging for bags, and I didn't hear much about any confusion, bewilderment, or protest due to the charge being made mandatory.
On a recent visit back to Japan, I was impressed by the skillful and sensitive service of all the sales counter staff when I bought things like hot coffee and sandwiches at a station shop or a convenience store, putting everything in separate bags for me, and even giving me extra small bags for souvenirs and so on. But since the bag charge has been introduced, I wonder whether there will be any extra tasks at the register, checking the number of bags used and entering that information, and even if not, will there be additional stress trying to serve customers in the rush just before their train leaves the platform, or will they be able to quickly finish up the sale as though they are just adding one more product?
I guess the introduction of this system means more and more people will develop the habit of carrying reusable shopping bags around with them. But if you stop by at a convenience store on your way home and get something like oden, a soupy gyudon (beef on rice), or a curry soup with rice, the soup might leak from the container, or it might give off some steam, so even if you have your own reusable shopping bag, I think you would be using a trusty plastic bag that you can throw away, regardless of whether it is free or not.
Single-use plastic bags really are that convenient. But there is another type of bag you get at supermarkets, the bags that come in rolls on the exit side of the checkout. These bags aren't subject to the new charge because they don't have a hand hold, in other words, they seem to be free. In Spain, most supermarkets sell vegetables and fruits loose (not already packaged), and because you serve yourself, they provide rolls of plastic bags nearby, and these too are free.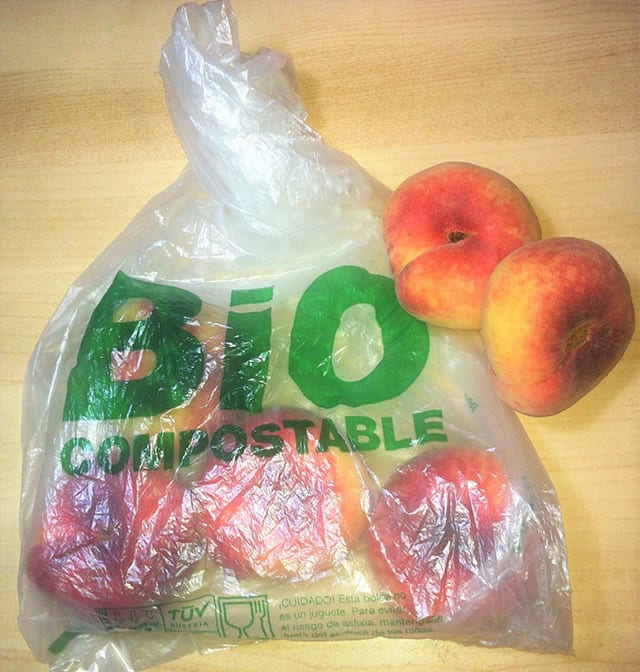 This is a roll of "green plastic" bags made of biodegradable plastic, which is apparently compostable. By the way, the flat peaches in the bag are called paraguaya in Spanish, or banto in Japanese. While yellow peaches are the most common variety in Spain, flat peaches have soft flesh like white peaches, they are very juicy and one of summer's pleasures. They are also known as zazen (seated Zen meditation) peaches, and even zabuton (seat cushion) peaches, and are in season right now.
Almost all stores have their own special single-use plastic bags available for a charge. At any supermarket, these bags are usually 50 cents (about 60 yen). They are particularly good bags, there's no problem at all with water resistance and strength, and even if you have a lot of shopping, they can easily withstand up to about 15kg. While there is the type of bag where the supermarket consistently uses the same design and you can immediately see which supermarket it is, there are also bags that give you the pleasure of novelty, with richly varied, stylish designs. Well, I suppose you could call them modern-day kayoibukuro (carry bags).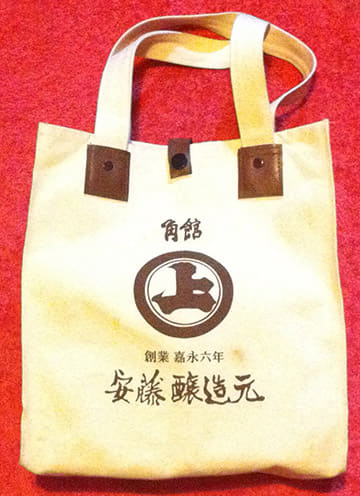 This is a kayoibukuro (carry bag), a type of canvas reusable bag used in Japan since long ago. Their sturdy construction makes them especially useful.
1. Bags sold at the major supermarket chain Mercadona. This is the only design, and when I see it in a town in Spain that I go to for the first time, it puts me at ease a little. That's because this chain also sells instant miso soup (the fresh miso type with wakame, actually made in Japan's miso capital, Shinshu), rice vinegar, sushi rice, frozen edamame, frozen shrimp won ton noodles, and other foods appreciated by Japanese living overseas. Their bag, 40-cm high, 35-cm wide, 20-cm deep with a capacity of about 28 liters, has two types of handles: short handles for carrying in your hand and long ones for slinging over your shoulder. Next to it is a one-liter milk carton.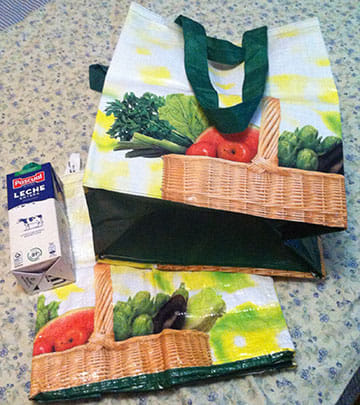 2. These are shopping bags sold at checkouts in the supermarket and convenience store division of the major department store El Corte Inglés. The vivid, colorful product photos are eye-catching. This department store chain has stores in larger cities with a reasonable population, so I think you could say the designs are rather urban, don't you think? They have about the same holding capacity and other specifications as the Mercadona bags.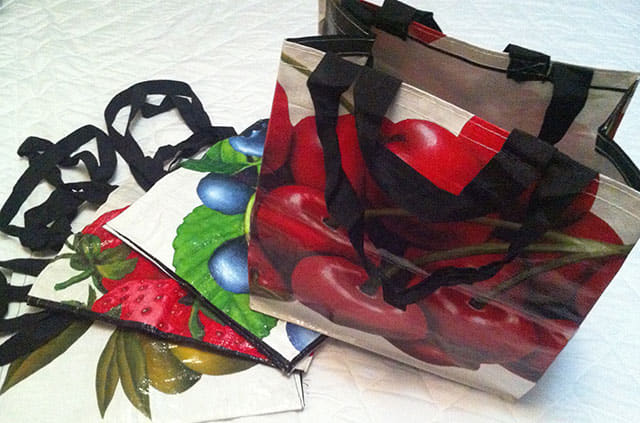 3. These bags are from the major supermarket chain Pingo Doce, which operates more than 400 stores in Spain's neighbor, Portugal.
They are all very nicely designed, and have two bottle bands on each side inside the bag, making them very handy.
When I travel to Portugal, I just go ahead and buy some extras, to use as souvenirs as well.
There is a label on the bottom of the bags that says Body: Laminated polypropylene, Handle: Nylon, Production location: Asia.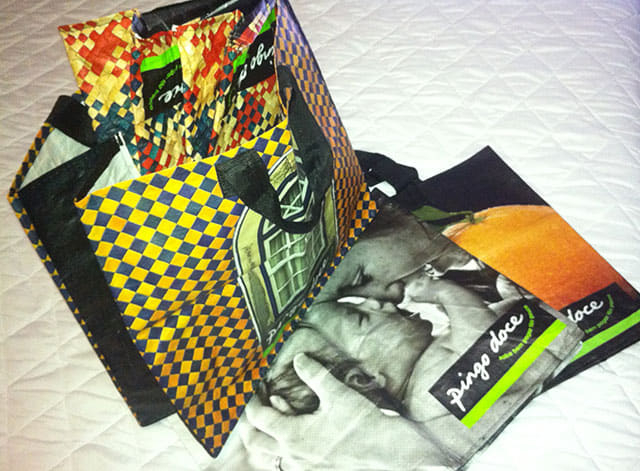 4. Desigual fashion brand stores now provide reusable bags.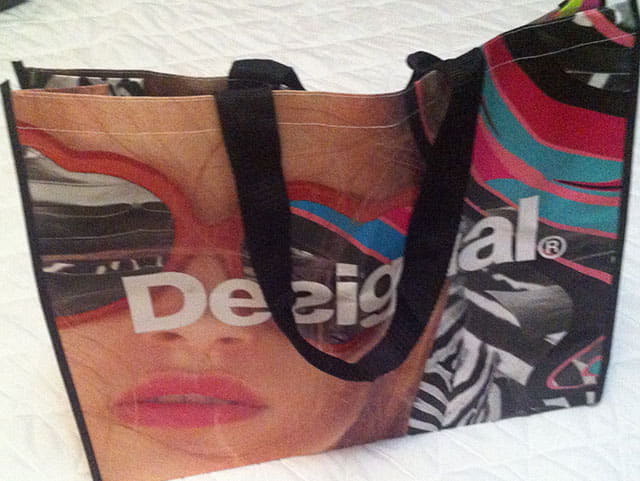 5. Instead of the usual plastic bags, my local drugstore now uses paper bags, or in truly Spanish fashion, chic cloth bags.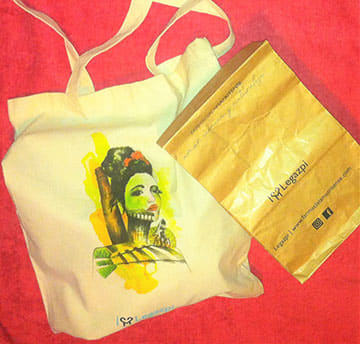 The problem is that my shopping bags are well made, very easy to use, and have a fun look, so, like my empty boxes and paper bags, they continue to multiply for some reason, and they are actually making the limited space in my small home even more cramped. Well, I suppose I'm going to reuse them, so they are probably destined to continue accumulating. Every time I see them, the word "decluttering" crosses my mind.